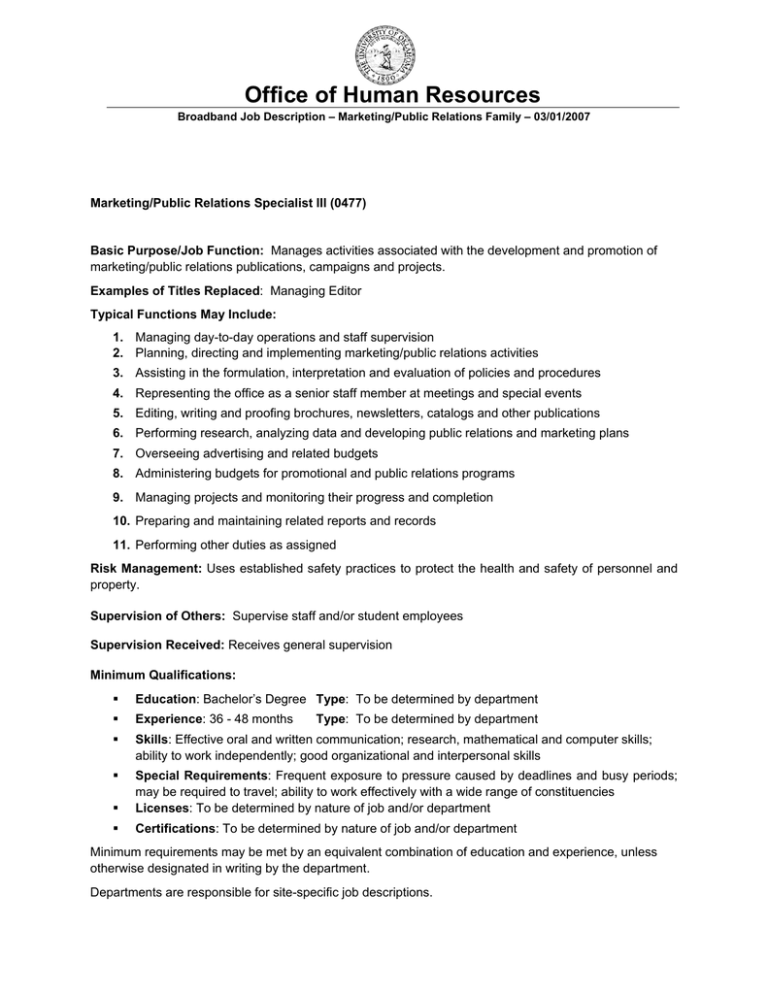 Office of Human Resources
Broadband Job Description – Marketing/Public Relations Family – 03/01/2007
Marketing/Public Relations Specialist III (0477)
Basic Purpose/Job Function: Manages activities associated with the development and promotion of
marketing/public relations publications, campaigns and projects.
Examples of Titles Replaced: Managing Editor
Typical Functions May Include:
1. Managing day-to-day operations and staff supervision
2. Planning, directing and implementing marketing/public relations activities
3. Assisting in the formulation, interpretation and evaluation of policies and procedures
4. Representing the office as a senior staff member at meetings and special events
5. Editing, writing and proofing brochures, newsletters, catalogs and other publications
6. Performing research, analyzing data and developing public relations and marketing plans
7. Overseeing advertising and related budgets
8. Administering budgets for promotional and public relations programs
9. Managing projects and monitoring their progress and completion
10. Preparing and maintaining related reports and records
11. Performing other duties as assigned
Risk Management: Uses established safety practices to protect the health and safety of personnel and
property.
Supervision of Others: Supervise staff and/or student employees
Supervision Received: Receives general supervision
Minimum Qualifications:
ƒ
Education: Bachelor's Degree Type: To be determined by department
ƒ
Experience: 36 - 48 months
ƒ
Skills: Effective oral and written communication; research, mathematical and computer skills;
ability to work independently; good organizational and interpersonal skills
ƒ
ƒ
Special Requirements: Frequent exposure to pressure caused by deadlines and busy periods;
may be required to travel; ability to work effectively with a wide range of constituencies
Licenses: To be determined by nature of job and/or department
ƒ
Certifications: To be determined by nature of job and/or department
Type: To be determined by department
Minimum requirements may be met by an equivalent combination of education and experience, unless
otherwise designated in writing by the department.
Departments are responsible for site-specific job descriptions.