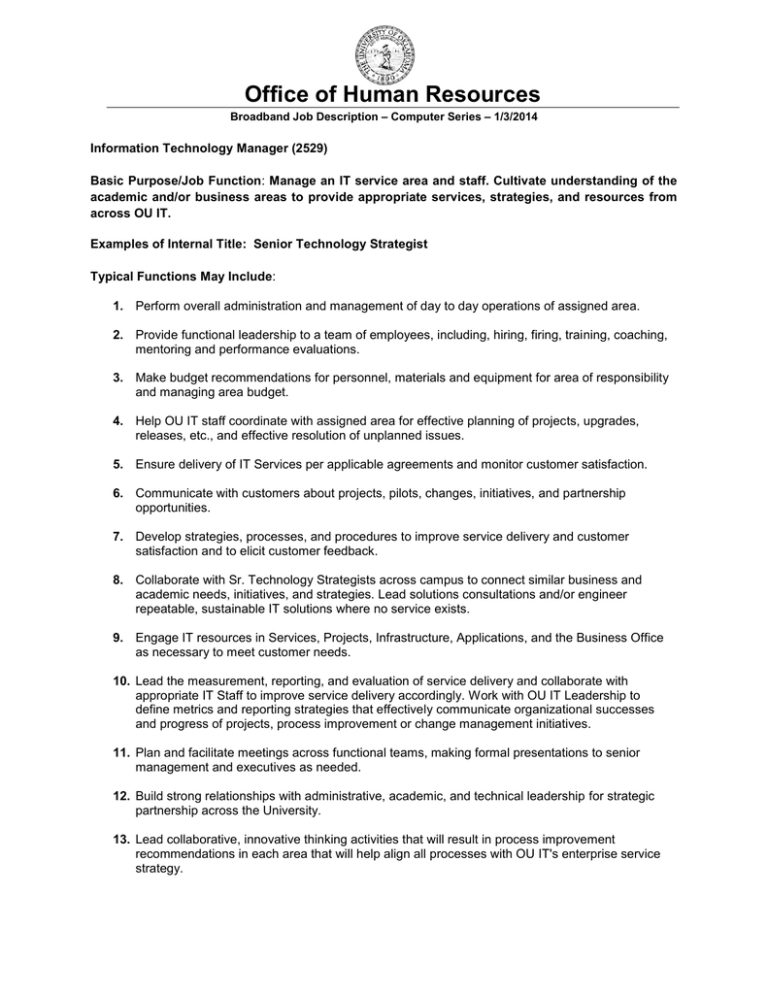 Office of Human Resources
Broadband Job Description – Computer Series – 1/3/2014
Information Technology Manager (2529)
Basic Purpose/Job Function: Manage an IT service area and staff. Cultivate understanding of the
academic and/or business areas to provide appropriate services, strategies, and resources from
across OU IT.
Examples of Internal Title: Senior Technology Strategist
Typical Functions May Include:
1. Perform overall administration and management of day to day operations of assigned area.
2. Provide functional leadership to a team of employees, including, hiring, firing, training, coaching,
mentoring and performance evaluations.
3. Make budget recommendations for personnel, materials and equipment for area of responsibility
and managing area budget.
4. Help OU IT staff coordinate with assigned area for effective planning of projects, upgrades,
releases, etc., and effective resolution of unplanned issues.
5. Ensure delivery of IT Services per applicable agreements and monitor customer satisfaction.
6. Communicate with customers about projects, pilots, changes, initiatives, and partnership
opportunities.
7. Develop strategies, processes, and procedures to improve service delivery and customer
satisfaction and to elicit customer feedback.
8. Collaborate with Sr. Technology Strategists across campus to connect similar business and
academic needs, initiatives, and strategies. Lead solutions consultations and/or engineer
repeatable, sustainable IT solutions where no service exists.
9. Engage IT resources in Services, Projects, Infrastructure, Applications, and the Business Office
as necessary to meet customer needs.
10. Lead the measurement, reporting, and evaluation of service delivery and collaborate with
appropriate IT Staff to improve service delivery accordingly. Work with OU IT Leadership to
define metrics and reporting strategies that effectively communicate organizational successes
and progress of projects, process improvement or change management initiatives.
11. Plan and facilitate meetings across functional teams, making formal presentations to senior
management and executives as needed.
12. Build strong relationships with administrative, academic, and technical leadership for strategic
partnership across the University.
13. Lead collaborative, innovative thinking activities that will result in process improvement
recommendations in each area that will help align all processes with OU IT's enterprise service
strategy.
Office of Human Resources
Broadband Job Description – Computer Series – 1/3/2014
Information Technology Manager (2529)
14. Lead research and development initiatives that advance the University's mission. Analyze and
prioritize resources based on the strategic value of projects and initiatives.
15. Work as a team with IT leadership to create a richer technology experience across campus, to
improve the IT service catalog based on customer and user needs, and to identify opportunities
for efficiency, cost savings, and collaboration.
16. Research and maintain an awareness of industry trends for IT, Business, Education, and other
relevant areas in order to make application to campus entities.
17. Performing other related duties as assigned.
Risk Management: Uses established safety practices to protect the health and safety of personnel
and property. Adheres to University computing policies and follows recognized information
security practices to protect the integrity of University systems and the network.
Supervision of Others: Directing and integrating the work of other staff or leading teams.
Supervision Received: Receives limited supervision from designated supervisor.
Minimum Qualifications:
Education: Bachelor's Degree
Type: Determined by department

Experience: 48-60 months

Skills: Customer service. Strong oral and written communication skills. Demonstrated leadership
capability. Highly developed written, oral and presentation communication skills. Ability to
resolve conflict. Ability to embrace and lead change. Advanced and comprehensive knowledge of
the process area, including ability to develop and integrate highly complex information technology
systems. Ability to quickly learn new technologies.

Special Requirements: Frequent exposure to pressure caused by deadlines and busy periods;
requires minimum travel; requires contact with other departments and university officials.

Licenses: Determined by the nature of the position and/or department.

Certifications: Driver's license required for multi campus initiatives.
Type: IT, Business, Retail or Customer Service
Minimum requirements may be met by an equivalent combination of education and experience, unless
otherwise designated in writing by the department.
Departments are responsible for site-specific job descriptions.