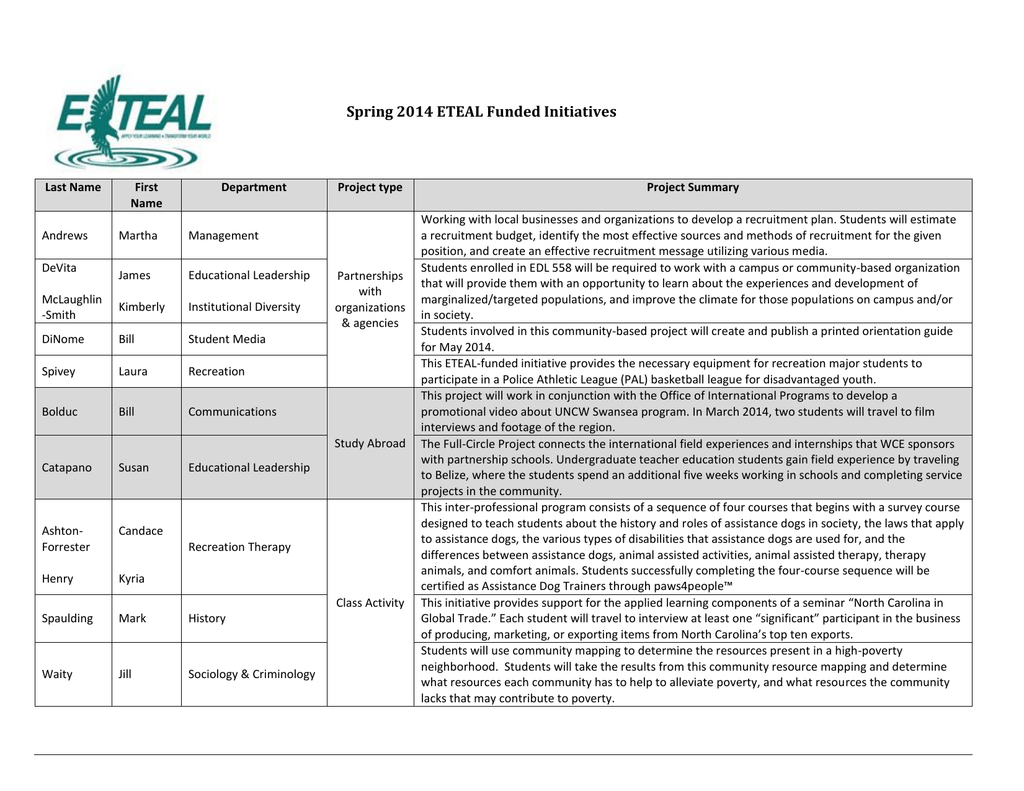 Spring 2014 ETEAL Funded Initiatives
Last Name
Andrews
First
Name
Department
Martha
Management
James
Educational Leadership
McLaughlin
-Smith
Kimberly
Institutional Diversity
DiNome
Bill
Student Media
Spivey
Laura
Recreation
Bolduc
Bill
Communications
DeVita
Project type
Partnerships
with
organizations
& agencies
Study Abroad
Catapano
Susan
Educational Leadership
AshtonForrester
Candace
Henry
Kyria
Spaulding
Mark
History
Waity
Jill
Sociology & Criminology
Recreation Therapy
Class Activity
Project Summary
Working with local businesses and organizations to develop a recruitment plan. Students will estimate
a recruitment budget, identify the most effective sources and methods of recruitment for the given
position, and create an effective recruitment message utilizing various media.
Students enrolled in EDL 558 will be required to work with a campus or community-based organization
that will provide them with an opportunity to learn about the experiences and development of
marginalized/targeted populations, and improve the climate for those populations on campus and/or
in society.
Students involved in this community-based project will create and publish a printed orientation guide
for May 2014.
This ETEAL-funded initiative provides the necessary equipment for recreation major students to
participate in a Police Athletic League (PAL) basketball league for disadvantaged youth.
This project will work in conjunction with the Office of International Programs to develop a
promotional video about UNCW Swansea program. In March 2014, two students will travel to film
interviews and footage of the region.
The Full-Circle Project connects the international field experiences and internships that WCE sponsors
with partnership schools. Undergraduate teacher education students gain field experience by traveling
to Belize, where the students spend an additional five weeks working in schools and completing service
projects in the community.
This inter-professional program consists of a sequence of four courses that begins with a survey course
designed to teach students about the history and roles of assistance dogs in society, the laws that apply
to assistance dogs, the various types of disabilities that assistance dogs are used for, and the
differences between assistance dogs, animal assisted activities, animal assisted therapy, therapy
animals, and comfort animals. Students successfully completing the four-course sequence will be
certified as Assistance Dog Trainers through paws4people™
This initiative provides support for the applied learning components of a seminar "North Carolina in
Global Trade." Each student will travel to interview at least one "significant" participant in the business
of producing, marketing, or exporting items from North Carolina's top ten exports.
Students will use community mapping to determine the resources present in a high-poverty
neighborhood. Students will take the results from this community resource mapping and determine
what resources each community has to help to alleviate poverty, and what resources the community
lacks that may contribute to poverty.
Spring 2014 ETEAL Funded Initiatives
Last Name
First
Name
Department
Halls
Pricope
Joanne
Narcisa
Geography & Geology
Persuit
Bolduc
Jeanne
Bill
Communications
White
Wilson
Biology & Marine
Biology
Howe
Magnus
Vince
Jessica
Cameron School of
Business – MBA Program
Kano
Yoko
Foreign Languages &
Literatures
Biddle
Jennifer
Public & International
Affairs
Warfield
Hunt-Long
Stultz
Becky
Lynn
Rebecca
English
Applied Human Science
University College
Project type
Class activity
Project Summary
ETEAL funding provides equipment for Geography & Geology students to gather field data that can be
implemented with GIS and remote sensing software for analyzing spatial patterns of change or create
even more informative maps and graphics.
Integrated marketing communications projects. These team-based projects combine many of the
teaching and research areas of the COM department, including communication strategic planning,
market research, public relations, event marketing, advertising, social media campaigns, and search
engine optimization.
Students will use computer models to solve problems in ecology and conservation biology.
This project supports the development of on-line structure, processes, and assessment for the
Cameron School of Business Professional MBA Learning Alliance.
Online
Multiple
Department
Collaboration
Students will create a web site in Japanese and present the highlights of the web site to a Japanese
audience using Power Point.
This initiative aims to transform the student into an active member of society through communitybased research of four primary coastal issues that are presently affecting Wilmington. This initiative
involves collaboration between the following departments in delivering course content and instruction:
Public and International Affairs, Center for Marine Science, Environmental Studies, and
Communications Department.
Beyond reading about experiences, students in ENG 290 will learn how to connect the ideas and
theories read and discussed in class and apply them to their own experiences with Seahawk
Adventures.