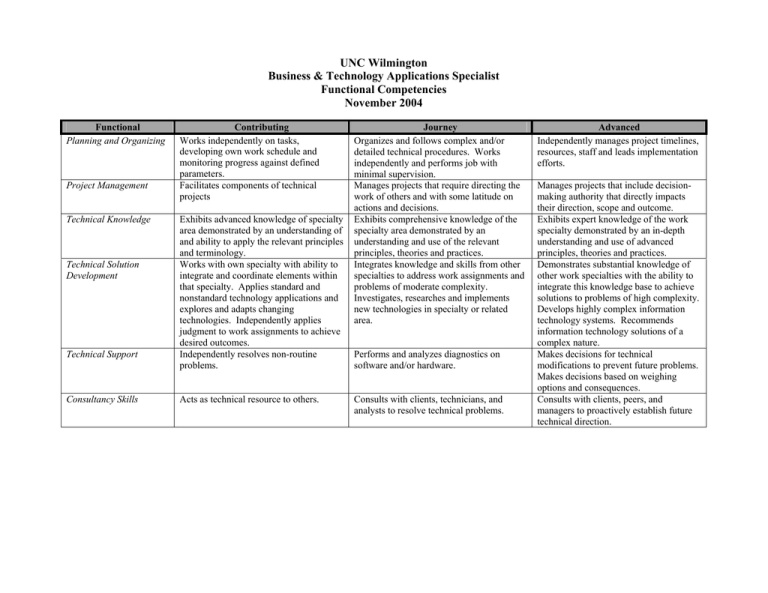 UNC Wilmington
Business & Technology Applications Specialist
Functional Competencies
November 2004
Functional
Planning and Organizing
Project Management
Technical Knowledge
Technical Solution
Development
Technical Support
Consultancy Skills
Contributing
Works independently on tasks,
developing own work schedule and
monitoring progress against defined
parameters.
Facilitates components of technical
projects
Exhibits advanced knowledge of specialty
area demonstrated by an understanding of
and ability to apply the relevant principles
and terminology.
Works with own specialty with ability to
integrate and coordinate elements within
that specialty. Applies standard and
nonstandard technology applications and
explores and adapts changing
technologies. Independently applies
judgment to work assignments to achieve
desired outcomes.
Independently resolves non-routine
problems.
Acts as technical resource to others.
Journey
Organizes and follows complex and/or
detailed technical procedures. Works
independently and performs job with
minimal supervision.
Manages projects that require directing the
work of others and with some latitude on
actions and decisions.
Exhibits comprehensive knowledge of the
specialty area demonstrated by an
understanding and use of the relevant
principles, theories and practices.
Integrates knowledge and skills from other
specialties to address work assignments and
problems of moderate complexity.
Investigates, researches and implements
new technologies in specialty or related
area.
Performs and analyzes diagnostics on
software and/or hardware.
Consults with clients, technicians, and
analysts to resolve technical problems.
Advanced
Independently manages project timelines,
resources, staff and leads implementation
efforts.
Manages projects that include decisionmaking authority that directly impacts
their direction, scope and outcome.
Exhibits expert knowledge of the work
specialty demonstrated by an in-depth
understanding and use of advanced
principles, theories and practices.
Demonstrates substantial knowledge of
other work specialties with the ability to
integrate this knowledge base to achieve
solutions to problems of high complexity.
Develops highly complex information
technology systems. Recommends
information technology solutions of a
complex nature.
Makes decisions for technical
modifications to prevent future problems.
Makes decisions based on weighing
options and consequences.
Consults with clients, peers, and
managers to proactively establish future
technical direction.