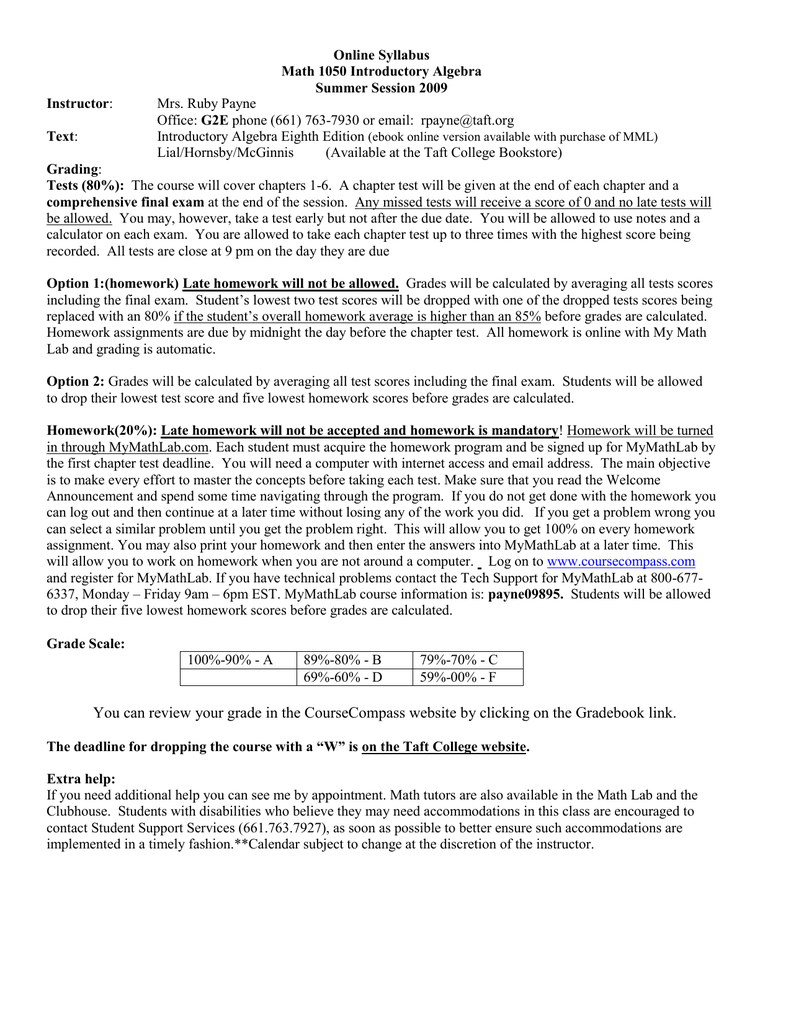 Online Syllabus
Math 1050 Introductory Algebra
Summer Session 2009
Instructor:
Text:
Mrs. Ruby Payne
Office: G2E phone (661) 763-7930 or email: [email protected]
Introductory Algebra Eighth Edition (ebook online version available with purchase of MML)
Lial/Hornsby/McGinnis
(Available at the Taft College Bookstore)
Grading:
Tests (80%): The course will cover chapters 1-6. A chapter test will be given at the end of each chapter and a
comprehensive final exam at the end of the session. Any missed tests will receive a score of 0 and no late tests will
be allowed. You may, however, take a test early but not after the due date. You will be allowed to use notes and a
calculator on each exam. You are allowed to take each chapter test up to three times with the highest score being
recorded. All tests are close at 9 pm on the day they are due
Option 1:(homework) Late homework will not be allowed. Grades will be calculated by averaging all tests scores
including the final exam. Student's lowest two test scores will be dropped with one of the dropped tests scores being
replaced with an 80% if the student's overall homework average is higher than an 85% before grades are calculated.
Homework assignments are due by midnight the day before the chapter test. All homework is online with My Math
Lab and grading is automatic.
Option 2: Grades will be calculated by averaging all test scores including the final exam. Students will be allowed
to drop their lowest test score and five lowest homework scores before grades are calculated.
Homework(20%): Late homework will not be accepted and homework is mandatory! Homework will be turned
in through MyMathLab.com. Each student must acquire the homework program and be signed up for MyMathLab by
the first chapter test deadline. You will need a computer with internet access and email address. The main objective
is to make every effort to master the concepts before taking each test. Make sure that you read the Welcome
Announcement and spend some time navigating through the program. If you do not get done with the homework you
can log out and then continue at a later time without losing any of the work you did. If you get a problem wrong you
can select a similar problem until you get the problem right. This will allow you to get 100% on every homework
assignment. You may also print your homework and then enter the answers into MyMathLab at a later time. This
will allow you to work on homework when you are not around a computer. Log on to www.coursecompass.com
and register for MyMathLab. If you have technical problems contact the Tech Support for MyMathLab at 800-6776337, Monday – Friday 9am – 6pm EST. MyMathLab course information is: payne09895. Students will be allowed
to drop their five lowest homework scores before grades are calculated.
Grade Scale:
100%-90% - A
89%-80% - B
69%-60% - D
79%-70% - C
59%-00% - F
You can review your grade in the CourseCompass website by clicking on the Gradebook link.
The deadline for dropping the course with a "W" is on the Taft College website.
Extra help:
If you need additional help you can see me by appointment. Math tutors are also available in the Math Lab and the
Clubhouse. Students with disabilities who believe they may need accommodations in this class are encouraged to
contact Student Support Services (661.763.7927), as soon as possible to better ensure such accommodations are
implemented in a timely fashion.**Calendar subject to change at the discretion of the instructor.
Tentative Pacing Calendar w/test due dates.
Monday
June 8th
Sec. 1.1
Friday
th
Tuesday
June 9
Sec. 1.2
Monday
th
Wednesday
June 10
Sec. 1.3
Tuesday
th
Thursday
June 11
Sec. 1.4
Wednesday
th
Friday
June 12
Sec. 1.5
Thursday
th
Saturday
June 13
Sec. 1.6
Friday
th
Monday
June 15
Sec. 1.7
Saturday
th
Tuesday
June 16
Sec. 1.8
Monday
th
Tuesday
Wednesday June 17 Ch. 1 Test
th
Thursday
June 18
Sec. 2.1
Wednesday
th
Friday
June 19
Sec. 2.2
Thursday
th
Saturday
June 20
Sec. 2.3
Friday
nd
Monday
June 22
Sec. 2.4
Saturday
rd
Tuesday
June 23
Sec. 2.5
Monday
th
Wednesday
June 24
Sec. 2.6
Tuesday
th
Thursday
June 25
Sec. 2.7
Wednesday
th
Thursday
Friday
June 26 Ch. 2 Test
th
Saturday
June 27
Sec. 3.1
Friday
th
Monday
June 29
Sec. 3.2
Saturday
th
Tuesday
June 30
Sec. 3.3
Monday
st
Wednesday
July 1
Sec. 3.4
Tuesday
nd
Thursday
July 2
Ch. 3 Test
Wednesday
July 3rd
July 6th
July 7th
July 8th
July 9th
July 10th
July 11th
July 13th
July 14th
July 15th
July 16th
July 17th
July 18th
July 20th
July 21st
July 22nd
July 23rd
July 24th
July 25th
July 27th
July 28th
July 29th
Sec. 4.1
Sec. 4.2
Sec. 4.3
Sec. 4.4
Ch. 4 Test
Sec. 5.1
Sec. 5.2
Sec. 5.3
Sec. 5.4
Sec. 5.5
Sec. 5.6
Sec. 5.7
Sec. 5.8
Ch. 5 Test
Sec. 6.1
Sec. 6.2
Sec. 6.3
Sec. 6.4
Sec. 6.5
Sec. 6.6
Ch. 6 Test
Final Exam
What do I need to get started?
What steps do I take next?
Take the access card that was packaged with the text, review the grid above one more time and then follow
steps 1 - 8 below.
1) Go to www.coursecompass.com and click on Register.
2) Enter your six-word student access code, school zip code and country.
3) Enter the Course ID
payne09895
4) Fill in the requested information, and then create your unique Login Name and Password. It's
recommended that you use your email address as your login name.
5) Return to www.coursecompass.com and log in. At the Welcome page, click on the course you are
taking.
6) The first time you enter the site from your computer and anytime you use a new computer, click on
the software Installation Wizard on the Announcements page or on the navigational buttons on the
bottom left side of the screen. This wizard will walk you through the installation of the software
you will need to use the MyMathLab resources. Note: the software may already be installed in the
school lab. Check with your lab administrator.
7) Technical problems? Call Tech Support at 800-677-6337, Monday – Friday 9am – 6pm EST.
8) Additional help can be found on the Announcements page by clicking on Student Help or viewing
the tip sheets.
Don't forget, MyMathLab includes FREE access to the AW Tutor Center.
Toll free 888-777-0463, Sunday to Thursday 5pm – 12am EST.