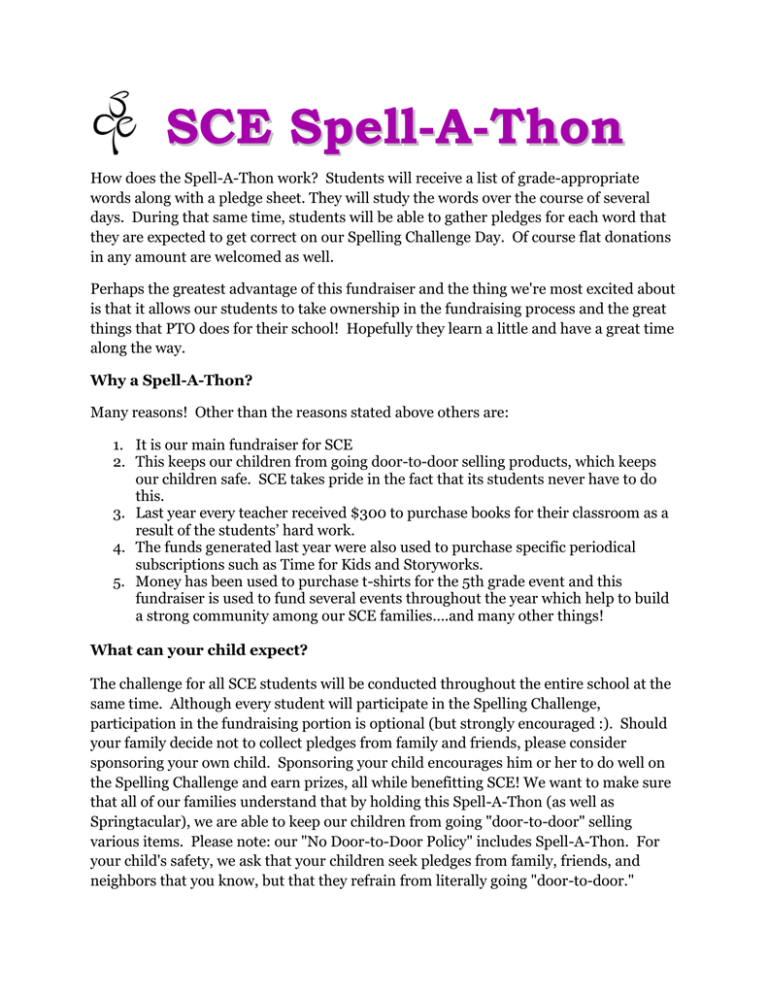 SCE Spell-A-Thon
How does the Spell-A-Thon work? Students will receive a list of grade-appropriate
words along with a pledge sheet. They will study the words over the course of several
days. During that same time, students will be able to gather pledges for each word that
they are expected to get correct on our Spelling Challenge Day. Of course flat donations
in any amount are welcomed as well.
Perhaps the greatest advantage of this fundraiser and the thing we're most excited about
is that it allows our students to take ownership in the fundraising process and the great
things that PTO does for their school! Hopefully they learn a little and have a great time
along the way.
Why a Spell-A-Thon?
Many reasons! Other than the reasons stated above others are:
1. It is our main fundraiser for SCE
2. This keeps our children from going door-to-door selling products, which keeps
our children safe. SCE takes pride in the fact that its students never have to do
this.
3. Last year every teacher received $300 to purchase books for their classroom as a
result of the students' hard work.
4. The funds generated last year were also used to purchase specific periodical
subscriptions such as Time for Kids and Storyworks.
5. Money has been used to purchase t-shirts for the 5th grade event and this
fundraiser is used to fund several events throughout the year which help to build
a strong community among our SCE families....and many other things!
What can your child expect?
The challenge for all SCE students will be conducted throughout the entire school at the
same time. Although every student will participate in the Spelling Challenge,
participation in the fundraising portion is optional (but strongly encouraged :). Should
your family decide not to collect pledges from family and friends, please consider
sponsoring your own child. Sponsoring your child encourages him or her to do well on
the Spelling Challenge and earn prizes, all while benefitting SCE! We want to make sure
that all of our families understand that by holding this Spell-A-Thon (as well as
Springtacular), we are able to keep our children from going "door-to-door" selling
various items. Please note: our "No Door-to-Door Policy" includes Spell-A-Thon. For
your child's safety, we ask that your children seek pledges from family, friends, and
neighbors that you know, but that they refrain from literally going "door-to-door."
Of course, no "A-Thon" would be complete without prizes! The SCE Spell-A-Thon is no
different!! All students will receive a small reward on the day of the "Spelling
Challenge" to thank them for their hard work and participation. Every student who
achieves 100% on his or her Spelling Challenge will receive a special prize as well. There
are many more great prizes for the students depending on the level of donations
collected. Some of the fun prizes include Spell-A-Thon t-shirts, Kid Meals at a number
of local restaurants, Chiller Skating passes, an Integrity Gymnastics Party, and MANY
MORE!! There will also be classroom parties at each grade level for the classroom that
raises the most money (think Tim Bits, Cold Stone, Donatos, etc..) Note: Prizes will be
distributed on the money collected, not money pledged.