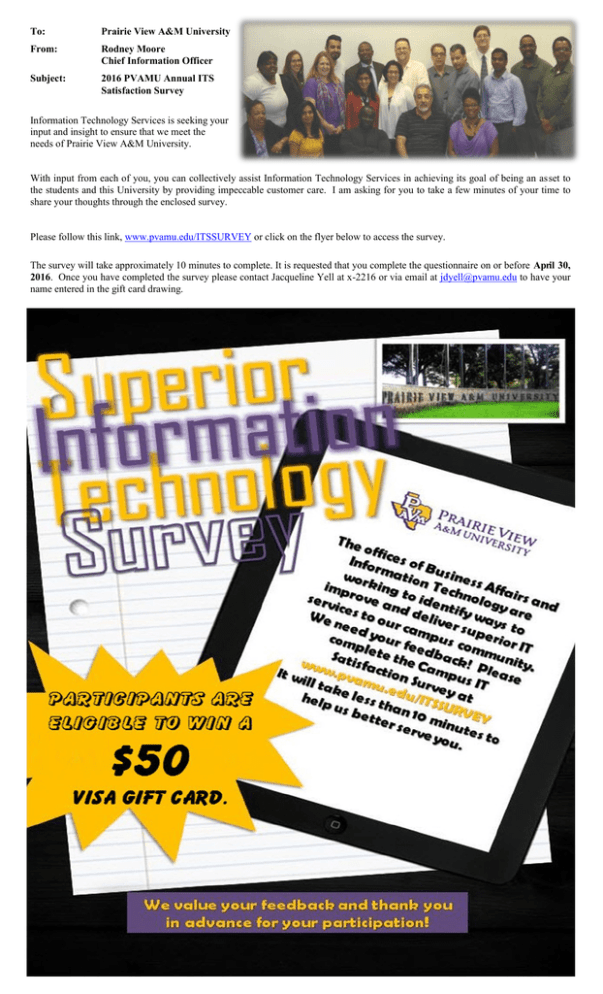 To:
Prairie View A&M University
From:
Rodney Moore
Chief Information Officer
Subject:
2016 PVAMU Annual ITS
Satisfaction Survey
Information Technology Services is seeking your
input and insight to ensure that we meet the
needs of Prairie View A&M University.
With input from each of you, you can collectively assist Information Technology Services in achieving its goal of being an asset to
the students and this University by providing impeccable customer care. I am asking for you to take a few minutes of your time to
share your thoughts through the enclosed survey.
Please follow this link, www.pvamu.edu/ITSSURVEY or click on the flyer below to access the survey.
The survey will take approximately 10 minutes to complete. It is requested that you complete the questionnaire on or before April 30,
2016. Once you have completed the survey please contact Jacqueline Yell at x-2216 or via email at jdyell@pvamu.edu to have your
name entered in the gift card drawing.