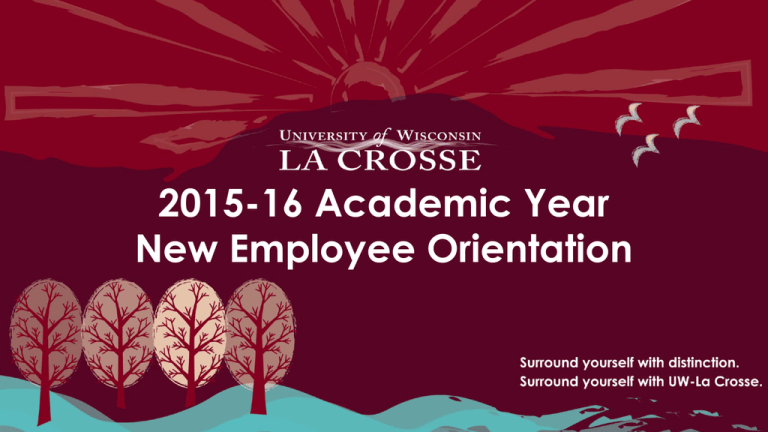 2015-16 Academic Year
New Employee Orientation
Orientation Agenda
• Welcome and Introductions
• General Information
–
–
–
–
Employment information
Payroll Information
Time and Leave reporting information
Policies and other important information
• Benefits Information
– Benefits Introduction and signing of deadline worksheet
– Review of benefits programs, eligibility requirements, and cost
– Benefits Q&A
• Electronic benefits enrollment
Email & Net ID
• Net ID is used for GoogleApps (email, calendar,
etc.), log in on campus computer stations, D2L,
Wings, and more
• Activate Net ID and Email by visiting
www.uwlax.edu/password
• Eagle Help Desk Support 785-8774 or
helpdesk@uwlax.edu
My UW System (HR) portal
• Use for earnings statements, leave balances,
time and leave reporting, address changes,
annual tax statements, HR and benefits info,
and more!
• Go to www.uwlax.edu and click on the
UW-L Quicklinks
Earnings Statements
•
•
•
•
•
•
•
•
Pay Period Begin/ End Dates
& Payment Date
Employee ID #
Tax Withholding Allowances
(W-4)
1- Earnings and Year-to-Date
amounts
2- Taxes Withheld
3 & 4- Deductions
7- Direct Deposit
8- Leave Balances
Pay Information
• Faculty and academic staff are paid monthly
• Pay day is on first of the month
– When the first falls on a weekend or holiday, the
pay date is the business day prior to the first
• Academic pay basis employees receive 9
checks per year
• One semester appointments receive 4.5
checks
Pay Dates
• Pay dates for 2015-2016 Academic year
–
–
–
–
–
–
–
–
–
October 1, 2015
October 30, 2015
December 1, 2015
January 4, 2016
February 1, 2016
March 1, 2016
April 1, 2016
April 29, 2016
June 1, 2016
Leave Benefits
• Sick Leave
– Eligibility is based on contract length and appointment
percentage
– Granted 176 hours for first 18 months; then earn 96 hours
per year (prorated for less than 100% appointment).
– Accumulated sick leave is available to pay health
insurance premiums upon retirement, death, or layoff.
Leave Reports
• Sick leave eligible employees are required to
complete monthly leave reports electronically
• Employee self service is accessed through My
UW System portal
• Reports are required whether or not sick leave
is used
Questions?
Mandatory Reporting Rule
•
•
•
Executive Order #54
All University of Wisconsin System employees must immediately report child abuse
or neglect if, in the course of employment, a UWS employee observes an incident
or threat of child abuse or neglect, or learns of an incident or threat of child abuse
or neglect, and the employee has reasonable cause to believe that child abuse or
neglect has occurred or will occur.
Reports must be made in person or by telephone to the following
–
UW-La Crosse University Police
•
•
•
•
789-9000 (office)
789-9999 (for emergencies only) staffed 24 hrs
Call 911 if the child is in imminent danger
More information: http://uwlax.edu/Human-Resources/Executive-Order--54/
Clery Act
•
The Clery Act requires institutions of higher education receiving federal financial aid
to report specific crime statistics on campus and provide safety and crime
information to members of the campus community.
•
The Clery Act requires that the University gather and publish crime data from
multiple sources to ensure that students and others know about potential dangers
on campus. This is important because many crimes, especially sexual assaults are
not always reported to the police.
•
UW-La Crosse's annual security report and policy statement can be found on the
UWL Police department's website at www.uwlax.edu/police
•
The annual report is prepared by the Student Life office using information gathered
from UWL Police, the City of La Crosse Police, UWL Residence Life, and the UWL
Violence prevention officer
FMLA, Worker's Comp and EAP
• Family Medical Leave Act (FMLA)
– Contact: Deanna Kabliska (608) 785-8601
• Worker's Compensation
– If employee has been involved in an accident and/or injured in the
course of employment, they should report the injury to their direct
supervisor, complete the required forms and return them to HR
– Contact: Deanna Kabliska, (608) 785-8601
• Employee Assistance Program (EAP)
– Available to all employees and their immediate family members
– Provides 5 free consultations per year
Domestic Partner Benefits
•
Coverage for same-sex and opposite sex domestic partners and the domestic partner's children
is available under most plans.
•
Two different types of domestic partnerships
–
–
Unregistered
•
Available to both same-sex and opposite-sex couples in a domestic partnership.
•
This is considered a domestic partnership for employee benefits provided by Chapter
40 of Wisconsin State Statute.
Registered
•
A registered domestic partnership is available only to same-sex couples. A domestic
partner registry was created by Chapter 770 of Wisconsin State Statute.
•
An employee may enroll a domestic partner in an allowable benefit program
and must submit a completed and notarized Affidavit of Domestic Partnership.
•
Additional enrollment information and options will be covered in our Benefit Orientation.
Questions?