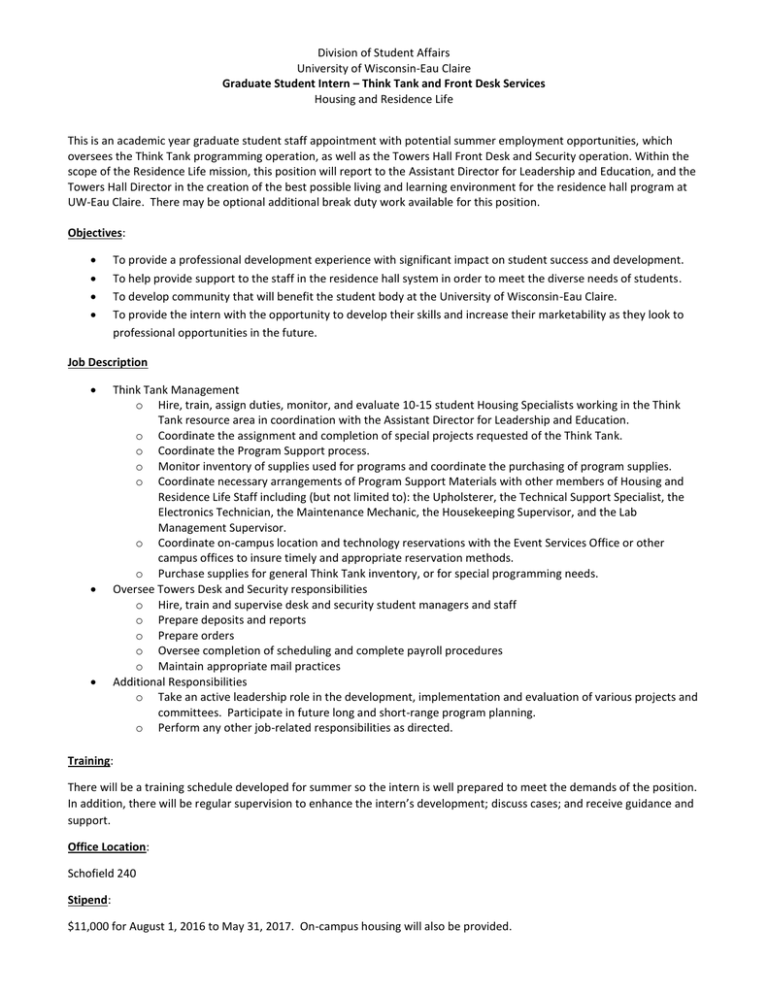 Division of Student Affairs
University of Wisconsin-Eau Claire
Graduate Student Intern – Think Tank and Front Desk Services
Housing and Residence Life
This is an academic year graduate student staff appointment with potential summer employment opportunities, which
oversees the Think Tank programming operation, as well as the Towers Hall Front Desk and Security operation. Within the
scope of the Residence Life mission, this position will report to the Assistant Director for Leadership and Education, and the
Towers Hall Director in the creation of the best possible living and learning environment for the residence hall program at
UW-Eau Claire. There may be optional additional break duty work available for this position.
Objectives:




To provide a professional development experience with significant impact on student success and development.
To help provide support to the staff in the residence hall system in order to meet the diverse needs of students.
To develop community that will benefit the student body at the University of Wisconsin-Eau Claire.
To provide the intern with the opportunity to develop their skills and increase their marketability as they look to
professional opportunities in the future.
Job Description



Think Tank Management
o Hire, train, assign duties, monitor, and evaluate 10-15 student Housing Specialists working in the Think
Tank resource area in coordination with the Assistant Director for Leadership and Education.
o Coordinate the assignment and completion of special projects requested of the Think Tank.
o Coordinate the Program Support process.
o Monitor inventory of supplies used for programs and coordinate the purchasing of program supplies.
o Coordinate necessary arrangements of Program Support Materials with other members of Housing and
Residence Life Staff including (but not limited to): the Upholsterer, the Technical Support Specialist, the
Electronics Technician, the Maintenance Mechanic, the Housekeeping Supervisor, and the Lab
Management Supervisor.
o Coordinate on-campus location and technology reservations with the Event Services Office or other
campus offices to insure timely and appropriate reservation methods.
o Purchase supplies for general Think Tank inventory, or for special programming needs.
Oversee Towers Desk and Security responsibilities
o Hire, train and supervise desk and security student managers and staff
o Prepare deposits and reports
o Prepare orders
o Oversee completion of scheduling and complete payroll procedures
o Maintain appropriate mail practices
Additional Responsibilities
o Take an active leadership role in the development, implementation and evaluation of various projects and
committees. Participate in future long and short-range program planning.
o Perform any other job-related responsibilities as directed.
Training:
There will be a training schedule developed for summer so the intern is well prepared to meet the demands of the position.
In addition, there will be regular supervision to enhance the intern's development; discuss cases; and receive guidance and
support.
Office Location:
Schofield 240
Stipend:
$11,000 for August 1, 2016 to May 31, 2017. On-campus housing will also be provided.