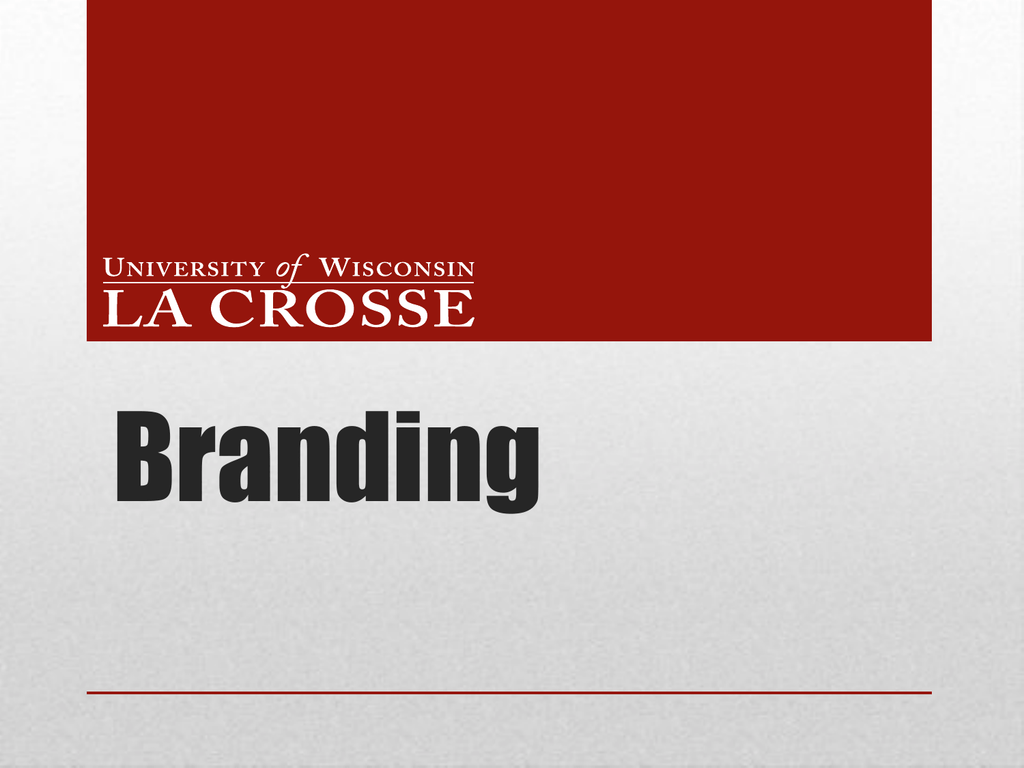 Branding
Today's presentation
1. 
2. 
3. 
4. 
5. 
6. 
Project overview
Branding committee
What is a brand?
Process
Recommendations
Questions/Comments
Why now?
•  Ever-increasing competition
•  Changes with System; future flexibilities?
•  Explosion of social media
•  Web is now our front door
•  Seven years since our last review
Assumptions
•  No additional budget support
•  Review needs to be comprehensive
•  Scale of work is up to the committee
•  Implement in fall 2012
•  Phase it in as quickly as possible – but
departments should use printed supplies first
Committee members
At-Large members:
Brad Quarberg, University Communications, Chair
Scott Dickmeyer, Communication Studies
Sanja Dojcinovic, Creative Services
Joshua Rybaski, Admissions
Natalie Solverson, Admissions/Provost Office
Maren Walz, Web and Interactive Communications
Governance Group members
Academic Staff Council:
Patrick Barlow, CATL
Francie Biesanz, Counseling and Testing
Cariann Mathwig Ramseier, Academic Technology Services
Larry Ringgenberg, University Centers
Classified Staff Advisory Council:
Susan Butterfield, Chancellors' Office (Replaced by Ann
Beaver, Human Resources, following Susan's retirement 05/11)
Tom Fell, Physical Plant
Don Hill, Student Health Center
Tracey Simpson, Human Resources (resigned 10/11)
Faculty Senate:
Sandy Koster
John Ready
Rob Wolf
Student Senate:
Chassitti Clark
Sonia Cruz
Kayla Lenz
Hoang Vo
Jennifer (Brion) Weber, Alternate
Ex-Officio Members:
Florence Aliesch, Creative Services
Kjerstin Lang, News and Marketing
Sue Lee, News and Marketing
Greg Reichert, University Advancement
Mandy Wagner, University Communications (Replaced
by Pa Moua-Yang following Mandy's resignation 9/11)
Arla Wojahn, Web and Integrated Communications
(Retired 5/11)
Lynn Holzworth, Web and Integrated Communications
(Beginning 10/11)
Adrianne Olson, Web and Integrated Communications
(Beginning 10/11-7/12)
Faculty consultants:
Ryan White, Marketing
Gwen Achenreiner, Marketing
Guiding principles/etiquette
•  The Branding Committee will preserve and uphold UW-L's core mission and keep
students its top priority.
•  Committee members will be expected to attend meetings at their scheduled start
time. Committee work will not be reviewed once a meeting is started for tardy
members.
•  Committee members will value and respect all participants and perspectives, and
exercise civility and integrity.
•  Committee members will be expected to keep current with committee readings,
assignments, etc., prior to a scheduled meeting.
•  Committee members will be expected to keep their constituent group(s) up to date
of committee work.
•  After two unexcused absences, the committee chair will ask the respective
governance group to find a replacement.
•  Committee meetings will have an agenda with a scheduled time frame, which will
typically be one hour.
Sister institution brands
University of Wisconsin-Eau Claire
Excellence. Our measure, our motto, our goal.
University of Wisconsin-Oshkosh
Where excellence and opportunity meet.
University of Wisconsin-Stout (Wisconsin's Polytechnic University)
Inspiring innovation…
University of Wisconsin-Green Bay
Connecting learning to life.
University of Wisconsin-Superior
Wisconsin's leading public liberal arts college.
University of Wisconsin-Milwaukee
Powerful ideas. Proven results.
What is a brand?
A brand is a valued and differentiating
promise that a college, university or school
makes to its most important audiences to
meet a need or fulfill an expectation.
— Building Brand Momentum by Robert Sevier
Every organization has a brand,
whether they like it or not,
whether they realize it or not,
whether or not they have an expensive
ad campaign or a new logo.
— Christina Pattyn, Vice President, Marketing, Pangborn Design Ltd.
What constitutes brand identity?
•  Name
•  Mission
•  Logo
•  Strengths
•  School colors
•  History
•  Campus icons
•  Emotion
•  Reputation
•  Campus culture
•  Core values
•  Interactive
•  Institutional messages
(two-way communication
is important)
— Branding University of Missouri, University Affairs 2009
Strong brands attract:
•  Talented administrators, faculty/staff and students
•  More media attention
•  More research dollars
•  Strategic partners including foundations and
organizations supplying internships
•  Greater alumni support
•  More positive word-of-mouth
•  Greater loyalty internally along with external
stakeholders as alumni and donors
Stronger brands require fewer direct marketing
expenditures.
— Building Brand Momentum by Robert Sevier
A comprehensive brand perception analysis
•  Current students
•  Community members
•  Business owners
•  Alumni/donors
•  Parents
•  Faculty
•  Staff
•  Perspective students
•  High school counselors
•  Grad students and those taking Con Ed classes
Fall survey results
With regard to the associations each group holds for the
University of Wisconsin La Crosse …
• the quality and value of the academics
• the surrounding natural beauty
• the hometown feel and local community
… ranked as the top three responses across all 10 groups.
Spring survey results
At the end spring 2012 semester, students in two of Ryan White's classes
(MKTG 365 Advertising & Promotions) studied the results from the fall
perception analysis and developed an integrated marketing plan for each group.
Some of the ideas:
• (Parents) actively engage parents to develop awareness of campus community.
• (Business Owners) target business owners in getting community partnerships.
• (Faculty/staff) look at addressing a more hometown feel in building
community.
Focus Group
• Held in mid-July at a neutral site, conducted by an independent consultant.
• The three focus groups included:
Faculty/staff/alumni
Current students
Business leaders
Potential taglines
• Surround yourself with [distinction*.] [champions.] [biologists.]
Surround yourself with La Crosse.
*this word would be changed with a particular program, event, etc.
• Eagles soar.
• Educate the whole you.
Branding committee recommendation
Surround yourself with UW-La Crosse.
This can be modified for different disciplines, groups, etc. Some examples:
• Surround yourself with great theatre.
Surround yourself with UW-La Crosse.
• Surround yourself with family.
Surround yourself with UW-La Crosse.
• Surround yourself with scholars.
Surround yourself with UW-La Crosse.
UW-L Seal remains the same
Existing wordmark
Proposed wordmark
Existing logo
T
G & TES
GE
TH
EAL
IN
G
SELIN
LE
UN
COL
TI
OL O
F EDUCA
CO
SC
HO
ON
Proposed logo
O F S CIE N C E & H
Implementation
Following presentation to governance groups and the general campus community at
open forums, here are some of the initial strategies to implement branding …
• Release of a new university branding toolkit, an online resource that will be an extensive userfriendly guide to all branding aspects of the university.
• Meet with departments/areas that spend money reaching external groups, such as Admissions,
Continuing Education and Extension, Athletics.
• Create awareness and excitement of the new branding initiative with the unveiling of an
updated wordmark, letterhead and other university imagery.
• Provide department/units with ideas of when and how to use branding materials, tagline, etc.
• Create an 'elevator speech' that can be shared with the campus community that reinforces the
university brand.
• Integrate into existing marketing efforts as soon as possible. Departments will be encouraged
to utilize existing stock of printed materials before switching over to newly designed materials.