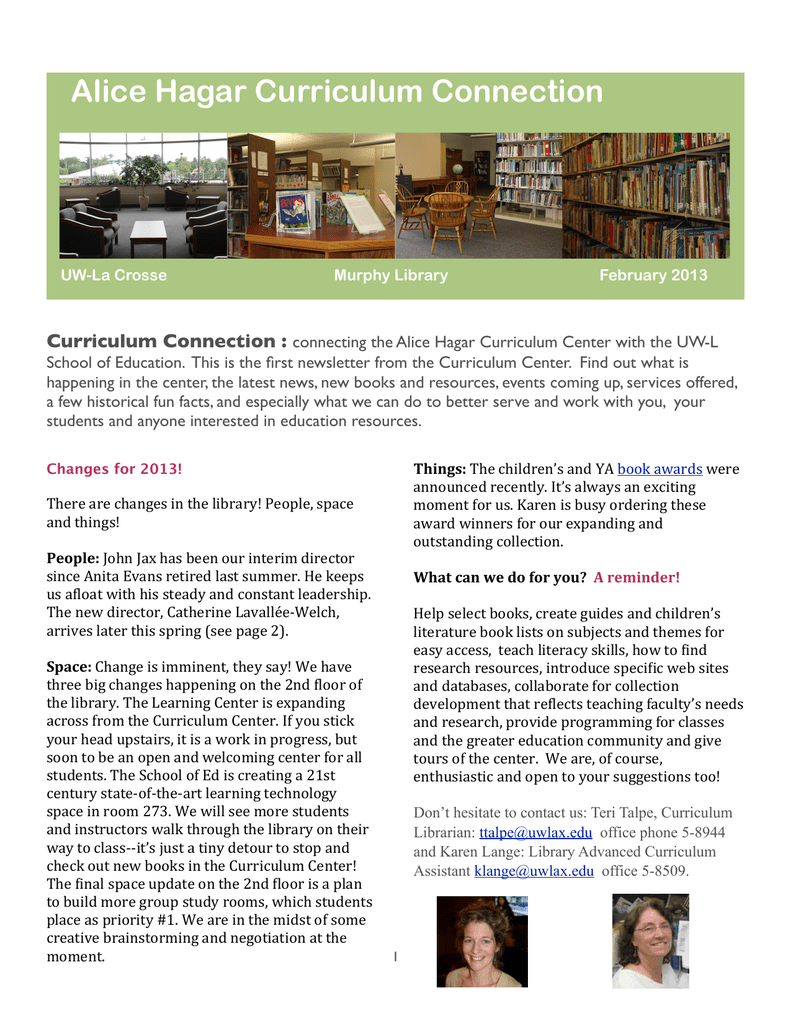 Alice Hagar Curriculum Connection
UW-La Crosse
Murphy Library
February 2013
Curriculum Connection : connecting the Alice Hagar Curriculum Center with the UW-L
School of Education. This is the first newsletter from the Curriculum Center. Find out what is
happening in the center, the latest news, new books and resources, events coming up, services offered,
a few historical fun facts, and especially what we can do to better serve and work with you, your
students and anyone interested in education resources.
Things: The children's and YA book awards were announced recently. It's always an exciting moment for us. Karen is busy ordering these award winners for our expanding and outstanding collection. Changes for 2013!
There are changes in the library! People, space and things!
People: John Jax has been our interim director since Anita Evans retired last summer. He keeps us [email protected] with his steady and constant leadership. The new director, Catherine Lavallée-­‐Welch, arrives later this spring (see page 2). Space: Change is imminent, they say! We have three big changes happening on the 2nd @loor of the library. The Learning Center is expanding across from the Curriculum Center. If you stick your head upstairs, it is a work in progress, but soon to be an open and welcoming center for all students. The School of Ed is creating a 21st century state-­‐of-­‐the-­‐art learning technology space in room 273. We will see more students and instructors walk through the library on their way to class-­‐-­‐it's just a tiny detour to stop and check out new books in the Curriculum Center!
The @inal space update on the 2nd @loor is a plan to build more group study rooms, which students place as priority #1. We are in the midst of some creative brainstorming and negotiation at the moment.
What can we do for you? A reminder!
Help select books, create guides and children's literature book lists on subjects and themes for easy access, teach literacy skills, how to @ind research resources, introduce [email protected] web sites and databases, collaborate for collection development that [email protected] teaching faculty's needs and research, provide programming for classes and the greater education community and give tours of the center. We are, of course, enthusiastic and open to your suggestions too!
Don't hesitate to contact us: Teri Talpe, Curriculum
Librarian: [email protected] office phone 5-8944
and Karen Lange: Library Advanced Curriculum
Assistant [email protected] office 5-8509.
1
STEMSS
Our annual STEMSS
workshop day for students,
instructors and area
teachers is coming up!
Save the date: Monday,
March 11 in the Alice
Hagar Curriculum Center,
Murphy Library from 2:00
pm-5:30 p.m. As usual,
Tim Gerber is the
mastermind behind the
new award-winning books
that we order. This is your
chance to peruse the best
of the best and introduce
your teacher candidates to
these amazing books. Take
a minute to watch this
video of how UW-L
creates bridges with the
community and public
schools to prepare children
and young adults for the
21st century. The
collection is unique,
expanding and fascinating!
Multicultural Event
Another annual event in
the Alice Hagar
Curriculum Center that
showcases our growing
multicultural collection is
the Multicultural
Children's Literature
program, co-sponsored by
the School of Ed. In its 7th
year, 2013 will feature a
collaboration with
Northwoods International
Elementary and focus on
North America. Thomas
Peacock, a member of
the Ojibwa Tribe,
professor at Winona State
and author of numerous
books for children and
young adults, will be our
guest. The event is
scheduled for April 16-17.
Details are in the works--it
will be a grand event, as
usual!
2
Murphy's New Director
Catherine LavalléeWelch will arrive on May
1st to assume her duties as
our new Murphy Library
Director. Catherine is
originally from Montreal
and is currently the library
director at the University
of South Florida in
Lakeland. She built that
library from the ground up
and therefore has great
creative ideas and
experience to bring to
Murphy Library. We are all
looking forward to
working with her. Our
interim director, John Jax,
has been doing a fabulous
job and we are extremely
grateful for his calm and
friendly presence during
this time of change in the
library.