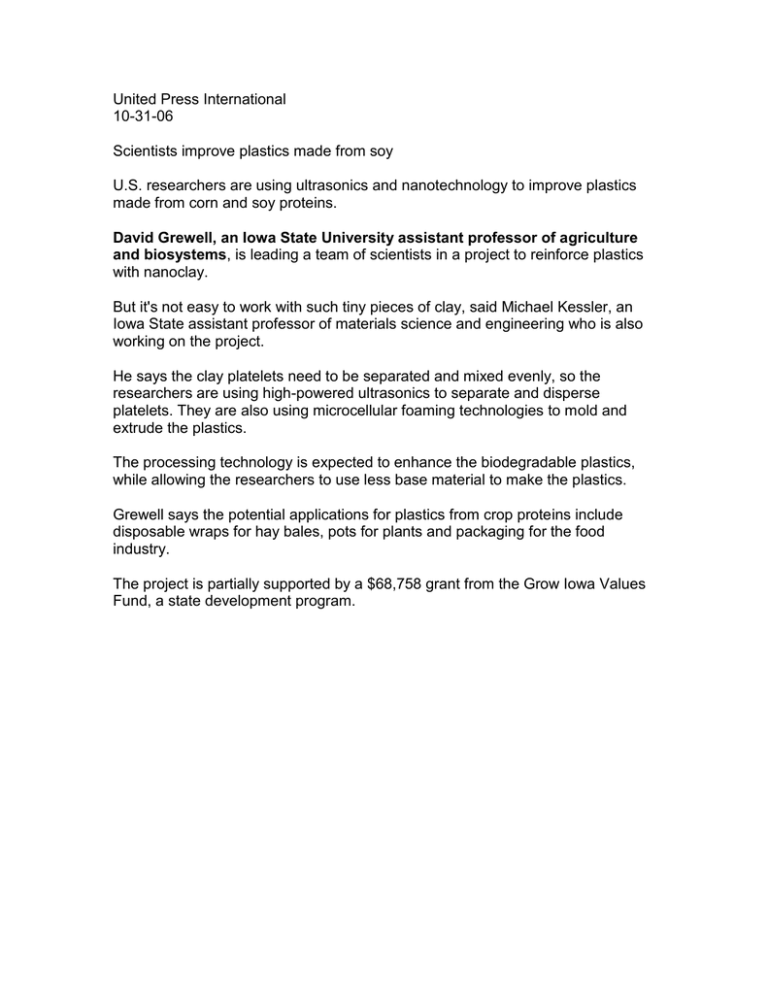 United Press International
10-31-06
Scientists improve plastics made from soy
U.S. researchers are using ultrasonics and nanotechnology to improve plastics
made from corn and soy proteins.
David Grewell, an Iowa State University assistant professor of agriculture
and biosystems, is leading a team of scientists in a project to reinforce plastics
with nanoclay.
But it's not easy to work with such tiny pieces of clay, said Michael Kessler, an
Iowa State assistant professor of materials science and engineering who is also
working on the project.
He says the clay platelets need to be separated and mixed evenly, so the
researchers are using high-powered ultrasonics to separate and disperse
platelets. They are also using microcellular foaming technologies to mold and
extrude the plastics.
The processing technology is expected to enhance the biodegradable plastics,
while allowing the researchers to use less base material to make the plastics.
Grewell says the potential applications for plastics from crop proteins include
disposable wraps for hay bales, pots for plants and packaging for the food
industry.
The project is partially supported by a $68,758 grant from the Grow Iowa Values
Fund, a state development program.