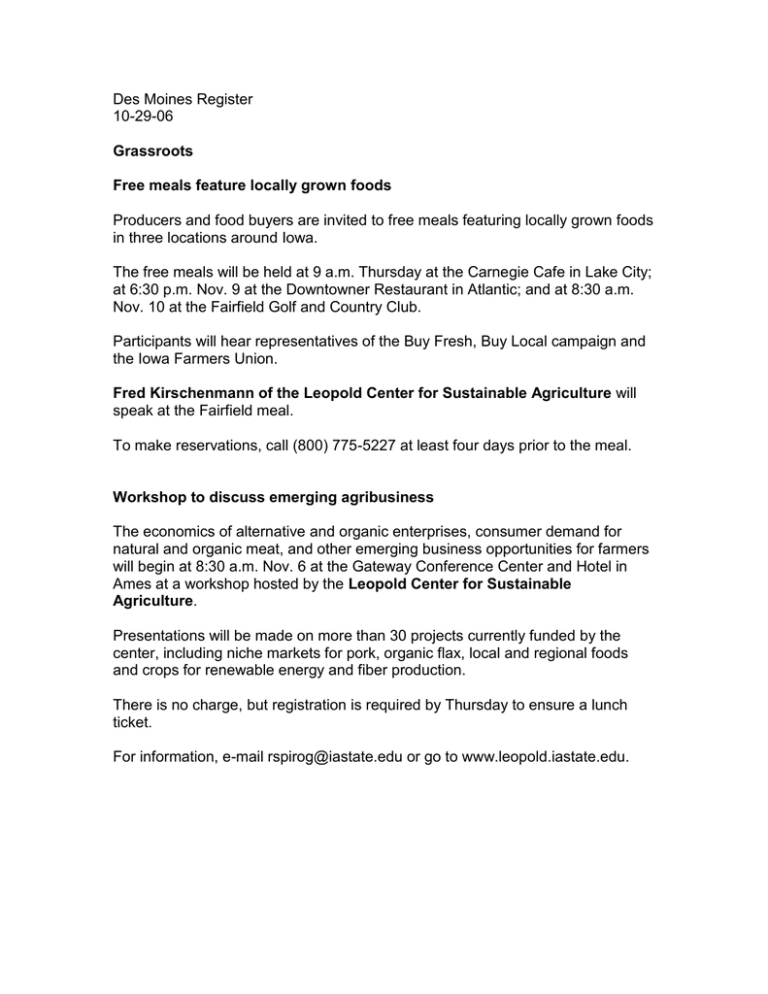 Des Moines Register
10-29-06
Grassroots
Free meals feature locally grown foods
Producers and food buyers are invited to free meals featuring locally grown foods
in three locations around Iowa.
The free meals will be held at 9 a.m. Thursday at the Carnegie Cafe in Lake City;
at 6:30 p.m. Nov. 9 at the Downtowner Restaurant in Atlantic; and at 8:30 a.m.
Nov. 10 at the Fairfield Golf and Country Club.
Participants will hear representatives of the Buy Fresh, Buy Local campaign and
the Iowa Farmers Union.
Fred Kirschenmann of the Leopold Center for Sustainable Agriculture will
speak at the Fairfield meal.
To make reservations, call (800) 775-5227 at least four days prior to the meal.
Workshop to discuss emerging agribusiness
The economics of alternative and organic enterprises, consumer demand for
natural and organic meat, and other emerging business opportunities for farmers
will begin at 8:30 a.m. Nov. 6 at the Gateway Conference Center and Hotel in
Ames at a workshop hosted by the Leopold Center for Sustainable
Agriculture.
Presentations will be made on more than 30 projects currently funded by the
center, including niche markets for pork, organic flax, local and regional foods
and crops for renewable energy and fiber production.
There is no charge, but registration is required by Thursday to ensure a lunch
ticket.
For information, e-mail rspirog@iastate.edu or go to www.leopold.iastate.edu.