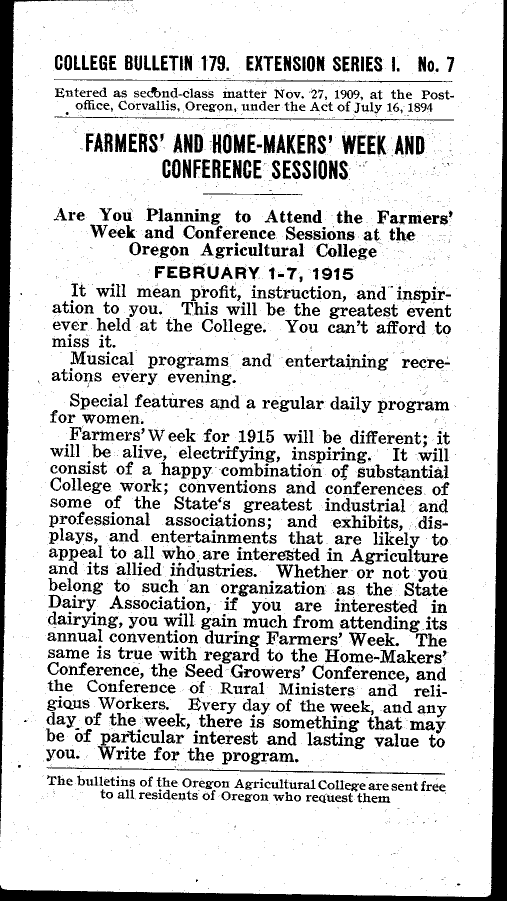 COLLEGE BULLETIN 179. EXTENSION SERIES I. No. 7
Entered as seebnd-class matter Nov. 27, 1909, at the Postoffice, Corvallis, Oregon, under the Act of July 16, 1894
FARMERS' AND HOME-MAKERS' WEEK AND
CONFERENCE SESSIONS
Are You Planning to Attend the Farmers'
Week and Conference Sessions at the
Oregon Agricultural College
FEBRUARY 1-7, 1915
It will mean profit, instruction, and inspiration to you. This will be the greatest event
ever held at the College. You can't afford to
miss it.
Musical programs and entertaining recreations every evening.
Special features and a regular daily program
for women.
Farmers' Week for 1915 will be different; it
will be alive, electrifying, inspiring. It will
consist of a happy combination of substantial
College work; conventions and conferences of
some of the State's greatest industrial and
professional associations; and exhibits, displays, and entertainments that are likely to
appeal to all who . are interested in Agriculture
and its allied industries. Whether or not you
belong to such an organization as the State
Dairy Association, if you are interested in
dairying, you will gain much from attending its
annual convention during Farmers' Week. The
same is true with regard to the Home-Makers'
Conference, the Seed Growers' Conference, and
the Conference of Rural Ministers and religions Workers. Every day of the week, and any
day of the week, there is something that may
be of particular interest and lasting value to
you. Write for the program.
The bulletins of the Oregon Agricultural College are sent free
to all residents of Oregon who request them
REGULAR WORK. ,
Agronomy.—Lectures dealing with such important subjects as Soil Fertility, Farm Management, Field Crop Production, Irrigation
Farming, Farm Mechanics, etc.
Animal Husbandry.—Practical lessons in
judging all classes of horses, beef cattle, hogs,
and sheep. Special lectures on Feeding, Breeding and Management of Live Stock under Oregon conditions.
Bacteriology.—Lectures and demonstrations
of Poultry Diseases, Clean Milk, and problems
pertaining to Rural Health.
Botany and Plant Pathology.—Lectures and
demonstrations of the more important plant
diseases and their control. Special attention to
potato diseases in relation to better seed.
Dairying.—Lectures on manufacture of butter and cheese. Feeding and Handling of
Dairy Cattle; Construction of Dairy Farm
Buildings; Community Organizations, such as
"Cow Testing Associations," "Bull Associations," "Breed Associations."
Entomology. —Special lectures on Insect
Pests of Clover and Alfalfa; on Potato Insects,
with special reference to problems of quarantine.
Horticulture.—Lectures and demonstrations
in by-products; Cannery Management; Pruning Trees; Small Fruits; Fruit Marketing;
Vegetable Growing; Landscape Gardening, etc.
Home Economics.—Problems of Food and
Clothing; Care of Children; Community Welfare; Home Sanitation; School Luncheons;
Home Decoration; Purchasing for the Home.
Poultry.—Special instruction in all phases of
Poultry Keeping; Emphasis on Feeding, Housing and Marketing; Records of experiments in
Breeding for Increased Egg Production.
Veterinary Medicine.—Special Clinics; Physiology of Breeding; Hog Cholera; Unsoundness
of Horses; Sterility in Cattle; Tuberculosis in
Cattle.
Business Administration.—Lectures on the
important phases of business management.
Department of Rural Economics.—Lecturcs
covering the various phases of cooperative oc
ganization; costs of production; special emphasis on Marketing and Marketing Organizations,
Highways and many other subjects.
THE CONFERENCE SESSIONS.
Meeting of State Dairy Association.
Meeting of Oregon Jersey Cattle Club.
Meeting of Holstein Breeders' Association.
Meeting of Willamette Valley Editorial Association and General Editorial Conference.
Conference of Fruit Inspectors.
Conference of School Superintendents and
Supervisors.
Conference of County and School Fair
Officials.
Conference of County Judges and Road
Supervisors.
Conference of Rural Ministers and Religious
Workers.
Home-Makers' Conference.
Potato Growers' Conference.
Conference of County Agriculturists.Conference of Farmers' Organizations.
Drainage Conference.
Conference of Commercial Club Secretaries.
Seed Growers' Conference.
City Markets' Conference.
Conference of Brick and Tile Manufacturers.
SPECIAL SPEAKERS.
Research workers and Professors from Midi
dle Western and Eastern Colleges, Public men
of national reputation. Successful farmers,
stockmen, and horticulturists. Several representatives of the U. S. Department of Agriculture.
EXHIBITIONS.
1. Poultry Show and Demonstrations.
2. Exhibit of Plant Diseases.
3. Horse Show and other displays of live
stock.
4. Meat Demonstration.
5. Department exhibits in all College buildings.
6. Boys' Stock Judging Contest.
Watch for the Complete Programs.
Plan on spending a week at your State Agricultural College. At least arrange to profit
by attending the meetings designed to cover
your specialty, on certain days of the week.
Reduced Rates on all Railroads.
Twenty passenger trains arrive daily. Ample accommodations; Quality First-Class;
Prices Moderate.
(College not being in session during Farmers'
Week, students' quarters will be available for
visitors, and members of the Faculty can devote their entire time to personal interviews
and the exercises of the week.)
No Charges or Fees.