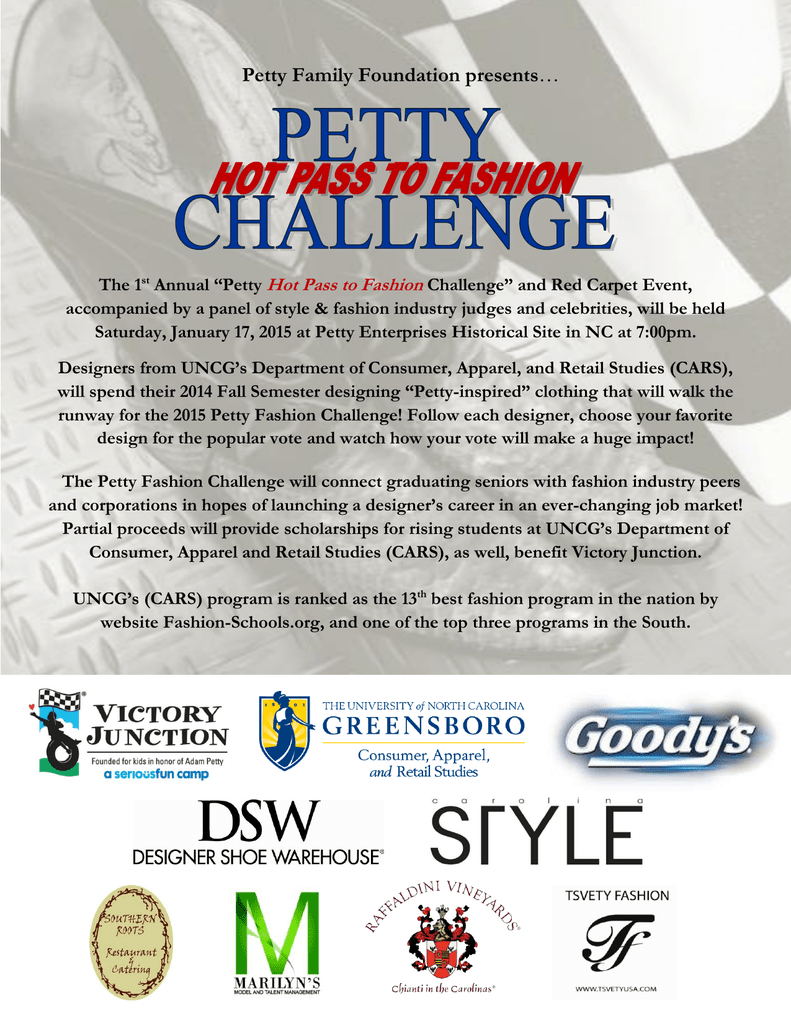 Petty Family Foundation presents…
The 1st Annual "Petty Hot Pass to Fashion Challenge" and Red Carpet Event,
accompanied by a panel of style & fashion industry judges and celebrities, will be held
Saturday, January 17, 2015 at Petty Enterprises Historical Site in NC at 7:00pm.
Designers from UNCG's Department of Consumer, Apparel, and Retail Studies (CARS),
will spend their 2014 Fall Semester designing "Petty-inspired" clothing that will walk the
runway for the 2015 Petty Fashion Challenge! Follow each designer, choose your favorite
design for the popular vote and watch how your vote will make a huge impact!
The Petty Fashion Challenge will connect graduating seniors with fashion industry peers
and corporations in hopes of launching a designer's career in an ever-changing job market!
Partial proceeds will provide scholarships for rising students at UNCG's Department of
Consumer, Apparel and Retail Studies (CARS), as well, benefit Victory Junction.
UNCG's (CARS) program is ranked as the 13th best fashion program in the nation by
website Fashion-Schools.org, and one of the top three programs in the South.