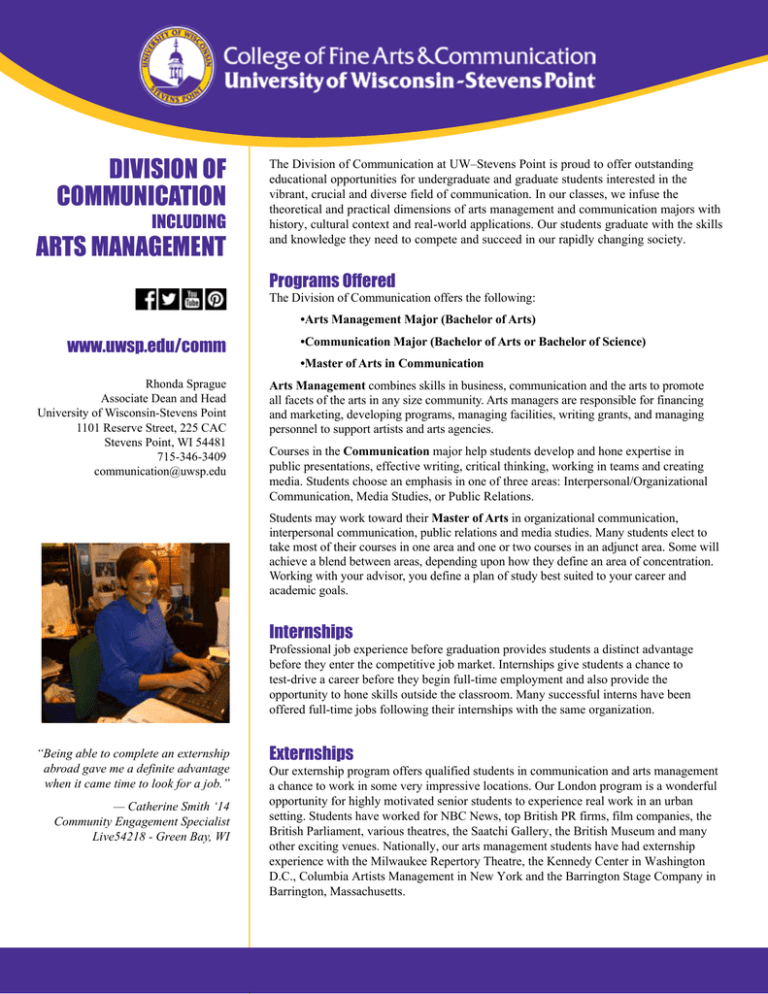 DIVISION OF
COMMUNICATION
INCLUDING
ARTS MANAGEMENT
The Division of Communication at UW–Stevens Point is proud to offer outstanding
educational opportunities for undergraduate and graduate students interested in the
vibrant, crucial and diverse field of communication. In our classes, we infuse the
theoretical and practical dimensions of arts management and communication majors with
history, cultural context and real-world applications. Our students graduate with the skills
and knowledge they need to compete and succeed in our rapidly changing society.
Programs Offered
The Division of Communication offers the following:
•Arts Management Major (Bachelor of Arts)
www.uwsp.edu/comm
Rhonda Sprague
Associate Dean and Head
University of Wisconsin-Stevens Point
1101 Reserve Street, 225 CAC
Stevens Point, WI 54481
715-346-3409
communication@uwsp.edu
•Communication Major (Bachelor of Arts or Bachelor of Science)
•Master of Arts in Communication
Arts Management combines skills in business, communication and the arts to promote
all facets of the arts in any size community. Arts managers are responsible for financing
and marketing, developing programs, managing facilities, writing grants, and managing
personnel to support artists and arts agencies.
Courses in the Communication major help students develop and hone expertise in
public presentations, effective writing, critical thinking, working in teams and creating
media. Students choose an emphasis in one of three areas: Interpersonal/Organizational
Communication, Media Studies, or Public Relations.
Students may work toward their Master of Arts in organizational communication,
interpersonal communication, public relations and media studies. Many students elect to
take most of their courses in one area and one or two courses in an adjunct area. Some will
achieve a blend between areas, depending upon how they define an area of concentration.
Working with your advisor, you define a plan of study best suited to your career and
academic goals.
Internships
Professional job experience before graduation provides students a distinct advantage
before they enter the competitive job market. Internships give students a chance to
test-drive a career before they begin full-time employment and also provide the
opportunity to hone skills outside the classroom. Many successful interns have been
offered full-time jobs following their internships with the same organization.
"Being able to complete an externship
abroad gave me a definite advantage
when it came time to look for a job."
— Catherine Smith '14
Community Engagement Specialist
Live54218 - Green Bay, WI
Externships
Our externship program offers qualified students in communication and arts management
a chance to work in some very impressive locations. Our London program is a wonderful
opportunity for highly motivated senior students to experience real work in an urban
setting. Students have worked for NBC News, top British PR firms, film companies, the
British Parliament, various theatres, the Saatchi Gallery, the British Museum and many
other exciting venues. Nationally, our arts management students have had externship
experience with the Milwaukee Repertory Theatre, the Kennedy Center in Washington
D.C., Columbia Artists Management in New York and the Barrington Stage Company in
Barrington, Massachusetts.
Our Faculty
The award-winning faculty members of the Division of Communication enjoy teaching and
mentoring students. Our 16 full-time professors employ their own research and creative
interests, as well as their experiences working in and with businesses and not-for-profit
organizations, to enrich the courses they create and teach. Enthusiasm joins knowledge and
preparation as a hallmark of the Division's teachers.
Faculty members also serve as academic advisors for our students majoring in
communication and arts management. We pride ourselves on an advising process in which
students work closely with a faculty member in their chosen major and emphasis area.
This one-on-one relationship helps students move effectively through their coursework and
complete their degree in a timely fashion.
PRSSA students attending the national
conference in Washington, D.C.
Facilities
The Communication Arts Center offers outstanding facilities for learning in both small and
large settings. Our classrooms incorporate technology designed to help support student
projects and presentations. We host two well-equipped computer labs, a video production
studio, a radio station and campus newspaper. Students will find multiple curricular and
co-curricular opportunities to gain practical experience using state-of-the-art equipment.
High School Preparation
We believe that well-rounded students provide their best chances for success. In addition
to the usual university requirements for admission, recommended areas of study should
include the arts, science, literature, communication, foreign language and math.
SPtv - WWSP-90fm - The Pointer
Filmmaker Ken Burns speaking with a
student after a masterclass.
Stevens Point Student Television (SPTV) allows UW-Stevens Point students to produce,
direct and perform in live and recorded programs for online transmission and telecast in
the Stevens Point area.
WWSP–90FM is the noncommercial, student-run radio station at the University of
Wisconsin–Stevens Point. It is the largest station of its kind in the Midwest and broadcasts
with 30,000 watts at 89.9 on the FM dial 365 days a year.
The Pointer, UW-Stevens Point's weekly newspaper, is written and edited by students and
is published every Thursday during the academic year.
Public Relations Student Society of America
UW-Stevens Point's national award-winning chapter of the Public Relations Student
Society of America (PRSSA) provides students the opportunity to learn more about
the public relations field through campaign activities, guest speakers, field trips and
professional conferences.
Student from SPtv preparing to
broadcast a Pointer basketball game.
After Graduation
With an average placement rate of over 90%, our graduates continue their success in the
professional workplace. Possible career options include: reporter, public relations specialist,
human resource manager, marketing, television and radio producer, public affairs director,
television anchor, social media director, recruiter, and editor.