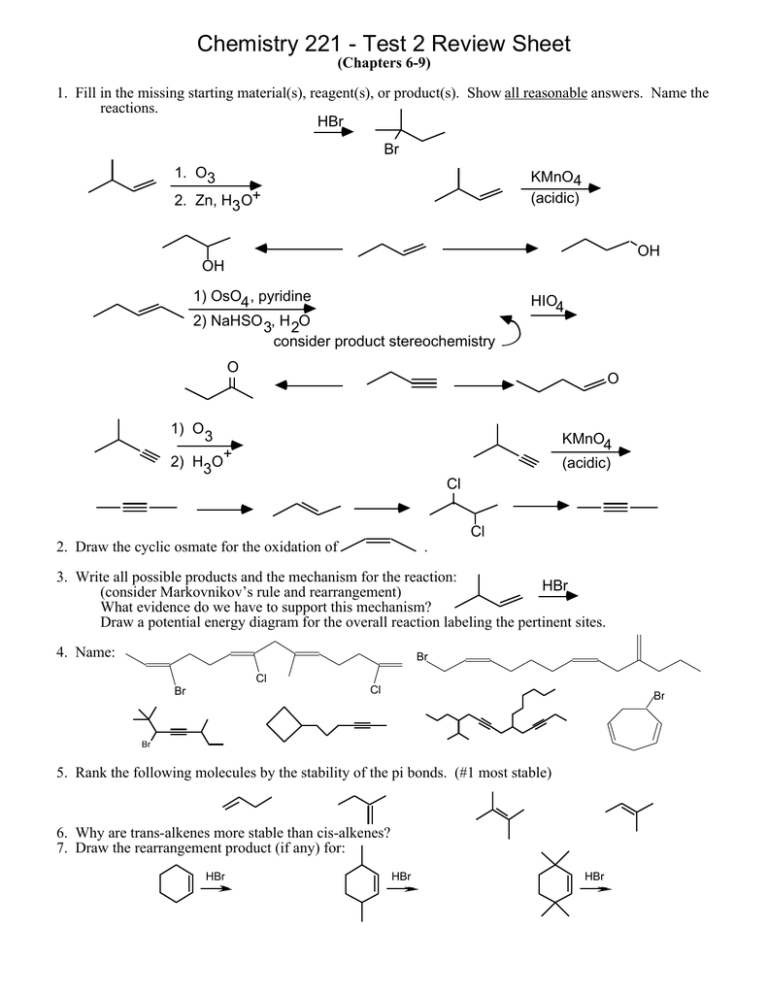 Chemistry 221 - Test 2 Review Sheet
(Chapters 6-9)
1. Fill in the missing starting material(s), reagent(s), or product(s). Show all reasonable answers. Name the
reactions.
HBr
Br
1. O3
2. Zn, H3O+
KMnO4
(acidic)
OH
OH
1) OsO4 , pyridine
2) NaHSO 3, H 2O
consider product stereochemistry
HIO4
O
O
1) O3
KMnO4
(acidic)
2) H3O+
Cl
Cl
2. Draw the cyclic osmate for the oxidation of
.
3. Write all possible products and the mechanism for the reaction:
HBr
(consider Markovnikov's rule and rearrangement)
What evidence do we have to support this mechanism?
Draw a potential energy diagram for the overall reaction labeling the pertinent sites.
4. Name:
Br
Cl
Cl
Br
Br
Br
5. Rank the following molecules by the stability of the pi bonds. (#1 most stable)
6. Why are trans-alkenes more stable than cis-alkenes?
7. Draw the rearrangement product (if any) for:
HBr
HBr
HBr
8. Why do propagation steps occur as many as 10,000 times before termination?
How does a termination step stop the chain reaction?
9. Assign the R and S configuration to each of the following stereogenic centers. Which two represent the
same molecule.
CH 3 H
Br Cl
H CH 3
CH 3 CH 3
H
CH 3
CH 3
CH 3
Br
Cl
H
H
Cl Br
H H
CH 3 H
Cl Br
Draw all the isomers of C3 H5 ClBr2 and identify any stereogenic centers. Draw the stereoisomers of those
molecules in Fischer projection.
H
O-H
H
H
Rank the relative acidities of:
H2 O
N
H
Using 1-butyne and 1-iodopropane (and any inorganic reagents) prepare 3-heptyne.