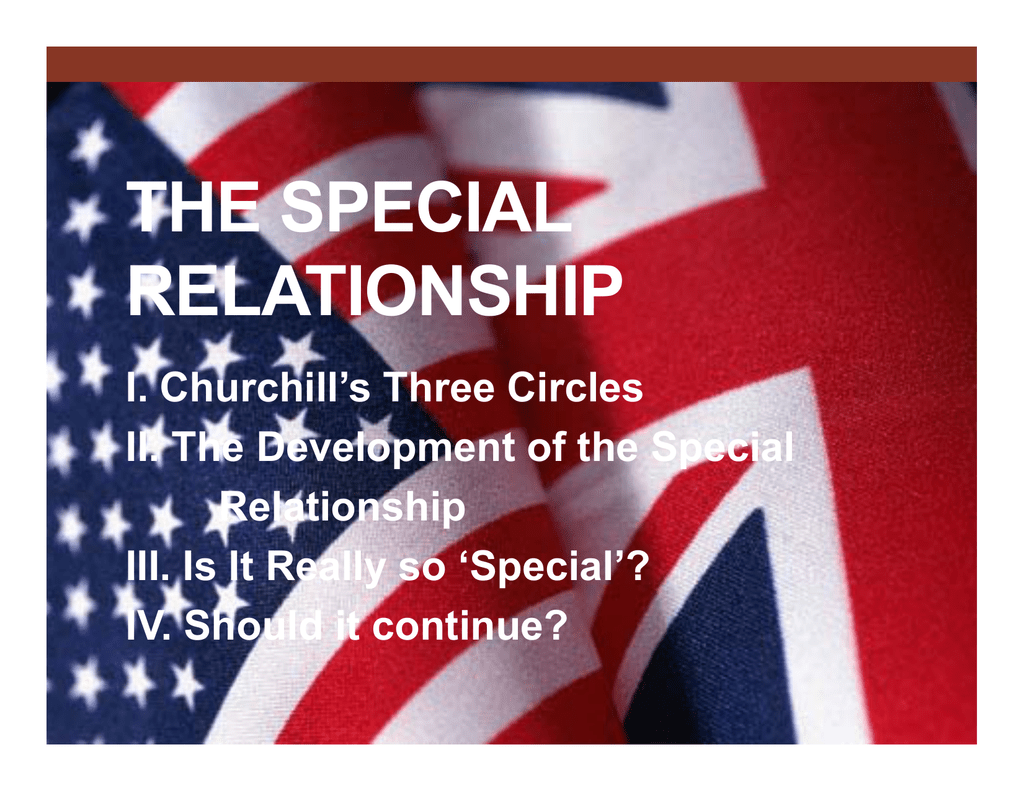 THE SPECIAL
RELATIONSHIP
I. Churchill's Three Circles
II. The Development of the Special
Relationship
III. Is It Really so 'Special'?
IV. Should it continue?
Churchill's 'Three Circles'
• The Empire and
Commonwealth
• The EnglishSpeaking Peoples
– mainly the US
• Europe
Churchill's 'Iron Curtain' Speech at
Westminster College, Fulton, MO
(President Truman in the funny hat)
The Evolution of the Special Relationship
• Cooperation in the World Wars
• Postwar Problems
• The Cold War and the development of NATO
• Suez, Vietnam, and the EEC
• Reagan and Thatcher
• Cooperation in the Falklands
• 9/11 and the Iraq War
• Blair's 1999 Chicago Speech
• 'Doctrine of International Community'
• Cameron and Libya
What PMs have to do for the
special relationship…
Is It Really So 'Special'?
• Liberal international order
• Common heritage (language, culture,
history, institutions)
• Defense and intelligence cooperation
• Economic Connections (trade and FDI)
• Economic model
• Connections between Leaders, BUT….
• Geopolitical realities
• From the North Atlantic to the Pacific Rim
US-UK FDI
DISCUSSION QUESTION:
Q: Is the continuation of
an Anglo-American
'special relationship' in
BRITAIN'S best interest?