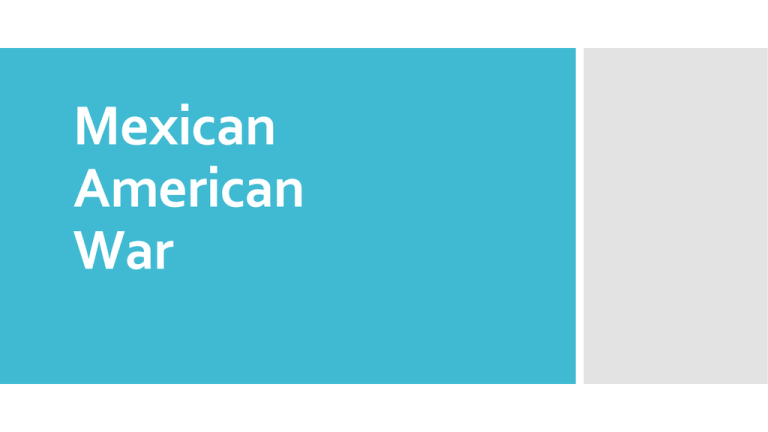 Mexican
American
War
BELLWORK:
James
McPherson
Reading
 1. How was the Mexican American a war of
"choice" not "necessity"?
 2. What was an unintended consequence of this
war?
 3. Why did Mexico regret their policy of
encouraging American settlement in Tejas?
 4. How did Texas come into existence?
 5. Why were the petitions to be annexed to the
U.S. not granted for the next decade?
 6. What does the Horace Greeley quote mean? "A
nation cannot simultaneously devote its energies
to the absorption of others' territories and
improvements of its own."

Establishing
Borders:
1821 Newly independent Mexico grants
slaveholding U.S. settlers land in Texas. Early
settlers agree to take Mexican citizenship,
convert to Catholicism, and speak Spanish; but
some later settlers do not.
1829-30 Mexico stops settlement of Texas by
Americans and bans slavery
1835-36 Settlers rebel against Mexican rule
and declare independence. Mexico does not
recognize Texas independence or a boundary
at the Río Grande.
 1836-45 Texas as an independent nation is
recognized by the United States, Britain, France,
and the Netherlands, but not Mexico.
 July 1845 Texans vote to join the United States.
 December 1845 Texas is annexed by the United
States and becomes the twenty-eighth state.
January 1846 U.S. troops occupy
territory on the north bank of the
Río Grande.
April 1846 Mexican cavalry troops
cross the Río Grande and skirmish
with American forces.
May 1846 War begins between
Mexico and the United States.
ESSENTIAL QUESTIONS:
Was this war just?
Was it necessary?