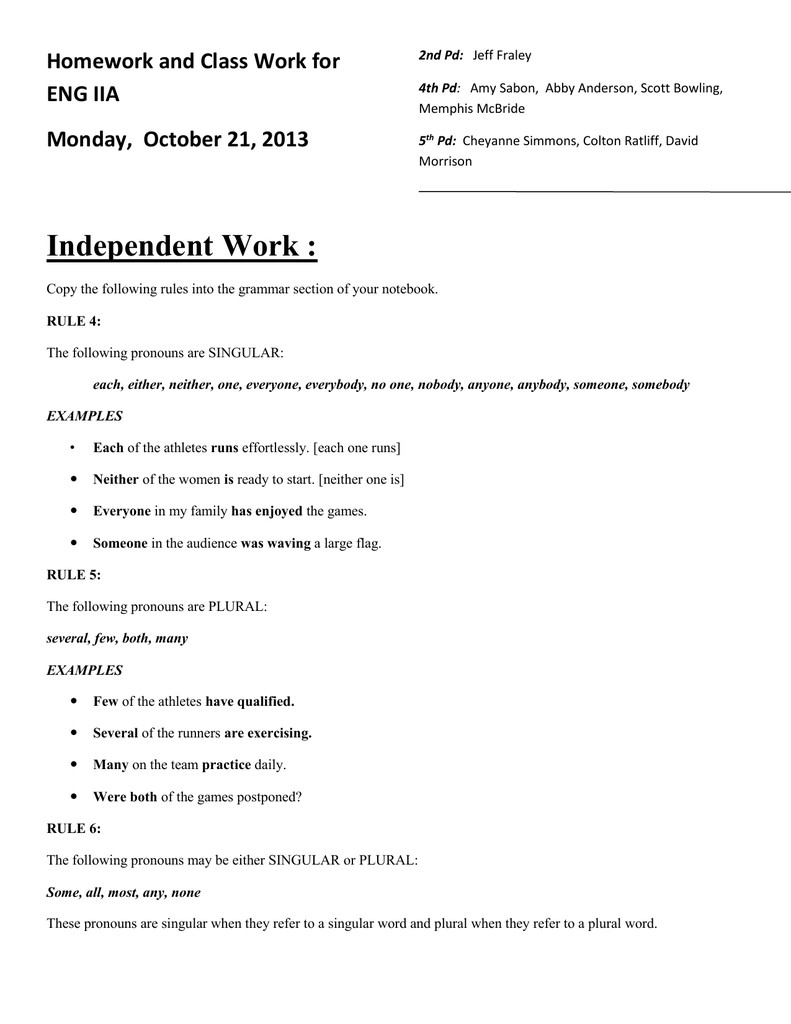 Homework and Class Work for
ENG IIA
2nd Pd: Jeff Fraley
Monday, October 21, 2013
5th Pd: Cheyanne Simmons, Colton Ratliff, David
Morrison
4th Pd: Amy Sabon, Abby Anderson, Scott Bowling,
Memphis McBride
Independent Work :
Copy the following rules into the grammar section of your notebook.
RULE 4:
The following pronouns are SINGULAR:
each, either, neither, one, everyone, everybody, no one, nobody, anyone, anybody, someone, somebody
EXAMPLES
•
Each of the athletes runs effortlessly. [each one runs]

Neither of the women is ready to start. [neither one is]

Everyone in my family has enjoyed the games.

Someone in the audience was waving a large flag.
RULE 5:
The following pronouns are PLURAL:
several, few, both, many
EXAMPLES

Few of the athletes have qualified.

Several of the runners are exercising.

Many on the team practice daily.

Were both of the games postponed?
RULE 6:
The following pronouns may be either SINGULAR or PLURAL:
Some, all, most, any, none
These pronouns are singular when they refer to a singular word and plural when they refer to a plural word.
EXAMPLES
Some of the show is funny. [Some refers to singular show.]
Some of the entertainers are funny. [Some refers to plural entertainers.]
All of the cast looks young. [It looks.]
All of the performers look young. [They look.]
Most of his jokes sound familiar. [They sound.]
Was any of the criticism positive?
Were any of the reviews positive?
None of the music is catchy.
None of the tunes are catchy.
Classwork:
1.
Complete Ex. 5 (attached) and check your answers with Ms. H- We did this as a class to be sure that we
understand.