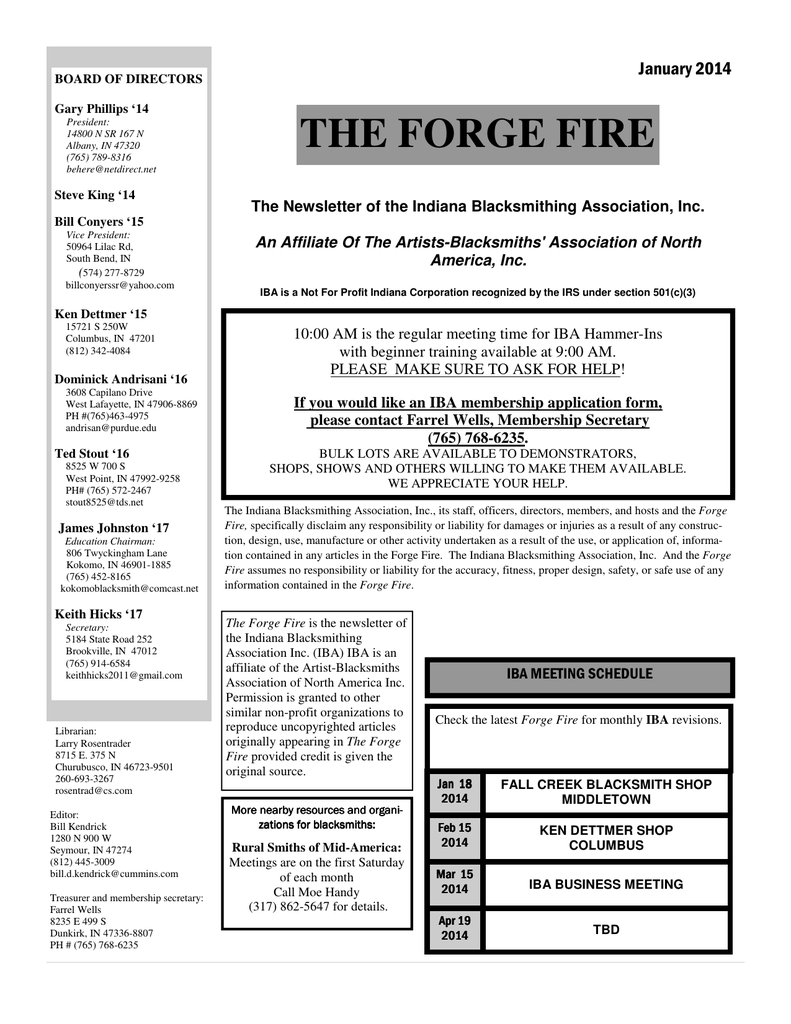 January 2014
BOARD OF DIRECTORS
Gary Phillips '14
THE FORGE FIRE
President:
14800 N SR 167 N
Albany, IN 47320
(765) 789-8316
[email protected]
Steve King '14
The Newsletter of the Indiana Blacksmithing Association, Inc.
Bill Conyers '15
Vice President:
50964 Lilac Rd,
South Bend, IN
(574) 277-8729
[email protected]
An Affiliate Of The Artists-Blacksmiths' Association of North
America, Inc.
IBA is a Not For Profit Indiana Corporation recognized by the IRS under section 501(c)(3)
Ken Dettmer '15
15721 S 250W
Columbus, IN 47201
(812) 342-4084
10:00 AM is the regular meeting time for IBA Hammer-Ins
with beginner training available at 9:00 AM.
PLEASE MAKE SURE TO ASK FOR HELP!
Dominick Andrisani '16
3608 Capilano Drive
West Lafayette, IN 47906-8869
PH #(765)463-4975
[email protected]
Ted Stout '16
8525 W 700 S
West Point, IN 47992-9258
PH# (765) 572-2467
[email protected]
James Johnston '17
Education Chairman:
806 Twyckingham Lane
Kokomo, IN 46901-1885
(765) 452-8165
[email protected]
Keith Hicks '17
Secretary:
5184 State Road 252
Brookville, IN 47012
(765) 914-6584
[email protected]
Librarian:
Larry Rosentrader
8715 E. 375 N
Churubusco, IN 46723-9501
260-693-3267
[email protected]
Editor:
Bill Kendrick
1280 N 900 W
Seymour, IN 47274
(812) 445-3009
[email protected]
Treasurer and membership secretary:
Farrel Wells
8235 E 499 S
Dunkirk, IN 47336-8807
PH # (765) 768-6235
Secondary Story Headline
If you would like an IBA membership application form,
please contact Farrel Wells, Membership Secretary
(765) 768-6235.
BULK LOTS ARE AVAILABLE TO DEMONSTRATORS,
SHOPS, SHOWS AND OTHERS WILLING TO MAKE THEM AVAILABLE.
WE APPRECIATE YOUR HELP.
The Indiana Blacksmithing Association, Inc., its staff, officers, directors, members, and hosts and the Forge
Fire, specifically disclaim any responsibility or liability for damages or injuries as a result of any construction, design, use, manufacture or other activity undertaken as a result of the use, or application of, information contained in any articles in the Forge Fire. The Indiana Blacksmithing Association, Inc. And the Forge
Fire assumes no responsibility or liability for the accuracy, fitness, proper design, safety, or safe use of any
information contained in the Forge Fire.
The Forge Fire is the newsletter of
the Indiana Blacksmithing
Association Inc. (IBA) IBA is an
affiliate of the Artist-Blacksmiths
Association of North America Inc.
Permission is granted to other
similar non-profit organizations to
reproduce uncopyrighted articles
originally appearing in The Forge
Fire provided credit is given the
original source.
More nearby resources and organizations for blacksmiths:
Rural Smiths of Mid-America:
Meetings are on the first Saturday
of each month
Call Moe Handy
(317) 862-5647 for details.
IBA MEETING SCHEDULE
Check the latest Forge Fire for monthly IBA revisions.
Jan 18
2014
FALL CREEK BLACKSMITH SHOP
MIDDLETOWN
Feb 15
2014
KEN DETTMER SHOP
COLUMBUS
Mar 15
2014
IBA BUSINESS MEETING
Apr 19
2014
TBD
Indiana Blacksmithing Association - The Forge Fire Newsletter - January 2014
Page 2
Editors Message
INDEX
PGS 3-4
SATELLITE
NEWS
PG 5
POWER
HAMMER
REBUILDING
COURSE
PGS 6-7
REMBERING
DON NEUENSCHWANDER
PG 8
FRANCIS
WHITAKER
SCHOLARSHIP
PG 9
KNIFE MAKERS
CONFERENCE
PGS 10-11
UPSET
CORNERS
Dates to
Remember
Mar 15
IBA Business
Meeting
Most of you have already heard that Don Neuenschwander passed away last month. For many
years Don was a a vital contributor to the IBA.
His network of friends and associates went far beyond Indiana. During most of my involvement
with blacksmithing, Don was applying his talents
toward copper creations. He became an expert at
copper forming and finishing, which led him to
lead many classes as he shared his knowledge with
others. Some of Don's expert copper work is
shown at the website http://www.donsforge.com/
created by Don's daughter Mary. Michael Wollowski has provided an article on page 6 remembering Don. Jim Johnston provided some photos of
Don and has work.
The IBA business meeting is coming up on March 15. At this time I believe we have three candidates for the two board of directors positions. I
believe both Gary Phillips and Steve King will be up for re-election and
Bill Newman has indicated that he will also be a candidate. Anyone else
interested in serving as a board member should contact Ken Dettmer. Ballots will be included in the February edition of the Forge Fire. I plan to
have the February edition sent out early so everyone can cast their ballots.
If you have any satellite news or articles, please get them to me by January
27.
The December hammer in was
canceled. I have not heard, but
I am hopeful that we will be
able to reschedule back at
Rocky Forge with Melvin Lytton. I will get an update on this
for the February edition.
This months hammer in is at
Fall Creek. We always have a
good turn out with John's big
shop providing plenty of room for forging and discussions. As has been
customary, lunch will be at the Iron Kettle.
Visit the IBA website at: www.indianablacksmithing.org
Indiana Blacksmithing Association - The Forge Fire Newsletter - January 2014
Page 3
IBA Satellite Groups and News
Sutton-Terock Memorial Blacksmith Shop
Jennings County Historical Society Blacksmith Shop
Meet: 2nd Saturday at 9 AM
Contacts: Fred Oden (574) 223-3508
Dennis Todd (574) 542-4886
Wabash Valley Blacksmith Shop
Meet: 2nd Saturday at 9 AM
Contact: Ray Sease (812) 522-7722
Fall Creek Blacksmith Shop
Meet: 2nd Saturday at 9 AM
Contacts: Doug Moreland (217) 284-3457
Max Hoopengarner (812) 249-8303
Maumee Valley Blacksmiths
Meet: 4th Saturday at 9 AM
Contacts: John Zile: (765) 533-4153
Larry Singer (765) 643-5953
Farrel Wells (765) 768-6235
St. Joe Valley Forgers
Meet: 2nd and 4th Saturday
Contact: Clint Casey (260) 627-6270
John Schamber (260) 579-7303
Rocky Forge Blacksmith Guild
Meet: 4th Saturday at 9 AM
Contacts: Bill Conyers (574) 277-8729
John Latowski (574) 344-1730
The Southern Indiana Meteorite Mashers
Meet: 2nd Saturday at 9 AM
Contacts: Ted Stout (765) 572-2467
Whitewater Valley Blacksmiths
Contacts: Billy Merritt (812) 338-2876
Steve King (812) 797-0059
Jeff Reinhardt 812-949-7163
One Armed Blacksmith's Shop
Meet: 2nd Saturday
Contact: Keith Hicks (765) 914-6584
Bunkum Valley Metalsmiths
Meet: 1st Saturday
Contact: Tim Metz (812) 447-2606
"Doc" Ramseyer Blacksmith Shop
Meet: 1st Saturday
Contacts: Doug Neukam (812) 259-4430
Steve Stoll (812) 486-9668
Kathy Malone (812) 725-3310
The Southern Indiana Meteorite Mashers
The meeting for December was held at Dave Kunkler's new shop
in Branchville, Perry County. The shop is almost complete and
will be wonderful. He has a hot water heated floor in the shop,
powered by his outside wood burner, and is was very nice. We
have a wonderful pitch in meal and several new members joined
us. Dave demonstrated his rolling mill, and Steve king did a
calla lily from 1" bar as we begin practicing for the next BFH
demo, perhaps a calla lilly made by strikers from large stock.
Next meeting will be at Steve King's shop in Paoli
Location: 6032W 550N, Sharpsville, IN 46060
Meet: 3rd Sunday at 2 PM
Contacts: Mike Kelley
Charles Gruell (765) 513-5390
Indiana Blacksmithing Association - The Forge Fire Newsletter - January 2014
Page 4
IBA Satellite Groups and News (continued)
Jennings County Historical Society Blacksmith Shop
The Jennings County Historical Society Blacksmiths met at the home
of Paul Bray in Seymour. We had a
good turnout and had a lot of fun
( some at my expense). The fire
was built at 6:30am. Matt Jones
secured a discarded scuba tank and
had a wild idea for a Christmas gift for his wife. Ray Sease brought over his
saw and torch blade, and helped Matt scribe a line around it. Matt then began making his mark become a reality. In a short time, he had succeeded in
cutting it in half. His intention was to make a bell, similar to the one Ray
had made. Upon putting it in the fire, we discovered it was galvanized. We gave a good bath in muratic acid, rinsed it
thoroughly, and put it back in the fire. With the help of Kevin Welsh, Kenny Dettmer, and others, we soon had a bonified ear busting , ring-for-an-hour bell. The clapper and other pieces were scrounged from the limited resources available. We had a great day and closed shop around 4:00pm. No iron-in-the-hat. See you next month at my house,139
South Park Drive, Seymour. Meal furnished.
February meeting to be announced.
Paul Bray
Page 5
January 2014
Indiana Blacksmithing Association - The Forge Fire Newsletter -
Learn how to make your Little Giant power hammer work harder
than ever!
Please join us for the 22nd annual Little Giant Rebuilding Seminar! Although we did
pass ownership of Little Giant to our machinist, Roger Rice, this past summer, Sid Suedmeier will continue teaching the rebuilding
class at his shop at 420 4th Corso in Ne-
IF YOU HAVE A LITTLE GIANT, THIS
CLASS IS FOR YOU!
No experience is required to attend this class.
Past classes have been comprised of students,
retirees, artists, welders, doctors, farriers ...anyone who wants to learn will benefit
from this class. We approach the rebuilding
process using tools that can be found in the
average home workshop.
braska City.
If you are in the market to buy a power hamWe carry on the tradition of our good friend mer, this class will make you an educated
shopper. If you already own a Little Giant, or
Fred Caylor of teaching how to make Little
any other brand of power hammer, this class
Giants run well and hit hard.
will teach you how to get the best performThe 2 ½ day class is a hands-on format. You
ance possible.
will help transform a 25 LB Little Giant hammer from functional but sloppy condition into The class costs $95, refundable up to 7 days
a well tuned, quiet, hard working hammer.
prior to the class; advance registration is reSid Suedmeier, former owner of Little Giant, quired. We limit each class to 25 participants.
will share all his knowledge and experience The classes start at 9 AM sharp on Friday,
gained from working with Fred and from 22 and usually end by Saturday evening. The
years of repairing and rebuilding Little Gischedule runs Sunday until noon in case we
ants.
encounter any exceptional problems in rebuilding, and to answer remaining questions.
An old style 25 LB Little Giant will be re-
built during the class, and a new style maWhen we receive your registration, we will
chine will be on hand to demonstrate proper send you a city map, along with travel and
assembly and adjustment of both styles.
hotel information.
The class is held in Sid's shop in historical
Airports are located in Omaha (45 miles
Nebraska City, Nebraska. The city has a
north), Lincoln (50 miles west) and Kansas
wide variety of cafes, outlets (including PenCity (125 miles south).
dleton Woolen Mills), antique and gift shops,
orchards, wineries and museums.
March 21-23, 2014
REGISTRATION
Name:_______________________________
Business name:_______________________
Address:_____________________________
_____________________________________
Telephone:___________________________
Email address:_________________________
____
____
____
____
American Express
Discover
MasterCard
Visa
Check enclosed
PAYMENT
____
Number:________________________
Expiration Date:_________________
POWER HAMMER INFO
Brand:______________________________
Size:________________________________
Serial Number:_______________________
Please call or email if you have any questions, or prefer to register by phone. You can reach us at
402.873.6605 or [email protected]
Suedmeier Enterprises, 420 4th Corso, Nebraska City,
NE 68410.
Indiana Blacksmithing Association - The Forge Fire Newsletter - January 2014
Page 6
In Memory of Don Neuenschwander
Michael Wollowski
I first met Don about nine years ago, so around the time he was 81 years of age. We met at the monthly meetings of the Wabash Valley Blacksmith Club. Don was very curious and genuinely interested in other people,
as such, it was easy to talk to him and he sure made people welcome. With seemingly no effort, he had something witty to say or a question to ask. His Wanderlust eventually got the better of him and he started travelling heavily. Whenever I got a chance to catch up with Don, he either just came back to town from a blacksmithing meeting or was on his way to some far away meeting in places like Alabama or his favorite place, the
Folk School in Brasstown, NC. Don was a member of many of the blacksmithing associations in the mid-west
and the south. At some point, five ABANA affiliates of which Don was a member got kicked out of ABANA,
when it outlawed anvil shoots. Don didn't care, he was more interested in people than organizations - has was
a true social bug.
At some point early in my blacksmithing endeavors, I purchased a post vise with a bent leg. Don told
me to bring it to our meetings and without hesitation helped me heat and bend it back into shape. At a blacksmithing meeting at Conner Prairie, another organization that was dear to his heart, he made a spring for a post
vise that needed mending. Not too bad for someone in his 80's. To top it off, Don learned copper smithing and
eventually taught many classes on this subject and gave demonstrations.
For a while, the Wabash Valley Blacksmith Club had a yearly meeting at Dennis Kutch's place to learn
about tinsmithing. Don asked to ride with me to one of those meetings, and it was during our drive that I
learned a lot about his personal side. I learned that he operated a very successful Dentures Manufacturing Lab,
with about 100 employees. He used to fly an airplane and he used to travel a lot, for business and for fun.
Among others, he went on several blacksmithing trips that took him to Europe, where he got to know some
key smiths and some of the movers and shakers over there. He snapped rolls and rolls of photos and kindly
loaned them to me as well as some videos he took while there. When returning the photos, I got to see some of
the blacksmithing items in his home. While listening to his stories, it became obvious that he has met a lot of
smiths in this country.
Finally, there is the IBA for which Don has done so much. Everybody knows that he ran the auction
for the longest time. Additionally, who does not know about his bidder number 13? To honor Don's memory,
the IBA board decided to retire it. Among the many contributions to the IBA, perhaps Don's most significant
contribution was in his role as treasurer. When he assumed this role, the IBA used a very informal way to keep
the books, making it hard to balance them. Don brought his business background to the IBA to ensure we
weren't going to get in trouble with a federal agency whose initials also start with an 'I.'
To end on a personal note, I was not able to make it to one of our conference auctions, so I asked Don
to bid on an item for me. He did, and won it for me. He even delivered it to my house, on his way to work.
Even at 90 years of age, Don made it a point to go into work every Tuesday and that is where he
passed away; at his business, something he built from a small local shop to a company that had clients as far
away as Australia.
Farewell, our friend.
Indiana Blacksmithing Association - The Forge Fire Newsletter - January 2014
Page 7
Indiana Blacksmithing Association - The Forge Fire Newsletter - January 2014
Page 8
Francis Whitaker Blacksmith Scholarship
One or two scholarships will be available for the Traditional Joinery Projects class at the John C. Campbell Folk School,
April 13-19, 2014 taught by Clay Spencer. It will be an Instructor Resource which covers tuition and part of the room
and board. You will be responsible for other expenses such as materials and fuel fees.
This scholarship is for Intermediate and advanced students who have a solid foundation in basics, can manage a coal fire
and must be able to forge weld. The class is to make a table but you may make any other traditional joinery project of
your design.
Interested blacksmiths should complete the following application and send it by e-mail or mail it to Clay at 73 Penniston Private Drive, Somerville, AL 35670. Contact Clay at 256-558-3658 or [email protected] on any questions.
Include your name, address, e-mail and phone number.
1. Describe your blacksmithing experience, how many years, classes taken, jobs, kind of work you do, how many
hours you blacksmith in an average month.
2. Goals for your blacksmithing career, what you wish to do as a blacksmith, Describe your participation in the blacksmithing community: teaching, demonstrating, craft shows, writing articles, belonging to and attending local groups,
attending conferences.
3. Make a scale drawing of a proposed project (your original drawing, not copied from another source), Should show 2
or 3 views with stock sizes and specify proposed joinery. Include a cut list for the stock. In this class you may make
a table by my or your design.
4. Explain why you need a scholarship to attend a class.
5. Do you sell blacksmithing items you make? What type items? How do you sell?
6. Include at least 3, no more than 5, photos of some of your work.
The completed application should be received no later than March 12, 2014. Do not send before February 1, 2014. Successful applicants will be notified by March 26, 2014.
When you register you must inform the Folk School that you are using an Instructor resource. You will be responsible
for all other costs such as fuel fee, materials, transportation, any additional cost for lodging and food, etc.
After the class you are requested to write a 2 page article explaining some of the blacksmithing techniques used in making your project, (include some photos or sketches) and send it to your state organization.
Hello All,
I just had fun watching videos on the making of the famous Gransfor Bruks Axe in Sweden. You may
have already seen these videos, but in case you have not just Google "Gransfor Bruks Ax video". You
will get several hits so enjoy.
Enjoy.....
Ted
(Editors Note: I watched one of the videos and was amazed at the speed and process used.)
Indiana Blacksmithing Association - The Forge Fire Newsletter - January 2014
Page 9
Indiana Blacksmithing Association - The Forge Fire Newsletter - January 2014
Page 10
Indiana Blacksmithing Association - The Forge Fire Newsletter - January 2014
To register go to:
http://www.abana.org/
Page 11
The FORGE FIRE
Newsletter of the
Indiana Blacksmithing Association,
Inc.
Bill Kendrick Newsletter Editor
1280 N CR 900 W
Seymour, IN 47274
First Class Mail
Address Correction Requested
If Undeliverable return to sender
With original address legible
Fall Creek Blacksmith Shop - January 18
3380 W 650 N, MIDDLETOWN, IN 47356
SULFUR SPRINGS IS 3 MILES WEST OF IN. 3 ON US 36 AND APPROX. 12 MILES EAST
OF PENDLETON ON US 36. GO NORTH AT THE FLASHING LIGHT (300W), TRAVEL
NORTH FOR 1 1/2 MILES, TURN LEFT (WEST) ONTO 650 NORTH. JOHN'S HOUSE IS
THE FIRST DRIVE.
CALL JOHN AT (765) 533-4153 IF YOU HAVE ANY QUESTIONS.
LUNCH WILL BE AT THE IRON KETTLE IN SULFUR SPRINGS.
Kenny Dettmer's Shop
February 15
15721 S 250W Columbus, IN
From the North: take I 65 S to Ogilvillel / Walesboro (exit 64) turn. right. Go to the 1st crossroads (300 W). Turn left. Approx 1 mile to the "T' . Turn left (600s). Go to 250W. Approx. 4
miles to a brick house on your left.
From the South: I 65N to Jonesville exit 55 turn. right, go to road 950 (in Jonesville). Turn left.
Go to 250W turn. right. Kenny's house is approx 1/2 mile on your right .
Please bring a dish to share.