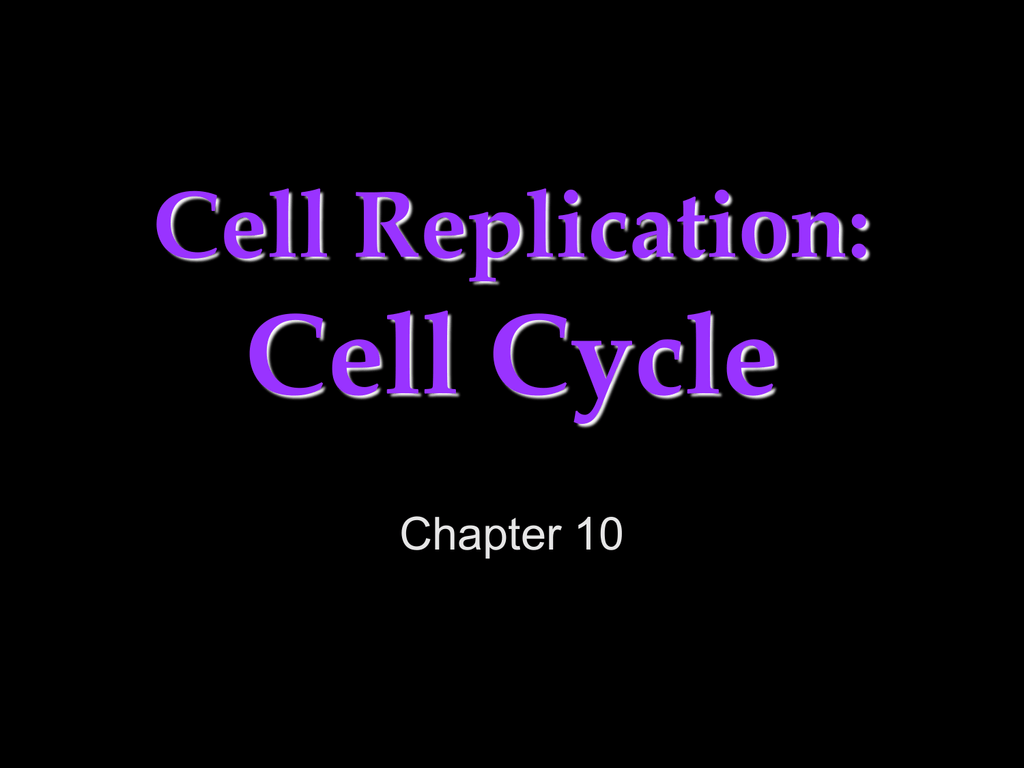 Cell Replication:
Cell Cycle
Chapter 10
* Cells must divide for the following
reasons:
1. So that an
organism can
grow
2. So that an
organism can
develop
3. Repair
I.
Bacteria cells
undergo binary
fission to divide.
This is a form of
asexual
reproduction,
where the parent
passes exact copies
of the DNA to its
offspring (RememberBacterial cells are
prokaryotes!)
II. Eukaryotic Cells must form chromosomes before
cell division.
A. Chromosome Structure
Nucleus
(DNA is
found here)
DNA is found on
chromosomes
inside the
nucleus.
Centromere- Where
the 2 chromatids
are attached.
Chromotids –
Where genes
are located.
One Chromosome
One Gene. Most
chromosomes have
several hundred
genes.
Before cell division can take place,
each chromosome must copy
itself:
This chromosome
now has sister
chromatids.
They are identical
in genetic
material to each
other.
One chromosome that has copied
its DNA.
• G1 
– Rapid Cell Growth;
– Occupies most of the
cell's life.
• S DNA is copied.
• G2 Microtubules are
assembled
• Mitosis  Nucleus
divides
• Cytokinesis Cytoplasm
divides
•Mitosis and Cytokinesis produce
new cells that are identical to the
original cell. Allows cells to grow
and replace damaged tissues.
46
46
46
IV. The Cell Cycle is Controlled!
A. Proteins act as signals that can permit or delay
the next phase of the cell cycle.
Checkpoints in the Cell Cycle:
1. G1  If the cell is
healthy, then its DNA will
copy.
2. G2  DNA replication is
checked. If it occurred
correctly, then mitosis is
triggered.
3. Mitosis  Signals
beginning of G1.
V. Cancer
A. Occurs when a cell loses control
of the cell cycle. The cell barrels
thru the checkpoints.
VI. Mitosis 
Division of
the Nucleus
Interphase
• This is the time when the
genetic material is
actually being used to
govern or regulate cell
activity. Chromosomes
are not visible during
Interphase.
Prophase
• Chromosomes become
visible. (Chromosome
is already copies).
• Nuclear envelope
dissolves.
Metaphase
• Chromosomes line
up along equator.
Anaphase
• Centromeres divide.
• Chromatids (now
called chromosomes)
move toward
opposite poles.
Telophase
• Nuclear envelope
forms at each pole.
• Chromosomes uncoil.
• Spindle dissolves.
• Cytokinesis begins.
2 genetically
identical
daughter cells.
Review
I.
Mitosis  DNA Replication &
Division = 2 daughter cells genetically
identical to the parent cell. Video of Mitosis
46
2n
46
46
2n
2n
Body Cell
II.
Meiosis  Reduction Division; Four
daughter cells genetically different from the
parent cell.
Parent
Reproductive
Cell
23 n
23 n
23 n
23 n
23 n
23 n
III. Phases of Meiosis  A round of
DNA replication occurs before
stage I.
Stage I Meiosis I : Prophase I
• Begin with a diploid cell.
• Each chromosome seeks out its
corresponding homologous
chromosome to form a tetrad.
• Each Tetrad contains 4
chromatids.
• While together,
homologous
chromosomes
exchange genetic
information during
a process called
crossing over.
A
Ex.
A
B
C
D
E
F
B
C
D
E
F
Stage II Meiosis I : Metaphase I
• Homologous chromosomes (tetrads) line
up across the center of the cell.
Stage III Meiosis I : Anaphase I
• Spindles pull the tetrads apart.
Stage IV Meiosis I : Telophase I &
Cytokinesis
•At the end of
telophase,
cytokinesis occurs.
•2 new daughter
cells that are
haploid and
genetically
different from the
parent cell have
formed.
Review of Meiosis I
• Meiosis Practice
Stage V Meiosis II : Prophase II
• A new spindle forms around the
chromosomes.
Stage VI Meiosis II : Metaphase II
• Chromosomes line up at the equator.
Stage VII Meiosis II : Anaphase II
• Centromeres divide.
• Sister chromatids split (now called
chromosomes) and move to opposite ends
of each cell.
Stage VIII Meiosis II : Telophase II
• A nuclear envelope forms around each set
of chromosomes.
• The result: 4 haploid daughter cells that
are genetically different form the parent
cell.
Review of Meiosis II
• Meiosis II Practice
Meiosis In Males vs. Females
Spermatogenesis
Oogenesis
Genetic Variation
• 3 events give rise to genetic variation in
sexually reproducing individuals.
1) Crossing Over  Homologous
chromosomes exchange genes.
2) Independent Assortment  which
cell each homologous chromosome
will end up in is random.
3) Random Fertilization  The random
mating of organisms in nature.
Genetic Variation Speeds Up
Evolution!!
It offers new combinations of
traits that the environment
can choose for or against.