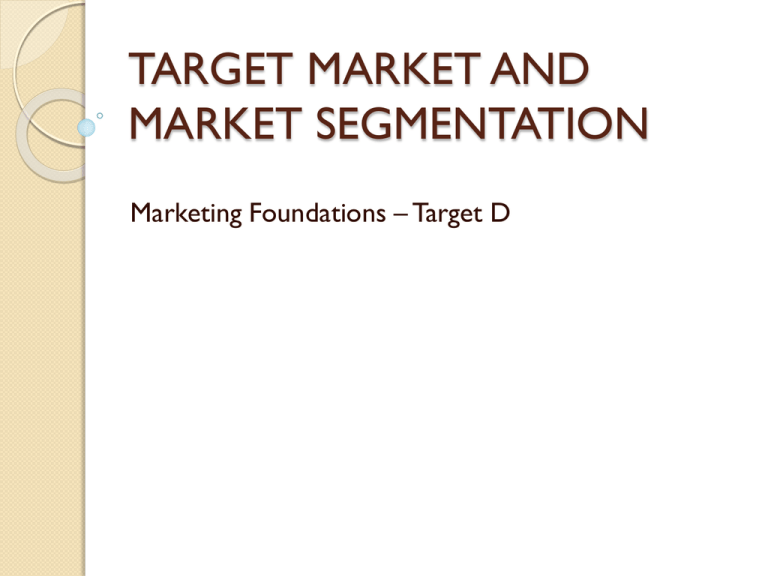 TARGET MARKET AND
MARKET SEGMENTATION
Marketing Foundations – Target D
TARGET MARKET

The group of customers whose needs and
wants you will try to satisfy
◦ Examples….teens, babies, business people,
college students
Target Market should have:
Clearly defined wants and needs that
your company can meet
 Money to buy your product
 Willingness and authority to buy your
product
 Enough customers n the market to be
profitable

Target Market
+ Marketing Mix
Marketing Strategy
*Remember, the Marketing Mix is all the
decisions you make about the 4 P's.
Mass Marketing
The development of only one marketing
mix for a specific product
 Assumes that everyone has exactly the
same wants and needs for the product

Target marketing approach
Has marketers analyze the mass market
 Then, segment (divide up) the market
based on the different needs and wants of
the customers in that market


The company will choose one segment to
develop a marketing mix (the 4 P's) that
will meet the unique wants and needs of
that market segment
Market Segmentation

Marketers segment (divide up) possible
markets by:
◦
◦
◦
◦
Demographics
Geographics
Psychographics
Product benefits
Demographic Segmentation

Statistics that describe the characteristics
of a population of people
◦
◦
◦
◦
◦
Age
Gender
Ethnicity
Family size
Income
 Disposable – money left after taxes
 Discretionary – money left after taxes and
necessities taken out (what you have left to spend)
Psychographic Segmentation

based on psychological characteristics
that affect needs and wants
◦ Hobbies
◦ Social activities
◦ Lifestyle
◦ Interests
◦ Attitudes
If you show the target market in ads, people see
themselves and relate better to the
promotional message
Geographic Segmentation

Based on where customers live
◦ Location
◦ Climate
◦ City size
Product Benefits

based on the perceived value or
advantage consumers receive from a good
or service over alternatives.
◦
◦
◦
◦
◦
Quality
Performance
Image
Service
Special features
Combining Variables

Marketers find it useful to target a market
based on two or more segments
◦ Geographic + demographic
(city + income)
Example: marketers of luxury products can get
zip codes of people with the highest income
levels.