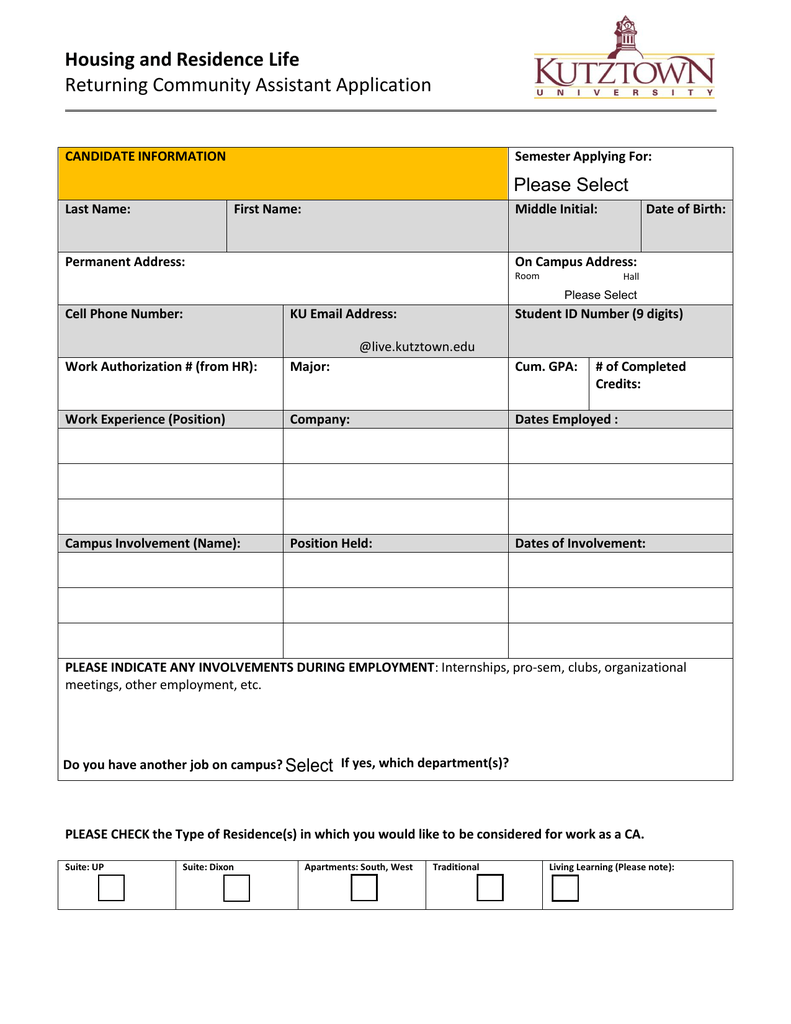 Housing and Residence Life
Returning Community Assistant Application
CANDIDATE INFORMATION
Semester Applying For:
Please Select
Last Name:
First Name:
Date of Birth:
Middle Initial:
Permanent Address:
On Campus Address:
Room
Hall
Please Select
Cell Phone Number:
KU Email Address:
Student ID Number (9 digits)
Work Authorization # (from HR):
Major:
Cum. GPA:
Work Experience (Position)
Company:
Dates Employed :
Campus Involvement (Name):
Position Held:
Dates of Involvement:
@live.kutztown.edu
# of Completed
Credits:
PLEASE INDICATE ANY INVOLVEMENTS DURING EMPLOYMENT: Internships, pro-sem, clubs, organizational
meetings, other employment, etc.
Do you have another job on campus? Select If yes, which department(s)?
PLEASE CHECK the Type of Residence(s) in which you would like to be considered for work as a CA.
Suite: UP
Suite: Dixon
Apartments: South, West
Traditional
Living Learning (Please note):
Housing and Residence Life
Returning Community Assistant Application
PLEASE RATE YOUR SKILLS SETS on a scale from 1-5 with 5 being Highest
Administrative Skills
Knowledge of KU
Verbal Communication
SelectTime Management
SelectHelping Skills
SelectDiversity
Programming/Event Planning
1-Lowest
SelectWritten Communication
SelectCreativity
Select
1-Lowest
Select
Please answer the following questions
1. What is the greatest factor guiding your interest in continuing to serves as a Community Assistant?
2. What do you feel have been your most successful accomplishments as a Community Assistant?
3. As a returning Community Assistant, what would you hope to accomplish by being on staff again?
Accomplish for yourself? Accomplish for the team?
4. What area or area(s) would you like to have more focused training?
5. What has been your biggest challenge thus far and how have you dealt with it?
I have read the Community Assistant position description and understand the expectations of the position I
am applying for. In the event that I am selected, I will agree to comply with the conditions of employment as a
staff member of Kutztown University's Housing and Residence Life. I also understand that if I fail to meet
these conditions I will forfeit my position and move to another hall. If hired, this application will remain on file
with Housing and Residence Life.
Type Name:_______________________________________________Date:_________________________________
FINISHED? STOP! PLEASE TAKE A MOMENT TO SAVE YOUR COMPLETED APPLICATION NOW
Updated: 1/22/2016/MGM
Please PRINT your completed application and bring it to Housing, Residence Life and Dining Services located in 106 Old Main.