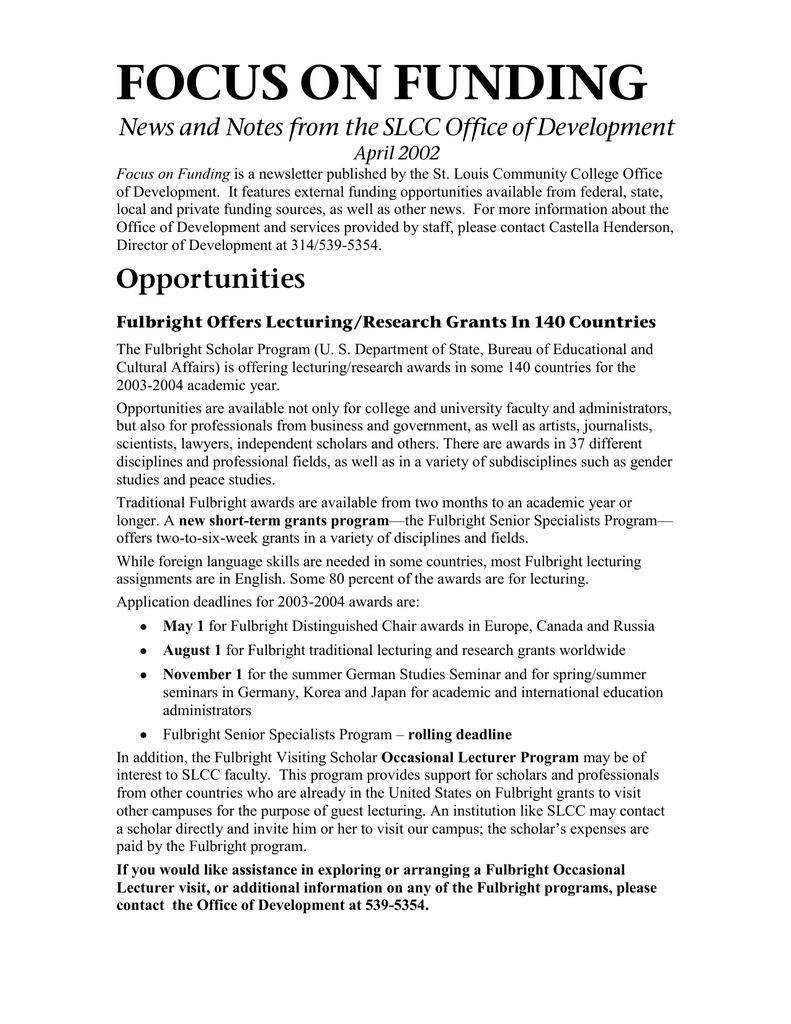 FOCUS ON FUNDING
News and Notes from the SLCC Office of Development
April 2002
Focus on Funding is a newsletter published by the St. Louis Community College Office
of Development. It features external funding opportunities available from federal, state,
local and private funding sources, as well as other news. For more information about the
Office of Development and services provided by staff, please contact Castella Henderson,
Director of Development at 314/539-5354.
Opportunities
Fulbright Offers Lecturing/Research Grants In 140 Countries
The Fulbright Scholar Program (U. S. Department of State, Bureau of Educational and
Cultural Affairs) is offering lecturing/research awards in some 140 countries for the
2003-2004 academic year.
Opportunities are available not only for college and university faculty and administrators,
but also for professionals from business and government, as well as artists, journalists,
scientists, lawyers, independent scholars and others. There are awards in 37 different
disciplines and professional fields, as well as in a variety of subdisciplines such as gender
studies and peace studies.
Traditional Fulbright awards are available from two months to an academic year or
longer. A new short-term grants program—the Fulbright Senior Specialists Program—
offers two-to-six-week grants in a variety of disciplines and fields.
While foreign language skills are needed in some countries, most Fulbright lecturing
assignments are in English. Some 80 percent of the awards are for lecturing.
Application deadlines for 2003-2004 awards are:
May 1 for Fulbright Distinguished Chair awards in Europe, Canada and Russia
August 1 for Fulbright traditional lecturing and research grants worldwide
November 1 for the summer German Studies Seminar and for spring/summer
seminars in Germany, Korea and Japan for academic and international education
administrators
Fulbright Senior Specialists Program – rolling deadline
In addition, the Fulbright Visiting Scholar Occasional Lecturer Program may be of
interest to SLCC faculty. This program provides support for scholars and professionals
from other countries who are already in the United States on Fulbright grants to visit
other campuses for the purpose of guest lecturing. An institution like SLCC may contact
a scholar directly and invite him or her to visit our campus; the scholar's expenses are
paid by the Fulbright program.
If you would like assistance in exploring or arranging a Fulbright Occasional
Lecturer visit, or additional information on any of the Fulbright programs, please
contact the Office of Development at 539-5354.
Grant Opportunities from the National Science
Foundation (NSF):
Science, Technology, Engineering and Mathematics Talent
Expansion Program (STEP)
The NSF STEP program seeks to increase the number of students pursuing and receiving
associate or baccalaureate degrees in established or emerging fields within science,
technology, engineering and mathematics (STEM). A wide variety of approaches are
allowable, with the goal of increasing the total number of students at the institution
receiving degrees in the STEM fields. This is a new program, and there is limited
funding for FY2002, thus proposals are being solicited for planning and pilot efforts at
academic institutions, including community colleges.
Available Funds: Approximately $5 million in FY2002.
Estimated Number of Awards: 10-15
DEADLINES: April 12, 2002 for optional letters of intent. June 3, 2002 for full
proposals.
Bridges for Engineering Education (BEE)
The NSF is seeking proposals for planning grants to improve the engineering content in
K-12 education, and the pedagogy of undergraduate engineering and engineering
technology programs. Areas of funding include collaborations to improve learning for
pre-service teachers, general education majors, and engineering students through
increased interaction of students and faculty.
Available Funds: $3 million in FY 2002
Estimated Number of Awards: 30 planning grants
DEADLINE: June 4. 2002
Planning Grants for the Department-Level Reform of Undergraduate
Engineering
The NSF is inviting applications for planning grants to assist departmental and larger
units in:
Developing comprehensive plans to reformulate, streamline and update engineering
& engineering technology programs
Developing new curricula for emerging engineering disciplines, and
Meeting the emerging workforce and educational needs of U.S. Industry
These efforts should increase both the relevance of undergraduate engineering curricula
and increase the number of students that enroll and complete engineering degree
programs.
Available Funds: $3 million in FY 2002
Estimated Number of Awards: 30 one-year planning grants of $100,000 each
DEADLINE: June 4, 2002
Advanced Technological Education (ATE)
The Advanced Technological Education (ATE) program promotes improvement in
technological education at the undergraduate and secondary school levels by supporting
curriculum development; the preparation and professional development of college faculty
and secondary school teachers; internships and field experiences for faculty, teachers, and
students; and other activities. With an emphasis on two-year colleges, the program
focuses on the education of technicians for the high-technology fields that drive our
nation's economy. The program also promotes articulation between programs at two-year
colleges and four-year colleges and universities--in particular, articulation between twoyear and four-year programs for prospective teachers and between two-year and four-year
programs in science, mathematics, engineering, and technology (with a focus on
disciplines that have a strong technological foundation).
Available Funds: $39 million in FY 2003
Estimated Number of Awards: 70
DEADLINES: April 24, 2002 for Optional Preliminary Proposals; October 16, 2002
for full proposals.
Instructional Materials Development (IMD)
The IMD program grants are distributed under one of four categories:
Instructional Materials for Students
Dissemination and Implementation Sites
Assessment
Applied Research
These grants fund the development and revision of comprehensive curricula and
supplemental classroom materials for preK-12. Proposals can be submitted for projects
in any field of science, technology or math typically supported by the NSF. Projects may
span a two– to five– year period.
Available Funds: $10 million
Estimated Number of Awards: 10-15
DEADLINES: May 1, 2002 for required preliminary proposals; August 26, 2002 for
full proposals.
Other Opportunities from the NSF
NSF Chautauqua Short Courses for College Teachers
Chautauqua Short Courses are an annual series of forums in which scholars at the
frontiers of various sciences meet intensively for several days with undergraduate college
teachers of science. The courses are held at campuses throughout the United States as
well as at selected special sites. More than 100 courses will be offered May through
August 2002. These forums provide an opportunity for invited scholars to communicate
new knowledge, concepts, and techniques directly to college teachers in ways that
immediately benefit their teaching. Newer faculty are particularly invited to participate.
Participants earn CEU credits. There is an application fee of $50.00 ($40.00 for Web
applications). Participants or their institutions pay the cost of lodging, meals and travel.
There are no specific deadlines, but application should be made as early as possible. For
information about the courses and how to apply, contact the Office of Development at
539-5354 or check the Web at www.chautauqua.pitt.edu.
Grant Opportunity from the National Endowment for the
Humanities (NEH)
Public Programs Consultation Grants
The NEH is inviting applications to enable organizations that are in the early stages of
program planning to seek the advice of scholars and/or experienced public humanities
programmers. A Consultation Grant can ―help you imagine a new project or to chart a
new direction for your institution‖ in the humanities. Projects should focus on
humanities programming for the general public.
Awards may be used to cover reasonable costs associated with consultation activities.
Grant size: Grants of up to $10,000 will be awarded.
DEADLINES: April 16, 2002 and September 16, 2002.
Faculty and Staff Kudos
A number of faculty and staff members have been awarded grants and contracts
over the past few months. Project Directors for recent awards include:
Carolyn Jackson—US. Department of Education, $84,959
A grant to provide additional funds for the existing Upward Bound program on the
Forest Park campus.
John Newsham—SMARTer Kids Foundation, $1,800.
A grant for the discounted pricing on the purchase of two smartboards and two
floor stands to enhance the distance learning programs at St. Louis Community
College.
Congratulations!
The SLCC OFFICE OF DEVELOPMENT Team:
Castella Henderson, Director of Development
539-5354 or [email protected]
Lynn Farr, Scholarship Coordinator and Resource Development Specialist
539-5476 or [email protected]
Lucia Miller, Academic Grant Writer
539-5328 or [email protected]
Contact us for more information about the grant and scholarship opportunities
listed here. If you have plans to submit a grant proposal, please contact Castella
Henderson.