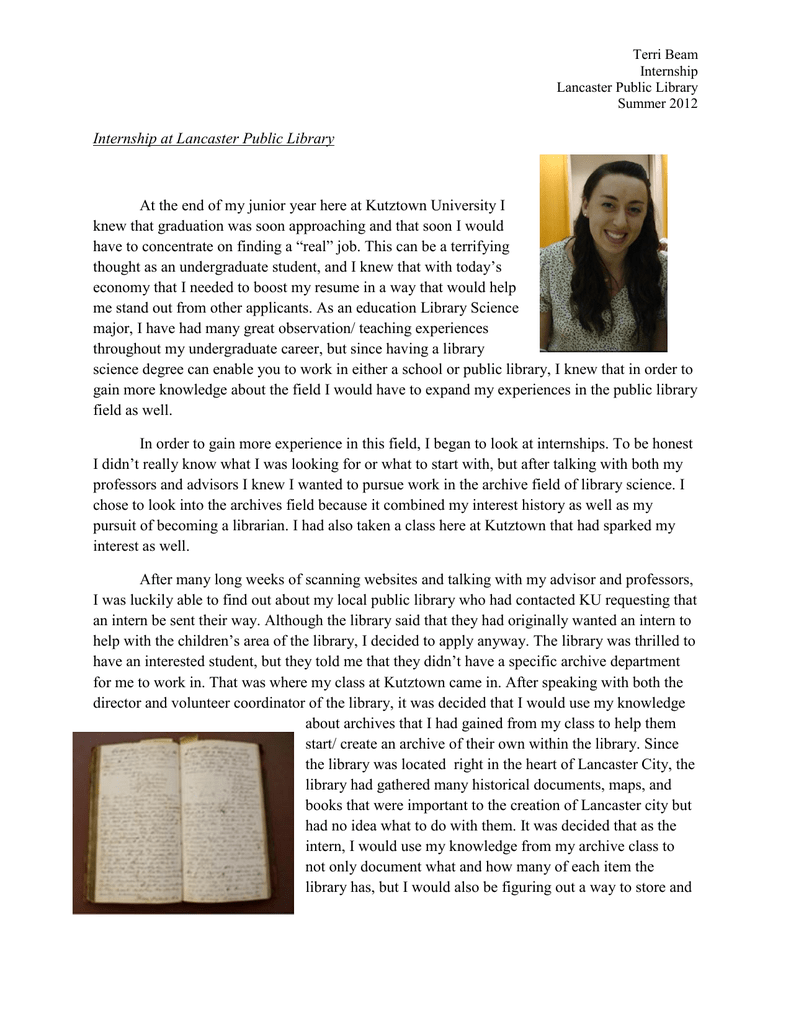 Terri Beam
Internship
Lancaster Public Library
Summer 2012
Internship at Lancaster Public Library
At the end of my junior year here at Kutztown University I
knew that graduation was soon approaching and that soon I would
have to concentrate on finding a "real" job. This can be a terrifying
thought as an undergraduate student, and I knew that with today's
economy that I needed to boost my resume in a way that would help
me stand out from other applicants. As an education Library Science
major, I have had many great observation/ teaching experiences
throughout my undergraduate career, but since having a library
science degree can enable you to work in either a school or public library, I knew that in order to
gain more knowledge about the field I would have to expand my experiences in the public library
field as well.
In order to gain more experience in this field, I began to look at internships. To be honest
I didn't really know what I was looking for or what to start with, but after talking with both my
professors and advisors I knew I wanted to pursue work in the archive field of library science. I
chose to look into the archives field because it combined my interest history as well as my
pursuit of becoming a librarian. I had also taken a class here at Kutztown that had sparked my
interest as well.
After many long weeks of scanning websites and talking with my advisor and professors,
I was luckily able to find out about my local public library who had contacted KU requesting that
an intern be sent their way. Although the library said that they had originally wanted an intern to
help with the children's area of the library, I decided to apply anyway. The library was thrilled to
have an interested student, but they told me that they didn't have a specific archive department
for me to work in. That was where my class at Kutztown came in. After speaking with both the
director and volunteer coordinator of the library, it was decided that I would use my knowledge
about archives that I had gained from my class to help them
start/ create an archive of their own within the library. Since
the library was located right in the heart of Lancaster City, the
library had gathered many historical documents, maps, and
books that were important to the creation of Lancaster city but
had no idea what to do with them. It was decided that as the
intern, I would use my knowledge from my archive class to
not only document what and how many of each item the
library has, but I would also be figuring out a way to store and
Terri Beam
Internship
Lancaster Public Library
Summer 2012
display the items as well.
I began work on this internship in the summer right after I finished up my spring
semester. To be honest, my first few days as the intern were very overwhelming. There seemed
to be so much for me to look through and catalogue, but after the first week I seemed to have a
system down. Each day I was to go through a section or area of the library and document any
item that I considered to be 'archival'. I created a list of the items that matched my requirements
and documented them in an excel spreadsheet. By the end of
the internship I ended up with 6-7 very long excel lists that
had what each item was, the type of archival condition the
item was in, where the item was found, and also how the item
should be stored in the future. I created these lists for the
library so that when they were able to fully create a specific
archive space that they would have all the information already
laid out for them.
When I first began to look through the library to look
for archival items I didn't know what to expect, but what I ended up finding truly surprised me.
Over the course of my internship I was able to find items such as a 46 star
American flag found stuffed in an old hat box that was just lying in the
attic, a manuscript that was printed on vellum that we believed to be from
the 17th or 18th century, and my favorite was an old bible that was a gift to
the library from Juliana Penn who was the wife of William Penn.
Overall I truly enjoyed my internship and all the opportunities and
experiences I was able to gain from it. I feel as though I was able to not
only gain experience within the public library field, but I was also able to
make contacts and relationships that can help me in my future career
outside of KU. I highly recommend to any undergraduate student, but
specifically library science students to pursue an internship before they
graduate. I feel as though it has opened so many doors for me in helping to expand my
experience and knowledge within the library field and I am honestly excited to share my
experience with others. For those looking for an internship I suggest that they look early and
everywhere. Just because you are looking for a very specific field to work in doesn't mean that it
limits the number of internships you can apply to. Look into every opportunity that interests you
because the one you land may just surprise you.