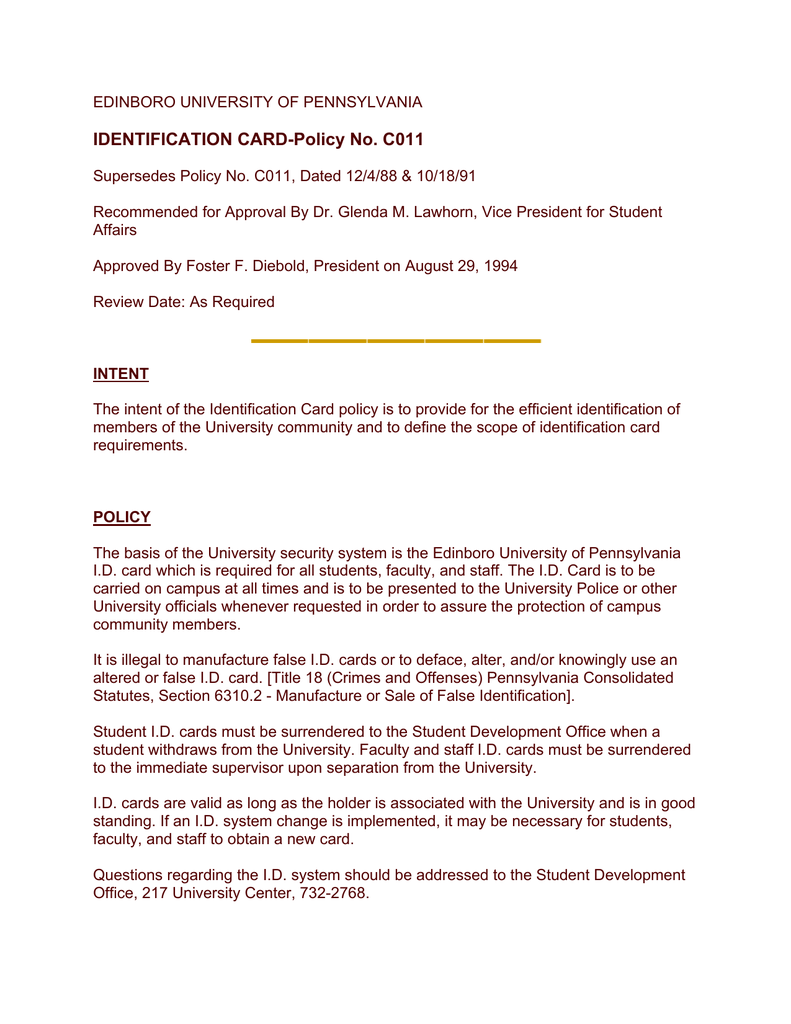 EDINBORO UNIVERSITY OF PENNSYLVANIA
IDENTIFICATION CARD-Policy No. C011
Supersedes Policy No. C011, Dated 12/4/88 & 10/18/91
Recommended for Approval By Dr. Glenda M. Lawhorn, Vice President for Student
Affairs
Approved By Foster F. Diebold, President on August 29, 1994
Review Date: As Required
INTENT
The intent of the Identification Card policy is to provide for the efficient identification of
members of the University community and to define the scope of identification card
requirements.
POLICY
The basis of the University security system is the Edinboro University of Pennsylvania
I.D. card which is required for all students, faculty, and staff. The I.D. Card is to be
carried on campus at all times and is to be presented to the University Police or other
University officials whenever requested in order to assure the protection of campus
community members.
It is illegal to manufacture false I.D. cards or to deface, alter, and/or knowingly use an
altered or false I.D. card. [Title 18 (Crimes and Offenses) Pennsylvania Consolidated
Statutes, Section 6310.2 - Manufacture or Sale of False Identification].
Student I.D. cards must be surrendered to the Student Development Office when a
student withdraws from the University. Faculty and staff I.D. cards must be surrendered
to the immediate supervisor upon separation from the University.
I.D. cards are valid as long as the holder is associated with the University and is in good
standing. If an I.D. system change is implemented, it may be necessary for students,
faculty, and staff to obtain a new card.
Questions regarding the I.D. system should be addressed to the Student Development
Office, 217 University Center, 732-2768.
PROCEDURE
I.D. cards are processed in the lobby of the University Center during the first week of
every semester. Thereafter, I.D. cards will be processed in the University Programming
and Activities Office, by appointment.
Damaged or lost I.D. cards will be replaced at the price of a new I.D. card.