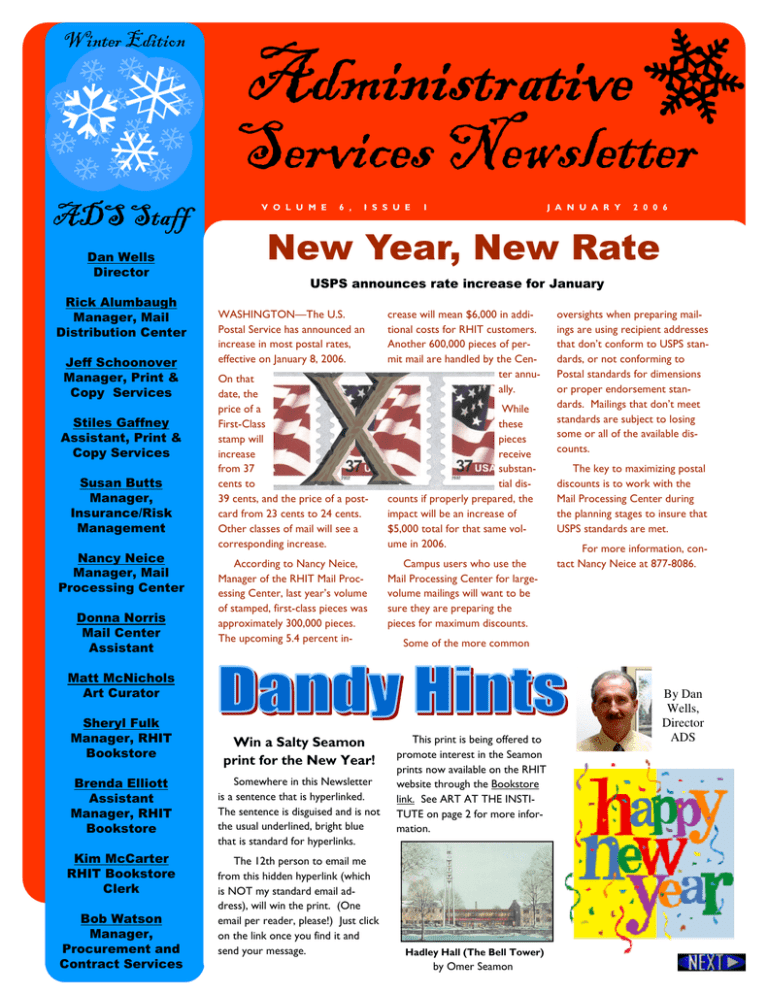 Winter Edition
Administrative
Services Newsletter
ADS Staff
Dan Wells
Director
Rick Alumbaugh
Manager, Mail
Distribution Center
Jeff Schoonover
Manager, Print &
Copy Services
Stiles Gaffney
Assistant, Print &
Copy Services
Susan Butts
Manager,
Insurance/Risk
Management
Nancy Neice
Manager, Mail
Processing Center
Donna Norris
Mail Center
Assistant
V O L U M E
6 ,
I S S U E
1
J A N U A R Y
New Year, New Rate
USPS announces rate increase for January
WASHINGTON—The U.S.
Postal Service has announced an
increase in most postal rates,
effective on January 8, 2006.
On that
date, the
price of a
First-Class
stamp will
increase
from 37
cents to
39 cents, and the price of a postcard from 23 cents to 24 cents.
Other classes of mail will see a
corresponding increase.
According to Nancy Neice,
Manager of the RHIT Mail Processing Center, last year's volume
of stamped, first-class pieces was
approximately 300,000 pieces.
The upcoming 5.4 percent in-
crease will mean $6,000 in additional costs for RHIT customers.
Another 600,000 pieces of permit mail are handled by the Center annually.
While
these
pieces
receive
substantial discounts if properly prepared, the
impact will be an increase of
$5,000 total for that same volume in 2006.
Campus users who use the
Mail Processing Center for largevolume mailings will want to be
sure they are preparing the
pieces for maximum discounts.
Win a Salty Seamon
print for the New Year!
Brenda Elliott
Assistant
Manager, RHIT
Bookstore
Somewhere in this Newsletter
is a sentence that is hyperlinked.
The sentence is disguised and is not
the usual underlined, bright blue
that is standard for hyperlinks.
Kim McCarter
RHIT Bookstore
Clerk
The 12th person to email me
from this hidden hyperlink (which
is NOT my standard email address), will win the print. (One
email per reader, please!) Just click
on the link once you find it and
send your message.
Bob Watson
Manager,
Procurement and
Contract Services
oversights when preparing mailings are using recipient addresses
that don't conform to USPS standards, or not conforming to
Postal standards for dimensions
or proper endorsement standards. Mailings that don't meet
standards are subject to losing
some or all of the available discounts.
The key to maximizing postal
discounts is to work with the
Mail Processing Center during
the planning stages to insure that
USPS standards are met.
For more information, contact Nancy Neice at 877-8086.
Some of the more common
Matt McNichols
Art Curator
Sheryl Fulk
Manager, RHIT
Bookstore
2 0 0 6
This print is being offered to
promote interest in the Seamon
prints now available on the RHIT
website through the Bookstore
link. See ART AT THE INSTITUTE on page 2 for more information.
Hadley Hall (The Bell Tower)
by Omer Seamon
By Dan
Wells,
Director
ADS
PAGE
2
FOR YOUR CALENDAR
Commencement
Fair
Updates Web Updat
dates Web Updates
tes Web Updates We
s Web Updates Web
Access the RHIT website under
ADMINISTRATIVE SERVICES
for updated information on:
• RHIT contracts and the new
guidelines for obtaining approvals
• Reminders about copyright
law and the Print and Copy
Center
• Buyer's tips for purchasing
from RHIT consortiums
along with an updated list of
participating vendors.
• Access the Art Curator's
page for an update on all
upcoming activities (Highlights
in this issue).
Updates Web Updat
dates Web Updates
tes Web Updates We
s Web Updates Web
All Seniors will want to stop by
the Kahn Room on January
18th or 19th between 10:00
A.M. and 4:30 P.M.
On those dates, the bookstore will host Jostens, Herff
-Jones, and University
Frames, and Framing Success in the Kahn Room in
the Hulman Union Building.
These vendors will be
offering sizing for caps and
gowns as well as a selection
of class rings, announcements, and diploma frames.
This will provide the Class
of 2006 an opportunity for
one-stop shopping for their
big day on Saturday, May 27th.
Print and
COPY IT RIGHT!
Rose Hulman encourages
the free exchange of information and ideas, including that
contained in previously published material. The RHIT
community, however, is bound
by Copyright law (Title 17,
U.S. Code).
The Copyright Act of 1976
allows the "limited use" of
materials for teaching and for
research. This limited use of
materials is deemed, "Fair Use"
and there are four factors that
the courts use to determine
whether it applies.
The purpose of the use, the
nature of the original work, the
amount of material used, and
the impact on the market for
the original work are all considered in the decision as to
whether duplication of material
• Salty Seamon watercolor
Theo Jansen will be at
RHIT to present a lecture
about his work on March
28th in Hatfield Hall.
Watch your email for details.
Mon—Fri 8 A.M.—4:30 P.M.
Saturday 11 A.M.—3 P.M.
CENTER
ART At the Institute
• Dutch kinetic sculptor
Now that the holidays are
over, the RHIT bookstore
has resumed its regular
hours:
prints are available for purchase on the bookstore
website. There are ten different prints currently available, with more being added
in coming months. All proceeds from these sales benefit the RHIT Seamon Scholarship Fund as well as support-
has impinged on an author's
rights.
Customers of the Print and
Copy Center need to be familiar with Copyright law and be
sure they have the right to
duplicate material. An excellent (free!) booklet explaining
the impact of Copyright law is
available for the asking in the
Print and Copy Center, in
Moench Hall, EL202.
ing the conservation of the
original Seamon watercolor
paintings in the RHIT permanent collection.
• Coming in January — the firstever RHIT poetry exhibit, two
photography exhibits, paintings
by Bloomington artist Jerry
Linton, works by RHIT student Tim Mayhew, and an
exhibit of student rapid prototyping work from ME departments Graphcom class. Dates
and times to be announced.
ADMINISTRATIVE SERVICES NEWSLETTER
VOLUME
6,
ISSUE
1
PAGE
Who's Who and What's What
Recent Departmental Changes in ADS
Past months have seen changes in
staffing and responsibilities in the
Administrative Services department. A brief summary of these
changes:
• Marjorie Hopkins left her
position as Dan's Administrative
Assistant to accept a position at
DePauw. Unnamed sources are
quoted as saying she misses her
RHIT friends.
• Mike Howard (Environmental
Health and Safety) now reports
to the Facilities Department.
Since Mike's departure, there
has been a noticeable drop in
the consumption of Hot Tamales in the department.
• Sheryl Fulk and the Bookstore staff now report to
ADS. The Bookstore previously was under the umbrella
of Student Affairs. Brenda
Elliott and Kim McCarter
report to Sheryl. We are
happy to have all of them join
the ADS team!
• ADS is supporting a RHIT
initiative to improve the handling of contracts by the community. Upcoming Purchasing
Guide changes will include a
procedure for ADS to review
all RHIT contracts prior to VP
signature and maintain them in
a master file for reference.
Bob Watson, in his new
position as Manager of Procurement and Contract Services will be spearheading this
effort.
So What the Heck is a Consortium?
One of the 'hits' from Google gives
this definition of a consortium:
A group of individuals or
organizations formed to
undertake an enterprise
or activity that would be
beyond the capabilities of
the individual members.
RHIT Procurement works
with several educational organizations that offer member
pricing based on consolidated
purchasing volumes. This allows us to receive more favorable pricing than we would
receive on our own.
Buyers will be seeing more
references to consortiums in
upcoming informational sessions and on the ADS web site.
Organizations that RHIT is
affiliated with include HRG
(Horizon Resources Group),
E&I (Educational and Institutional Cooperative Services,
Inc.), and ICI (Independent
Colleges of Indiana).
It is a seamless process for
buyers to receive consortium
pricing. These organizations
have already established contracts guaranteeing favorable
pricing to all members.
All that is required for a
RISKY BUSINESS
It's that time again! Annually, we
update the Authorized Driver's List of
those individuals who need to drive
a RHIT vehicle for RHIT business
purposes. You must be "qualified"
in advance to be able to drive a
RHIT vehicle. Please check the
current list to see if your name appears. If not, an employee MUST
complete a "Motor Vehicle Background Check" form and forward it
3
Buyers and RHIT
Contracts
In upcoming months, all
campus buyers will be invited
to attend an update session on
procedural changes for entering into a contract.
One change will be for each
buyer to submit a form with a
few, basic background questions . Once submitted, there
will be a review prior to being
signed by the VP and CAO or
the President. Only these two
officers are authorized to sign
contracts. ADS will maintain a
central file of these documents.
Watch your emails for the
upcoming session and more
details, or watch the ADS Web
page.
buyer to use a consortium is to
be aware of the vendors who
are available and utilize them
when conducting business.
Most consortium vendors are
major names in their respective
industries, such as Fisher Scientific, RubberMaid, and Hertz.
For additional information,
contact Bob Watson or Dan
Wells in ADS. Brochures are
also available in the racks outside
the door to ADS, and information is also available on the ADS
webpage.
to Susan Butts (CM25). A student
must annually provide a copy of
their current Motor Vehicle Report
(MVR). To be valid, the report can
be no more than 30 days old.
A minimum of three day's notice is required to qualify a driver.
If you are presently an authorized
operator and would like your name
removed from the list, contact
Susan Butts by email.
For more information, read the
RHIT Vehicle policy on our web
page.
P
R
O
C
U
R
E
M
E
N
T
S
TU
FF
FO
R
B
U
Y
E
R
S
WISHING YOU
THE BEST IN
2006!