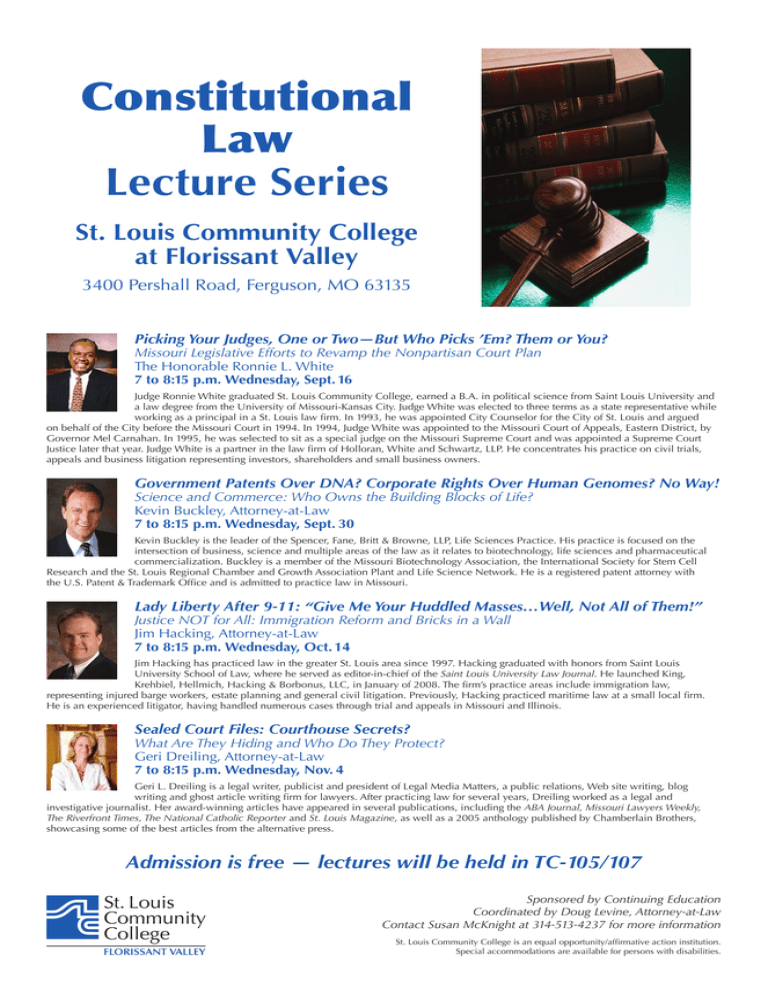 Constitutional
Law
Lecture Series
St. Louis Community College
at Florissant Valley
3400 Pershall Road, Ferguson, MO 63135
Picking Your Judges, One or Two—But Who Picks 'Em? Them or You?
Missouri Legislative Efforts to Revamp the Nonpartisan Court Plan
The Honorable Ronnie L. White
7 to 8:15 p.m. Wednesday, Sept. 16
Judge Ronnie White graduated St. Louis Community College, earned a B.A. in political science from Saint Louis University and
a law degree from the University of Missouri-Kansas City. Judge White was elected to three terms as a state representative while
working as a principal in a St. Louis law firm. In 1993, he was appointed City Counselor for the City of St. Louis and argued
on behalf of the City before the Missouri Court in 1994. In 1994, Judge White was appointed to the Missouri Court of Appeals, Eastern District, by
Governor Mel Carnahan. In 1995, he was selected to sit as a special judge on the Missouri Supreme Court and was appointed a Supreme Court
Justice later that year. Judge White is a partner in the law firm of Holloran, White and Schwartz, LLP. He concentrates his practice on civil trials,
appeals and business litigation representing investors, shareholders and small business owners.
Government Patents Over DNA? Corporate Rights Over Human Genomes? No Way!
Science and Commerce: Who Owns the Building Blocks of Life?
Kevin Buckley, Attorney-at-Law
7 to 8:15 p.m. Wednesday, Sept. 30
Kevin Buckley is the leader of the Spencer, Fane, Britt & Browne, LLP, Life Sciences Practice. His practice is focused on the
intersection of business, science and multiple areas of the law as it relates to biotechnology, life sciences and pharmaceutical
commercialization. Buckley is a member of the Missouri Biotechnology Association, the International Society for Stem Cell
Research and the St. Louis Regional Chamber and Growth Association Plant and Life Science Network. He is a registered patent attorney with
the U.S. Patent & Trademark Office and is admitted to practice law in Missouri.
Lady Liberty After 9-11: "Give Me Your Huddled Masses…Well, Not All of Them!"
Justice NOT for All: Immigration Reform and Bricks in a Wall
Jim Hacking, Attorney-at-Law
7 to 8:15 p.m. Wednesday, Oct. 14
Jim Hacking has practiced law in the greater St. Louis area since 1997. Hacking graduated with honors from Saint Louis
University School of Law, where he served as editor-in-chief of the Saint Louis University Law Journal. He launched King,
Krehbiel, Hellmich, Hacking & Borbonus, LLC, in January of 2008. The firm's practice areas include immigration law,
representing injured barge workers, estate planning and general civil litigation. Previously, Hacking practiced maritime law at a small local firm.
He is an experienced litigator, having handled numerous cases through trial and appeals in Missouri and Illinois.
Sealed Court Files: Courthouse Secrets?
What Are They Hiding and Who Do They Protect?
Geri Dreiling, Attorney-at-Law
7 to 8:15 p.m. Wednesday, Nov. 4
Geri L. Dreiling is a legal writer, publicist and president of Legal Media Matters, a public relations, Web site writing, blog
writing and ghost article writing firm for lawyers. After practicing law for several years, Dreiling worked as a legal and
investigative journalist. Her award-winning articles have appeared in several publications, including the ABA Journal, Missouri Lawyers Weekly,
The Riverfront Times, The National Catholic Reporter and St. Louis Magazine, as well as a 2005 anthology published by Chamberlain Brothers,
showcasing some of the best articles from the alternative press.
Admission is free — lectures will be held in TC-105/107
Sponsored by Continuing Education
Coordinated by Doug Levine, Attorney-at-Law
Contact Susan McKnight at 314-513-4237 for more information
St. Louis Community College is an equal opportunity/affirmative action institution.
Special accommodations are available for persons with disabilities.