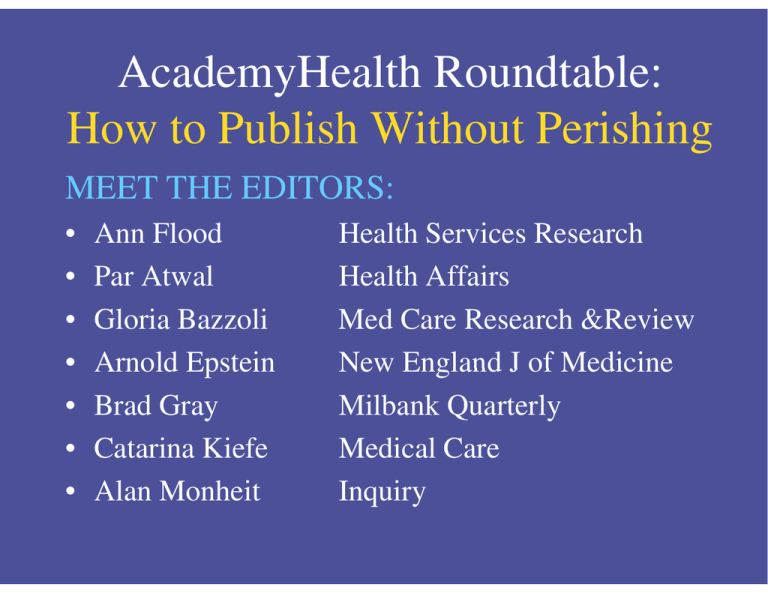 AcademyHealth Roundtable:
How to Publish Without Perishing
g
MEET THE EDITORS:
•
•
•
•
•
•
•
Ann Fl
A
Floodd
Par Atwal
Gloria Bazzoli
Arnold Epstein
Brad Gray
C i Ki
Catarina
Kiefe
f
Alan Monheit
Health
H
lhS
Services
i
R
Research
h
Health Affairs
Med Care Research &Review
New England J of Medicine
Milbank Quarterly
M di l C
Medical
Care
Inquiry
Outline for Today
• Brief intro about typical
yp
ppeer review
process
• Roundtable
R dt bl reply
l tto ttwo questions
ti
– Hints for success at journal
j
– Unique 'feature' of journal
• Q&A ffrom the
h audience
di
Making Peer-Reviewed Publication
More User-Friendly
Peer review
P
i iis 'f
'friendly'???
i dl '??? B
Butt what
h t about…
b t
* All those rejections!
j
* Exposing your work to anonymous reviewers!
* Perishing
P i hi unless
l you publish!
bli h!
It Could Be Worse:
Peer Review in the 1500's
• Servetus, Spanish physician, 1509-1553
– Published theory about pulmonary circulation
– Burned at the stake by John Calvin
It Could Be Worse:
Peer Review in the 1500's
• Servetus, Spanish physician, 1509-1553
– Published a theory on pulmonary circulation
– Burned at the stake by John Calvin
• Galileo, 1564-1642
– Published a book,
book Dialogue on Two Chief
World Systems
– Confined to his home; forced to recant
• It used to be: Publish AND Perish!
A Overview of the Process:
Using HSR as an Example
• Often appears to be a
"black box"
• Understanding the
steps can reduce
anxiety
• AND provide hints for
greater success
Choosing a Journal
• Choosingg a jjournal…
– Look where 'similar' manuscripts
have been published
p
– Review journals to determine what
they publish
 Look through issues
 Mission Statement
 Audience
 Instructions for Authors
Preparing Your Manuscript
• After y
you choose a jjournal…
– Follow its guidelines regarding
styles,
y , length,
g , etc.
– Consider whether review-only
appendices
pp
would be useful
– Consider any additional material to
submit, e.g.,
g related ppapers
p that
might be considered duplicative
S b i i the
Submitting
h Manuscript
i
• NO paper!
• Go to ou
our webs
website
te
http://hsr.manuscriptcentral.com
• Fill out information as an author and
potential reviewer
• Submit electronic version of
manuscript
• Use Endnote or other reference system
y
• Receive acknowledgment
What We Do First
500 new ms./yr*
260 external
rev/yr*
• Assign the manuscript to
an editor-in-chief [EIC]
– Based largely
g y on
workload and potential
conflicts of interest
• EIC reviews to determine
whether
h h the
h manuscript
i
goes out for peer review
* 2010 projected
j
d regular
l
issue submissions
First Barrier: The Editors
Editors' Review
• Most "Editors' Reject" reflect:
– "Lack of fit" with the journal
– Very narrow potential audience
– Quality, less often a consideration
• 2009 at HSR:
– ~ 47% of new submissions were
reviewed and rejected by editors
• Mean time to decision—11 days
– Remaining papers are assigned to
a Senior
S i Associate
A
i Editor
Edi (SAE)
Examples of 'Fit' for HSR
• Mission:
To further our vision and
values by publishing
rigorous state
rigorous,
state-of-the-art
of the art
research on healthcare
that is widelyy disseminated
and meets the highest
standards of scientific peer
review.
• Audience:
 Disciplinary and
multidisciplinary
researchers
h
 Methodologists
 Policy
li analysts
l
 Mostly U.S.-based but
with
ith a global
l b l context
t t
Identifying
d if i Reviewers
i
• Identify >2 reviewers, who as a
set have the needed expertise
• Identifying willing and
appropriate
pp p
reviewers is difficult
• Authors can help by suggesting
potential reviewers (with e-mail
e mail
addresses)
• CAN suggest whom not to use
What Is a Good Review?
• For authors
– Cites strengths
g and weaknesses with enough
g detail
– Separates major and minor points
– Provides constructive criticism
• For editors
–
–
–
–
–
Detail
D
il to support recommendation
d i
potential conflicts or biases [not always 'bad']
previous reviews of 'same' manuscript
similar works by same authors
lack of expertise for evaluating some parts
What Is a Bad review?
•
•
•
•
•
•
Personal comments or attacks
Irrelevant comments
No detailed support for judgments
Does not disclose conflict of interests
Touts own work that wasn
wasn'tt referenced
Reveals recommendation to authors
Waiting for a Decision
• Perhaps the most difficult part
for authors
• Manuscript Central (MC) lets
you know
k
the
h current status
• MC automatically reminds
reviewers about late reviews
• The EICs have much more
information about where things
stand and whom to nudge
Reaching a Decision:
Both Reviews are 'In'
In
• Reviewers' comments go to SAE
• SAE re-examines
i
the
h ffull
ll record
d
[paper and reviews] and recommends
a decision & comments for authors
• The EIC who started the process
makes the final call
• SAE and EIC need to agree
• EIC sends letter to the author with
decision, special advice from us and
reviews
Initial Decisions for
External Reviewed Papers Only
• TIMING:
– In 2002: 126 days to 1st decision
– In 2009: 58 days!
• OUTCOMES at 1st round
– Conditional accept
– Revise and resubmit
o Major revision
o Minor Revision
– Reject
j
– TOTAL
0.2%
0 2%
23.4%
20.9%
20
9%
2.5%
29.9%
53.3%
Major Revise and Resubmit
• Reviewers and editors see significant
potential
pote
t a in the
t e pape
paper or
o the
t e topic,
top c, but
also note important shortcomings
• Further, it is not certain that
– Authors will be able to address concerns
or redo analyses
– New results will be interesting enough to
publish
• Our letter explains the risks involved
Revisions and Responses
p
• Reviewers' comments may conflict
– Editors try to resolve extreme
conflicts
• Slavish
Sl i h revisions
ii
may be
b inappropriate
i
i
– It's your paper and reviewers and
we may have "gotten
gotten it wrong
wrong"
– But, if we did, readers might also be
"confused"
• Detailed memos explaining how you
addressed each point are helpful
• Electronic appendices?
• Don't take too long!
Improving
p
g Your Manuscript:
p
Typical Problems
• Important flaws
– Literature review misses key studies
– Conceptual framework missing or
inadequate
– Analyses have problems
– Poor write up of tables, methods,
results
– No policy implications or,
alternatively,
lt
ti l oversells
ll findings
fi di
The Next Cycle
• Revisions go to SAE
• Sometimes
S
i
an
immediate decision
• Usually back to the
reviewers
– Especially if major
revisions
• Then back to SAE
and EIC
D ii
Decisions
on First
Fi t Revisions
R ii
• OUTCOMES:
OUTCOMES
– Accept/Conditional
– Reject
R j
– Revise
R i (minor/major)
( i / j )
48%
6%
45%
After Acceptance,
p
,
You're Not Done Yet
• The manuscript goes to
Wil Bl k ll our
Wiley-Blackwell,
publisher, for
copyediting
di i
• Author needs to review,
respond to questions,
and approve, with a very
short turnaround
Published Online & In Print
• For accepted papers…
– Paperless process to publisher too
 Exception: original signatures on copyright (can be PDF)
– EarlyView Publishing (~2 months in 2010)
 When copyediting done, published online
 Fully citable (use DOI), available to subscribers on web
 Referenced in MedLine
– Appears
pp
in print
p
next avail issue (~4
( months in 2010))
And Now…Let's Hear From
the Other Editors
 What criteria should authors use to choose your
y
journal and prepare their manuscripts for it?
 What is your mission?
 Who is your audience?
 What feature is most 'unique ' to your
j
journal?
l?
 How can authors successfully orient their manuscripts to
this feature?