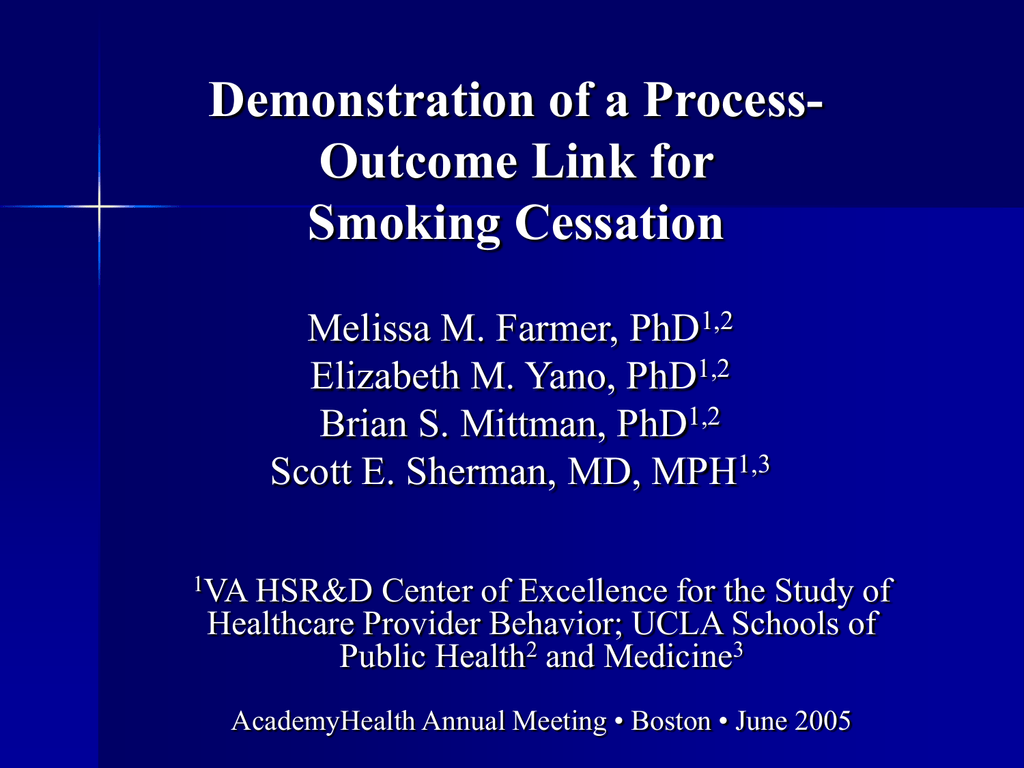 Demonstration of a ProcessOutcome Link for
Smoking Cessation
Melissa M. Farmer, PhD1,2
Elizabeth M. Yano, PhD1,2
Brian S. Mittman, PhD1,2
Scott E. Sherman, MD, MPH1,3
1VA HSR&D
Center of Excellence for the Study of
Healthcare Provider Behavior; UCLA Schools of
Public Health2 and Medicine3
AcademyHealth Annual Meeting • Boston • June 2005
Background: Smoking Cessation (SC)



Nearly 25% of all Americans are smokers
SC has one of the lowest treatment delivery
rates of all preventive services.
Many SC interventions work
– NRT and/or buproprion
– SC programs
– Brief provider tobacco counseling
Background: Why the VA?


Smoking is more prevalent among veterans.
VA is the largest health care system in U.S.
– Currently ~6 million VA users: ~2 million smokers

Increased SC guideline adherence was among
VA's first national performance goals
– Substantial improvements in detecting and
counseling smokers
QUITS Intervention



Evidence-based quality improvement (QI)
guideline implementation study at 18
Southwestern VA's in 1998-2002
Intervention did not result in higher quits or
quit attempts
More research needed on contribution of
setting and the process of care
Funded by VA Health Services Research & Development Service
Objectives

Examine the relationship between discrete
site-level process-of-care measures and
clinical outcomes for smoking cessation
(30-day abstinence) in a representative
sample of VA primary care patients
Sample and Methods

Site-level data: Primary/Ambulatory care
manager survey (n=18)
– Assessment, counseling, referral to SC programs,
treatment & resources available

Patient-level data: Telephone survey data from
QUITS sample of veterans smokers
– Baseline (n=1941), 12 month follow-up (n=1038) and
18 month follow-up (n=885).
– Sociodemographics, health status, smoking status
Analytic Strategy

Logistic regression with clusteradjustment at the site-level to examine
process-quality measures as predictors of
successful smoking cessation outcomes
– controlling for patient characteristics, baseline
health and smoking status.
Facility Characteristics (n=18)
Variable
Assessment of smoking status at visit
% or
Mean/SD
41%
Counseled at visit*
2.17 (0.54)
Referral to specialized SC clinic/program*
1.90 (0.84)
Medications prescribed w/out restrictions
31%
* 3 point scale: 1=less than half, 2=most, 3=all or almost all patients
Facility Characteristics (n=18)
Variable
%
Site measures assessment performance
19%
Site measures counseling performance
25%
Routine follow-up for those counseled
44%
Staff reminders to assess smoking status
81%
Patient Population (n=1038)
Variable
%
Age (22-91)
57.18
Race: White
64%
Self rated health (1=poor-5=excellent)
2.49
Had made quit attempt at baseline
45%
Results
Has not smoked cigarette in past 30 days
Abstinence at 12 month follow-up
%
9%
Abstinence at 18 month follow-up
10%
Logistic Model for 30-day
abstinence
12-month
N=1038
OR (95% CI)
18-month
N=885
OR (95% CI)
Assessment
2.10(1.15-3.83)
1.87(1.02-3.46)
Counsel
1.61(1.01-2.57)
1.58(1.06-2.35)
Referral
1.28(1.03-1.59)
1.08(0.86-1.36)
Measures assessment
2.38(1.43-3.95)
2.03(1.35-3.03)
Summary of Results:
At
12- months increased odds of abstinence at
sites that report more frequent assessment,
counseling and referrals.
At 18-months, odds were further increased by
sites that report more frequent assessment and
counseling.
Those sites that monitored their own performance
for tobacco use assessment had higher odds of
abstinence at 12 and 18-months.
Limitations


Results limited to QUITS sample of
facilities and patients
Future research needed on the
measurement of process-of-care
Conclusions and Implications


Site-level process-of-care measures predict
clinical outcomes for smoking cessation.
The demonstration of a process-outcome link
between smoking cessation performance
measures and veterans' actual cessation supports
VA's process measurement as a valid marker for
ultimately helping veterans quit smoking.