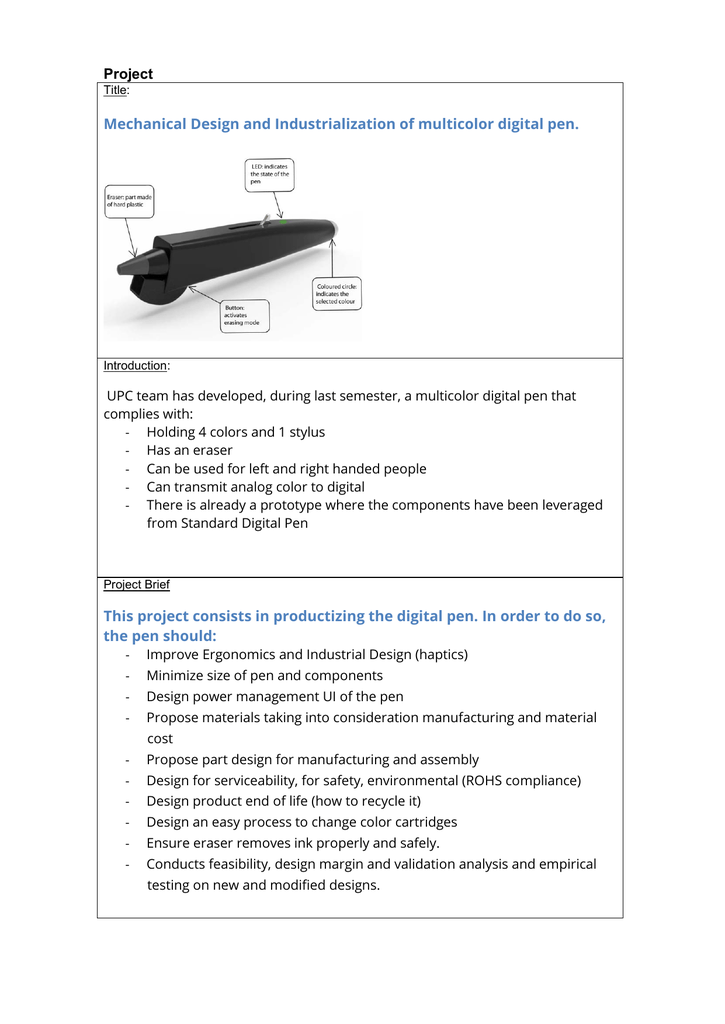 Project
Title:
Mechanical Design and Industrialization of multicolor digital pen.
Introduction:
UPC team has developed, during last semester, a multicolor digital pen that
complies with:
- Holding 4 colors and 1 stylus
- Has an eraser
- Can be used for left and right handed people
- Can transmit analog color to digital
- There is already a prototype where the components have been leveraged
from Standard Digital Pen
Project Brief
This project consists in productizing the digital pen. In order to do so,
the pen should:
-
Improve Ergonomics and Industrial Design (haptics)
-
Minimize size of pen and components
-
Design power management UI of the pen
-
Propose materials taking into consideration manufacturing and material
cost
-
Propose part design for manufacturing and assembly
-
Design for serviceability, for safety, environmental (ROHS compliance)
-
Design product end of life (how to recycle it)
-
Design an easy process to change color cartridges
-
Ensure eraser removes ink properly and safely.
-
Conducts feasibility, design margin and validation analysis and empirical
testing on new and modified designs.
Deliverables:
-
2D/3D at part and assembly level
Functional 3D prototype (including all components)
Bill of Materials (BOM)
Company
Name:Hewlett-Packard Española
Address:
Camí de Can Graells 1-21, Sant Cugat del Vallés 08174
Contact person:
Marina Talavera
[email protected]
9358 26796
Project team:
Number of students:
Students speciality:
 Business Management
 Mechanical engineering
 Electrical engineering
 Electronics engineering
 Chemical engineering
 Computer engineering.
 Telecommunications engineering.
 Industrial Design
 ………….