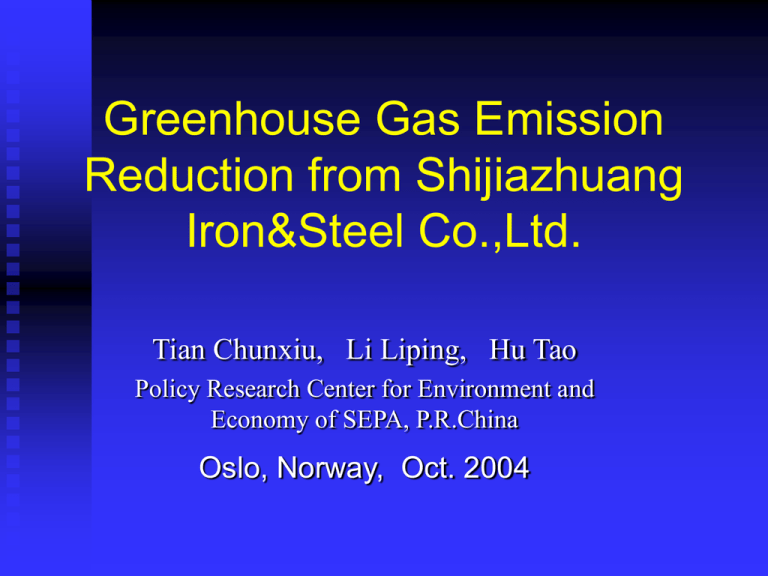 Greenhouse Gas Emission
Reduction from Shijiazhuang
Iron&Steel Co.,Ltd.
Tian Chunxiu, Li Liping, Hu Tao
Policy Research Center for Environment and
Economy of SEPA, P.R.China
Oslo, Norway, Oct. 2004
Contents
1 Background and General Information
2 GHG Emission
3 Cleaner Production and Energy Efficiency(CP-EE)
Options and Its Co-benefits
4 Policy Implications
1 Background and General Information
1.1 Background
1.2 General Information
1.1 Background

Part of UNEP GERIAP(Greenhouse Emission
Reduction from Industry in Asia and the Pacific)



project (9 countries participate, 5 plants each
country, including 4 energy intensive sectors:
Cement&Lime, Paper, Iron&Steel, Chemicals)
Objective of the project: Encourage industry to
reduce greenhouse gas emissions and costs by
improving its energy efficiency.
Funded by SIDA
Duration: 3+years until 2005
GERIAP countries
Mongolia
China
Philippines
Vietnam
Thailand
India
Bangladesh
Sri Lanka
Indonesia
GERIAP sectors
selected on energy use
Cement & Lime
Iron & Steel
Chemicals
(fertilizer,
plastics, etc.)
Pulp & Paper
Five Case Plants in China

Shijiazhuang Steel Company Ltd.

Anhui Linquan Chemical Industrial Co. Ltd.

Anhui Tian Du Paper Co. Ltd.

Tianjin Zhengxin Cement Plant

Yuanping Municipal Chemical Industrial Co. Ltd.
CP-EE Methodology
Step 1:
Plan and organise
•
•
•
•
Establish CP-EE Team
Collect macro data
List process steps and inputs/outputs
Determine audit focus
Step 2:
Analyse process
with energy interaction
•
•
•
•
Prepare process flow charts
Collect baseline data
Materials and energy balance
Assign costs to materials, energy, waste
•
Identify CP opportunities for energy
use and materials, water and wastes
(indirect energy use)
Step 4:
Carry out feasibility analysis
•
•
•
•
Assess technical feasibility
Assess financial feasibility
Assess impact on greenhouse gas emissions
Select feasibility options for
implementation
Step 5:
Implement and monitor
•
•
Plan and implement
Monitor and evaluate results
Step 6:
Sustain CP-EE programme
•
Repeat CP-EE assessment
Step 3:
Generate CP options
1.2 General Information







Year of establishment: 1957
Location: Shijiazhuang city, Hebei Province
Number of employees: 8300
Working shifts / hours: 3 shifts/8 hours
Annual production: 1.63 million ton(steel) (Year of
2003)
Environmental management
Production Process Description
2 GHG Emission

Methodology from IPCC
GHG Calculator: Methodology
Raw Data
Conversion
Aggregation
Normalisation
Fuel use
Electricity
use
Industrial
process
Transport
GHG
emissio
n factor
Total
GHG
emission
s
Normalised
GHG
emissions
2 GHG Emission(Cont.)

Table 1 CO2 Emissions in 2003
Items
tCO2
Fuel Combustion
363,671
Electricity
573,349
Road Transport
Total
10,208
947,227
2 GHG Emission(Cont.)
CO2 Emission Profile by Items in 2003
1%
38%
Fuel Combustion
Electricity
Road Transport
61%
3 CP-EE Options and Its Co-benefits
3.1 Three focus areas
3.2 CP-EE Options
3.3 Several CP-EE Options and Its Co-benefits
3.1 Three Focus Areas



Focus area 1: incandescent lamps
Focus area 2: The converter furnaces----key
process and high energy consumption compared to
other areas
Focus area 3: The cooling water tower---- water
and wastewater are very critical issues on site.
3.2 CP-EE Options
Focus area
options
1
incandescent lamps
incandescent lamps
2
The converter
furnace
Cogeneration to produce steam and electricity
3
Build steam accumulator
4
Use of the wasted steam for electricity generation
5
Steam leak survey and repair
6
Reduce nitrogen consumption
7
Reduce oxygen consumption
8
Reduce compressed air consumption
9
10
The cooling water
tower
Establish water balance & ensure water meter functioning normally
Change roof deck fan operating procedure or install VSD motor
11
Biocide dosing injection pump
12
Increase cycles of concentration
13
Change water testing and monitoring equipment calibration procedures
3.3 Several CP-EE Options and Its Co-benefits
Option 1: incandescent lamps(offices, meeting
rooms, toilets, change-rooms, corridors)
replaced by lamps of energy-saving
6000 lamps 60 watt/lamp 8 hours/day  365days=1,051,200 kWh
6000 lamps 15 watt/lamp 8 hours/day  365days=262,800 kWh
=788,400kWh
3.3 Several CP-EE Options and Its Cobenefits(Cont.)
Estimated Benefits:
Cost savings:
788,400kWh  0.45RMB/kWh-6,000 lamps8RMB/lamp=306,780RMB
CO2 Emission Reduction:
788400kWh  0.772tCO2/kmh=609t
Other air pollutants emission reduction
! Considering the total electricity use in 2003 was
742,680,000kWh, how large potential co-benefits are
existing in China!
3.3 Several CP-EE Options and Its Cobenefits(Cont.)
Option 2: Build steam accumulator
Description: The steam system is designed to a maximum operating
pressure of 24.5 kg/cm2, it operates at about 6-8 kg/cm2. This is due to
old and corroded pipe work that causes leaks in the cooling water
piping, especially the furnace's hood cooling water loop. As a result,
500-600 tonnes of clean steam is vented each day.
The option is to build a steam accumulator on the converter furnace,
using the company's cogeneration boiler to accumulate heat from the
surplus steam from the current converter furnace to stabilize its
pressure, and it applies to the converter furnace, electric furnace and
VD furnace.
3.3 Several CP-EE Options and Its Cobenefits(Cont.)

Estimated Benefits
Annual cost savings:
RMB 7.4 million
Annual environmental savings
148,000 ton soft water saved per year
Greenhouse Gas Emissions
Indirect reduction of CO2 emissions.
3.3 Several CP-EE Options and Its Cobenefits(Cont.)
Barriers of benefits: finances
 Options compared(to be done)

4 Policy Implications




Co-benefits for China are very significant and not to be
ignored.
China has huge potential CDM market, like Shijiazhuang
Iron&Steel Co. Ltd. (Interim Measures for Operation and
Management of Clean Development Mechanism Projects
in China, KP will be effected)
Considering co-benefits, environmental management
policy and climate change policy should be combined.
Main energy intensive sectors, such as cement, iron&steel,
paper, chemicals, should be paid attention to in the
researches on co-benefits .
Methodology----SIA (to be
discussed)
For Sustainable development
Environ
ment
Social
Economic
Overall Analytical Framework of SIA on policy
implications of co-benefits
Economic Impacts
Social Impacts
Environmental
Impacts
Short term Impacts
Long term Impacts
Direct
Direct
Indirect
Indirect
Stages
The SIA methodology has four main stages, each of which places
emphasis on consultation with outside experts and the public.
 Screening and Scoping
 Impact Assessment
 Assessment of Alternative Mitigation and Enhancing (Flanking)
Measures
 Monitoring and Post-Evaluation
Key
Key Sustainability Indicators
Thank you!