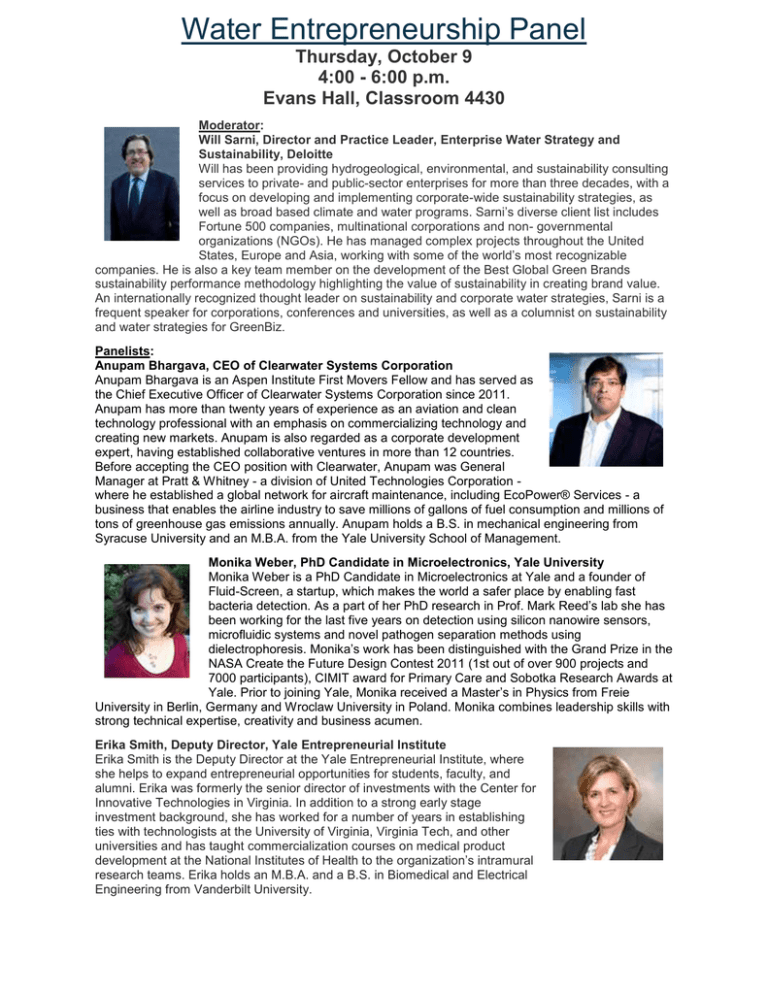 Water Entrepreneurship Panel
Thursday, October 9
4:00 - 6:00 p.m.
Evans Hall, Classroom 4430
Moderator:
Will Sarni, Director and Practice Leader, Enterprise Water Strategy and
Sustainability, Deloitte
Will has been providing hydrogeological, environmental, and sustainability consulting
services to private- and public-sector enterprises for more than three decades, with a
focus on developing and implementing corporate-wide sustainability strategies, as
well as broad based climate and water programs. Sarni's diverse client list includes
Fortune 500 companies, multinational corporations and non- governmental
organizations (NGOs). He has managed complex projects throughout the United
States, Europe and Asia, working with some of the world's most recognizable
companies. He is also a key team member on the development of the Best Global Green Brands
sustainability performance methodology highlighting the value of sustainability in creating brand value.
An internationally recognized thought leader on sustainability and corporate water strategies, Sarni is a
frequent speaker for corporations, conferences and universities, as well as a columnist on sustainability
and water strategies for GreenBiz.
Panelists:
Anupam Bhargava, CEO of Clearwater Systems Corporation
Anupam Bhargava is an Aspen Institute First Movers Fellow and has served as
the Chief Executive Officer of Clearwater Systems Corporation since 2011.
Anupam has more than twenty years of experience as an aviation and clean
technology professional with an emphasis on commercializing technology and
creating new markets. Anupam is also regarded as a corporate development
expert, having established collaborative ventures in more than 12 countries.
Before accepting the CEO position with Clearwater, Anupam was General
Manager at Pratt & Whitney - a division of United Technologies Corporation where he established a global network for aircraft maintenance, including EcoPower® Services - a
business that enables the airline industry to save millions of gallons of fuel consumption and millions of
tons of greenhouse gas emissions annually. Anupam holds a B.S. in mechanical engineering from
Syracuse University and an M.B.A. from the Yale University School of Management.
Monika Weber, PhD Candidate in Microelectronics, Yale University
Monika Weber is a PhD Candidate in Microelectronics at Yale and a founder of
Fluid-Screen, a startup, which makes the world a safer place by enabling fast
bacteria detection. As a part of her PhD research in Prof. Mark Reed's lab she has
been working for the last five years on detection using silicon nanowire sensors,
microfluidic systems and novel pathogen separation methods using
dielectrophoresis. Monika's work has been distinguished with the Grand Prize in the
NASA Create the Future Design Contest 2011 (1st out of over 900 projects and
7000 participants), CIMIT award for Primary Care and Sobotka Research Awards at
Yale. Prior to joining Yale, Monika received a Master's in Physics from Freie
University in Berlin, Germany and Wroclaw University in Poland. Monika combines leadership skills with
strong technical expertise, creativity and business acumen.
Erika Smith, Deputy Director, Yale Entrepreneurial Institute
Erika Smith is the Deputy Director at the Yale Entrepreneurial Institute, where
she helps to expand entrepreneurial opportunities for students, faculty, and
alumni. Erika was formerly the senior director of investments with the Center for
Innovative Technologies in Virginia. In addition to a strong early stage
investment background, she has worked for a number of years in establishing
ties with technologists at the University of Virginia, Virginia Tech, and other
universities and has taught commercialization courses on medical product
development at the National Institutes of Health to the organization's intramural
research teams. Erika holds an M.B.A. and a B.S. in Biomedical and Electrical
Engineering from Vanderbilt University.