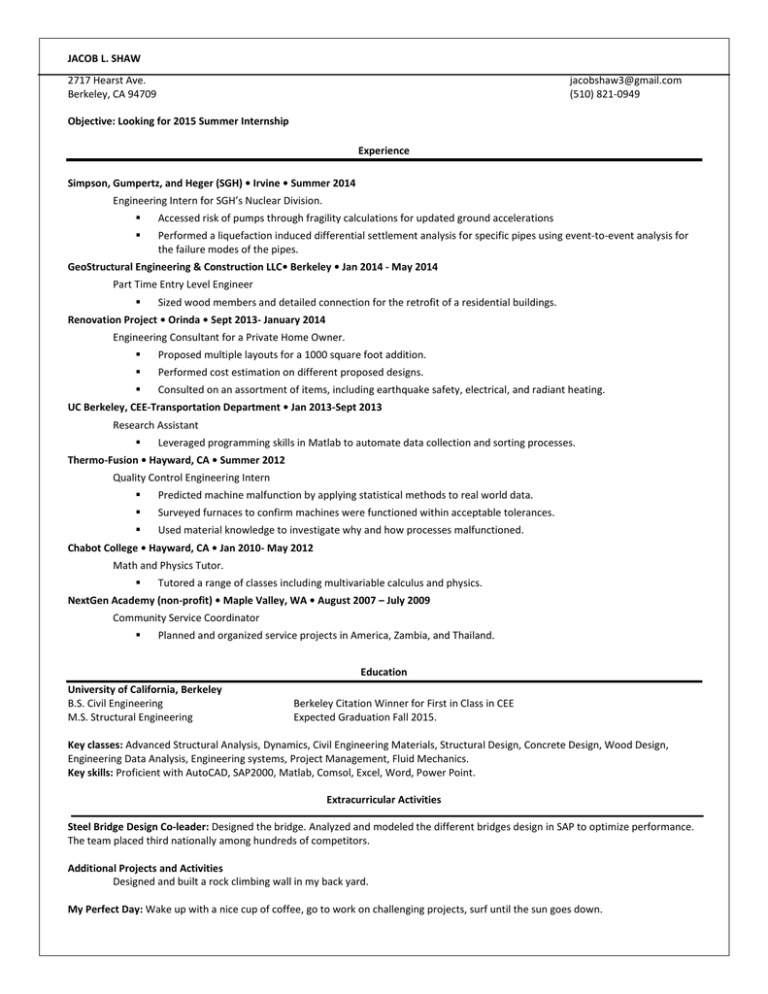 JACOB L. SHAW
2717 Hearst Ave.
Berkeley, CA 94709
jacobshaw3@gmail.com
(510) 821-0949
Objective: Looking for 2015 Summer Internship
Experience
Simpson, Gumpertz, and Heger (SGH) • Irvine • Summer 2014
Engineering Intern for SGH's Nuclear Division.

Accessed risk of pumps through fragility calculations for updated ground accelerations

Performed a liquefaction induced differential settlement analysis for specific pipes using event-to-event analysis for
the failure modes of the pipes.
GeoStructural Engineering & Construction LLC• Berkeley • Jan 2014 - May 2014
Part Time Entry Level Engineer

Sized wood members and detailed connection for the retrofit of a residential buildings.
Renovation Project • Orinda • Sept 2013- January 2014
Engineering Consultant for a Private Home Owner.

Proposed multiple layouts for a 1000 square foot addition.

Performed cost estimation on different proposed designs.

Consulted on an assortment of items, including earthquake safety, electrical, and radiant heating.
UC Berkeley, CEE-Transportation Department • Jan 2013-Sept 2013
Research Assistant

Leveraged programming skills in Matlab to automate data collection and sorting processes.
Thermo-Fusion • Hayward, CA • Summer 2012
Quality Control Engineering Intern

Predicted machine malfunction by applying statistical methods to real world data.

Surveyed furnaces to confirm machines were functioned within acceptable tolerances.

Used material knowledge to investigate why and how processes malfunctioned.
Chabot College • Hayward, CA • Jan 2010- May 2012
Math and Physics Tutor.

Tutored a range of classes including multivariable calculus and physics.
NextGen Academy (non-profit) • Maple Valley, WA • August 2007 – July 2009
Community Service Coordinator

Planned and organized service projects in America, Zambia, and Thailand.
Education
University of California, Berkeley
B.S. Civil Engineering
M.S. Structural Engineering
Berkeley Citation Winner for First in Class in CEE
Expected Graduation Fall 2015.
Key classes: Advanced Structural Analysis, Dynamics, Civil Engineering Materials, Structural Design, Concrete Design, Wood Design,
Engineering Data Analysis, Engineering systems, Project Management, Fluid Mechanics.
Key skills: Proficient with AutoCAD, SAP2000, Matlab, Comsol, Excel, Word, Power Point.
Extracurricular Activities
Steel Bridge Design Co-leader: Designed the bridge. Analyzed and modeled the different bridges design in SAP to optimize performance.
The team placed third nationally among hundreds of competitors.
Additional Projects and Activities
Designed and built a rock climbing wall in my back yard.
My Perfect Day: Wake up with a nice cup of coffee, go to work on challenging projects, surf until the sun goes down.