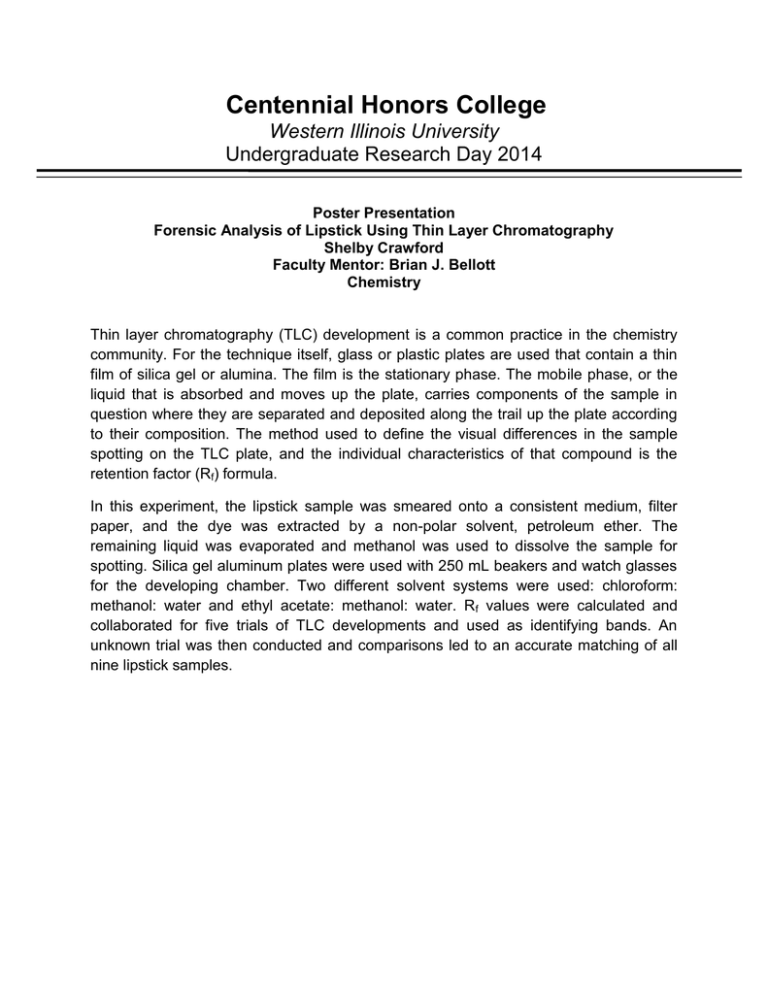 Centennial Honors College
Western Illinois University
Undergraduate Research Day 2014
Poster Presentation
Forensic Analysis of Lipstick Using Thin Layer Chromatography
Shelby Crawford
Faculty Mentor: Brian J. Bellott
Chemistry
Thin layer chromatography (TLC) development is a common practice in the chemistry
community. For the technique itself, glass or plastic plates are used that contain a thin
film of silica gel or alumina. The film is the stationary phase. The mobile phase, or the
liquid that is absorbed and moves up the plate, carries components of the sample in
question where they are separated and deposited along the trail up the plate according
to their composition. The method used to define the visual differences in the sample
spotting on the TLC plate, and the individual characteristics of that compound is the
retention factor (Rf) formula.
In this experiment, the lipstick sample was smeared onto a consistent medium, filter
paper, and the dye was extracted by a non-polar solvent, petroleum ether. The
remaining liquid was evaporated and methanol was used to dissolve the sample for
spotting. Silica gel aluminum plates were used with 250 mL beakers and watch glasses
for the developing chamber. Two different solvent systems were used: chloroform:
methanol: water and ethyl acetate: methanol: water. Rf values were calculated and
collaborated for five trials of TLC developments and used as identifying bands. An
unknown trial was then conducted and comparisons led to an accurate matching of all
nine lipstick samples.