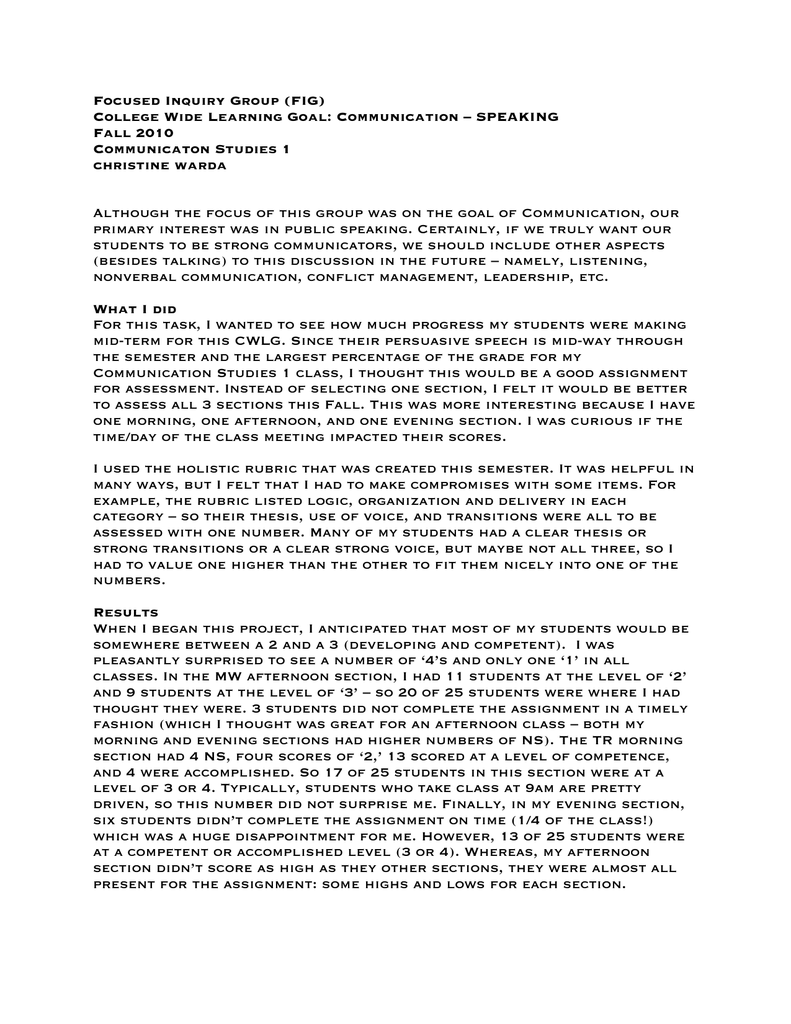 Focused Inquiry Group (FIG)
College Wide Learning Goal: Communication – SPEAKING
Fall 2010
Communicaton Studies 1
christine warda
Although the focus of this group was on the goal of Communication, our
primary interest was in public speaking. Certainly, if we truly want our
students to be strong communicators, we should include other aspects
(besides talking) to this discussion in the future – namely, listening,
nonverbal communication, conflict management, leadership, etc.
What I did
For this task, I wanted to see how much progress my students were making
mid-term for this CWLG. Since their persuasive speech is mid-way through
the semester and the largest percentage of the grade for my
Communication Studies 1 class, I thought this would be a good assignment
for assessment. Instead of selecting one section, I felt it would be better
to assess all 3 sections this Fall. This was more interesting because I have
one morning, one afternoon, and one evening section. I was curious if the
time/day of the class meeting impacted their scores.
I used the holistic rubric that was created this semester. It was helpful in
many ways, but I felt that I had to make compromises with some items. For
example, the rubric listed logic, organization and delivery in each
category – so their thesis, use of voice, and transitions were all to be
assessed with one number. Many of my students had a clear thesis or
strong transitions or a clear strong voice, but maybe not all three, so I
had to value one higher than the other to fit them nicely into one of the
numbers.
Results
When I began this project, I anticipated that most of my students would be
somewhere between a 2 and a 3 (developing and competent). I was
pleasantly surprised to see a number of '4's and only one '1' in all
classes. In the MW afternoon section, I had 11 students at the level of '2'
and 9 students at the level of '3' – so 20 of 25 students were where I had
thought they were. 3 students did not complete the assignment in a timely
fashion (which I thought was great for an afternoon class – both my
morning and evening sections had higher numbers of NS). The TR morning
section had 4 NS, four scores of '2,' 13 scored at a level of competence,
and 4 were accomplished. So 17 of 25 students in this section were at a
level of 3 or 4. Typically, students who take class at 9am are pretty
driven, so this number did not surprise me. Finally, in my evening section,
six students didn't complete the assignment on time (1/4 of the class!)
which was a huge disappointment for me. However, 13 of 25 students were
at a competent or accomplished level (3 or 4). Whereas, my afternoon
section didn't score as high as they other sections, they were almost all
present for the assignment: some highs and lows for each section.
What I Learned and Recommendations
Most students at this point in the semester are at a developing or
competent level in their Public Speaking. I know that there is a huge
opportunity for the Communication Studies Lab to assist students and get
more of them to the level of competency and accomplishment. I also
learned that I am requiring a rough draft on this assignment again. (I had
taken it away this semester to see the impact of it and it is SO necessary!)
Overall, this project was helpful in prompting a good college-wide
discussion of Communication skills…but as long as this campus continues
to believe that Communication = Speech, we will not make progress on true
Communication skills development.