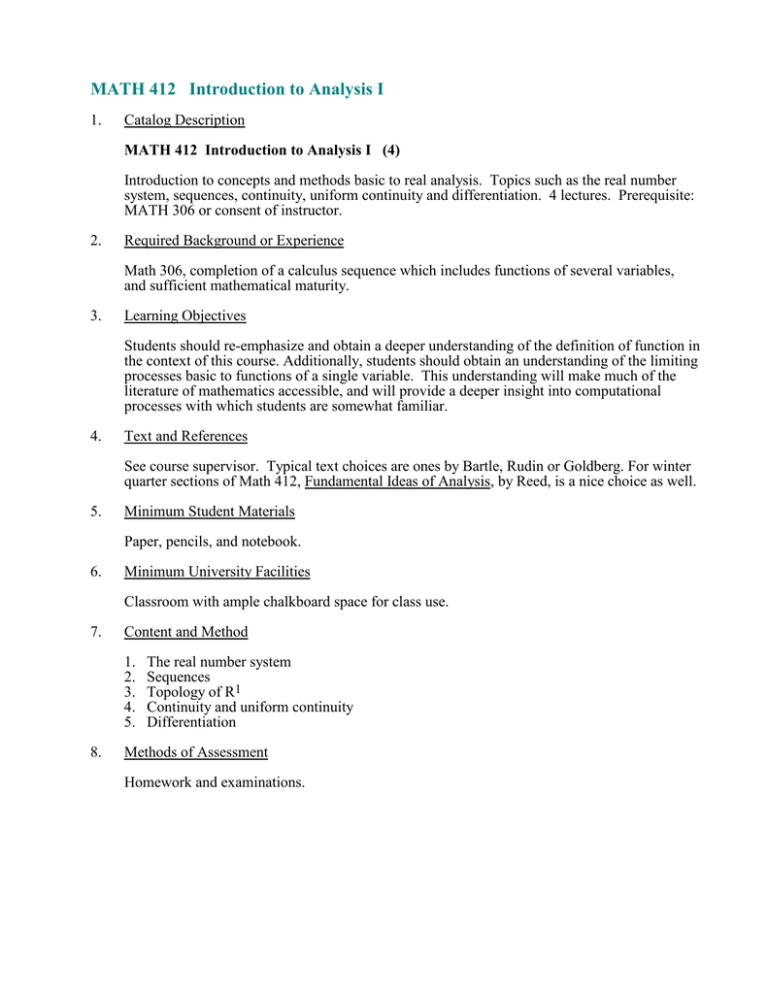 MATH 412 Introduction to Analysis I
1.
Catalog Description
MATH 412 Introduction to Analysis I (4)
Introduction to concepts and methods basic to real analysis. Topics such as the real number
system, sequences, continuity, uniform continuity and differentiation. 4 lectures. Prerequisite:
MATH 306 or consent of instructor.
2.
Required Background or Experience
Math 306, completion of a calculus sequence which includes functions of several variables,
and sufficient mathematical maturity.
3.
Learning Objectives
Students should re-emphasize and obtain a deeper understanding of the definition of function in
the context of this course. Additionally, students should obtain an understanding of the limiting
processes basic to functions of a single variable. This understanding will make much of the
literature of mathematics accessible, and will provide a deeper insight into computational
processes with which students are somewhat familiar.
4.
Text and References
See course supervisor. Typical text choices are ones by Bartle, Rudin or Goldberg. For winter
quarter sections of Math 412, Fundamental Ideas of Analysis, by Reed, is a nice choice as well.
5.
Minimum Student Materials
Paper, pencils, and notebook.
6.
Minimum University Facilities
Classroom with ample chalkboard space for class use.
7.
Content and Method
1.
2.
3.
4.
5.
8.
The real number system
Sequences
Topology of R1
Continuity and uniform continuity
Differentiation
Methods of Assessment
Homework and examinations.