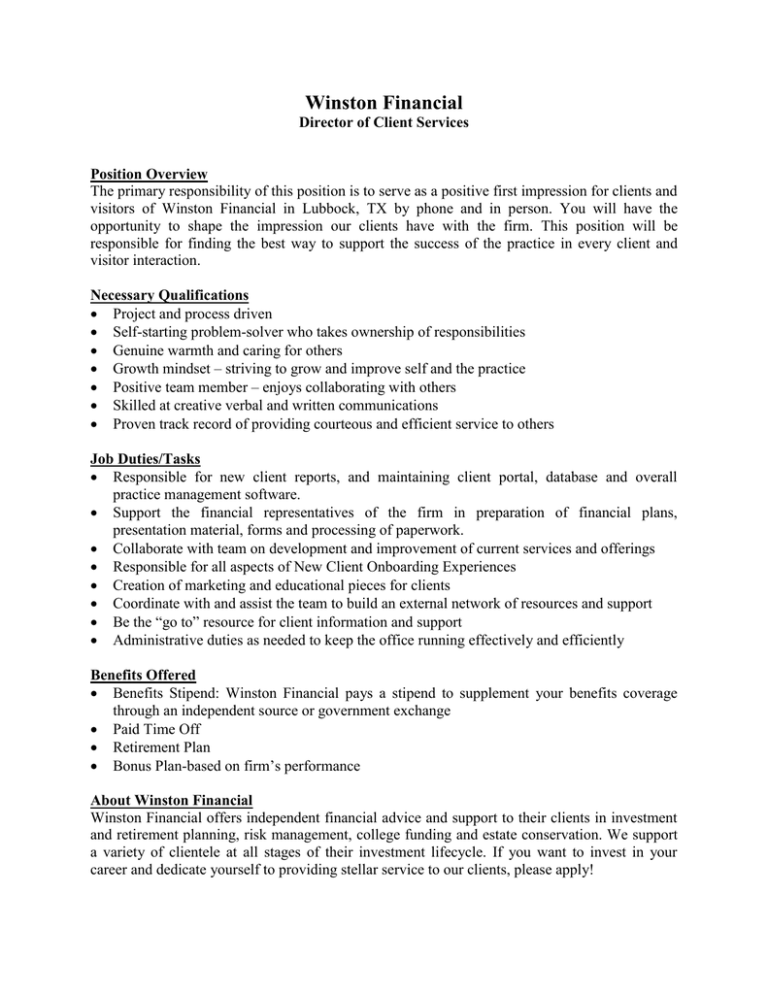 Winston Financial
Director of Client Services
Position Overview
The primary responsibility of this position is to serve as a positive first impression for clients and
visitors of Winston Financial in Lubbock, TX by phone and in person. You will have the
opportunity to shape the impression our clients have with the firm. This position will be
responsible for finding the best way to support the success of the practice in every client and
visitor interaction.
Necessary Qualifications
 Project and process driven
 Self-starting problem-solver who takes ownership of responsibilities
 Genuine warmth and caring for others
 Growth mindset – striving to grow and improve self and the practice
 Positive team member – enjoys collaborating with others
 Skilled at creative verbal and written communications
 Proven track record of providing courteous and efficient service to others
Job Duties/Tasks
 Responsible for new client reports, and maintaining client portal, database and overall
practice management software.
 Support the financial representatives of the firm in preparation of financial plans,
presentation material, forms and processing of paperwork.
 Collaborate with team on development and improvement of current services and offerings
 Responsible for all aspects of New Client Onboarding Experiences
 Creation of marketing and educational pieces for clients
 Coordinate with and assist the team to build an external network of resources and support
 Be the "go to" resource for client information and support
 Administrative duties as needed to keep the office running effectively and efficiently
Benefits Offered
 Benefits Stipend: Winston Financial pays a stipend to supplement your benefits coverage
through an independent source or government exchange
 Paid Time Off
 Retirement Plan
 Bonus Plan-based on firm's performance
About Winston Financial
Winston Financial offers independent financial advice and support to their clients in investment
and retirement planning, risk management, college funding and estate conservation. We support
a variety of clientele at all stages of their investment lifecycle. If you want to invest in your
career and dedicate yourself to providing stellar service to our clients, please apply!
To apply, please visit this link: Apply Now!
Securities offered through Securities America, Inc. Member FINRA/SIPC. Financial Planning and Advisory
Services offered through Securities America Advisors.