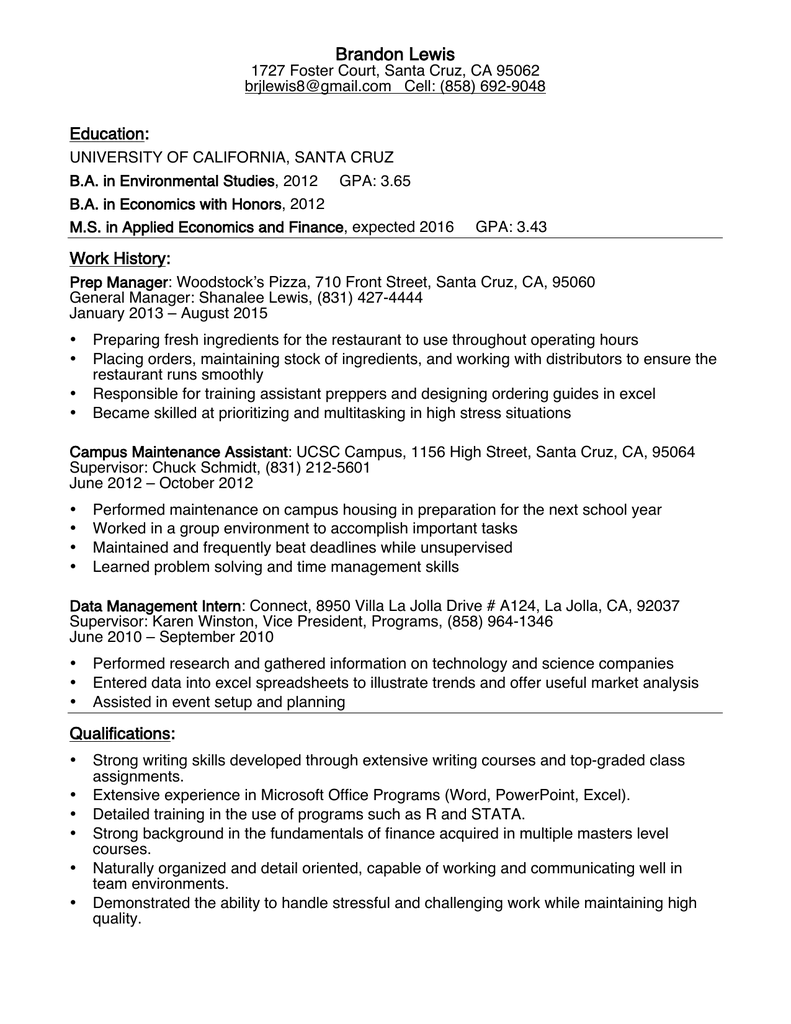 Brandon Lewis
1727 Foster Court, Santa Cruz, CA 95062
[email protected] Cell: (858) 692-9048
Education:
UNIVERSITY OF CALIFORNIA, SANTA CRUZ
B.A. in Environmental Studies, 2012 GPA: 3.65
B.A. in Economics with Honors, 2012
M.S. in Applied Economics and Finance, expected 2016
GPA: 3.43
Work History:
Prep Manager: Woodstock's Pizza, 710 Front Street, Santa Cruz, CA, 95060
General Manager: Shanalee Lewis, (831) 427-4444
January 2013 – August 2015
•
•
•
•
Preparing fresh ingredients for the restaurant to use throughout operating hours
Placing orders, maintaining stock of ingredients, and working with distributors to ensure the
restaurant runs smoothly
Responsible for training assistant preppers and designing ordering guides in excel
Became skilled at prioritizing and multitasking in high stress situations
Campus Maintenance Assistant: UCSC Campus, 1156 High Street, Santa Cruz, CA, 95064
Supervisor: Chuck Schmidt, (831) 212-5601
June 2012 – October 2012
•
•
•
•
Performed maintenance on campus housing in preparation for the next school year
Worked in a group environment to accomplish important tasks
Maintained and frequently beat deadlines while unsupervised
Learned problem solving and time management skills
Data Management Intern: Connect, 8950 Villa La Jolla Drive # A124, La Jolla, CA, 92037
Supervisor: Karen Winston, Vice President, Programs, (858) 964-1346
June 2010 – September 2010
•
•
•
Performed research and gathered information on technology and science companies
Entered data into excel spreadsheets to illustrate trends and offer useful market analysis
Assisted in event setup and planning
Qualifications:
•
•
•
•
•
•
Strong writing skills developed through extensive writing courses and top-graded class
assignments.
Extensive experience in Microsoft Office Programs (Word, PowerPoint, Excel).
Detailed training in the use of programs such as R and STATA.
Strong background in the fundamentals of finance acquired in multiple masters level
courses.
Naturally organized and detail oriented, capable of working and communicating well in
team environments.
Demonstrated the ability to handle stressful and challenging work while maintaining high
quality.