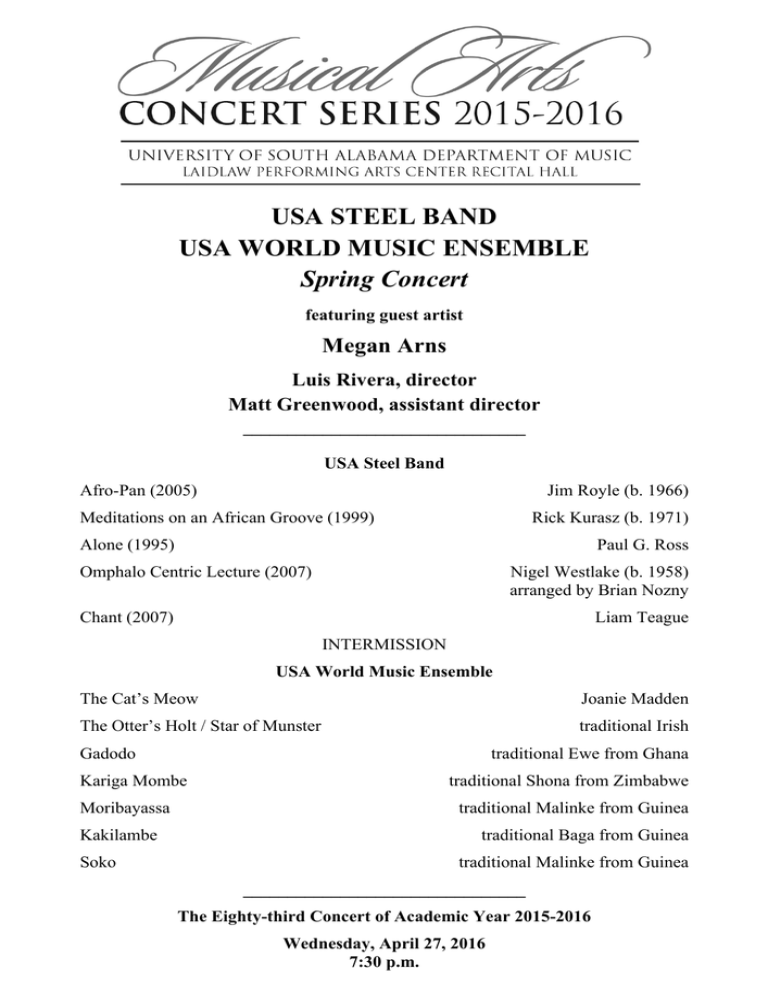 USA STEEL BAND
USA WORLD MUSIC ENSEMBLE
Spring Concert
featuring guest artist
Megan Arns
Luis Rivera, director
Matt Greenwood, assistant director
________________________________
USA Steel Band
Afro-Pan (2005)
Jim Royle (b. 1966)
Meditations on an African Groove (1999)
Rick Kurasz (b. 1971)
Alone (1995)
Paul G. Ross
Omphalo Centric Lecture (2007)
Nigel Westlake (b. 1958)
arranged by Brian Nozny
Chant (2007)
Liam Teague
INTERMISSION
USA World Music Ensemble
The Cat's Meow
Joanie Madden
The Otter's Holt / Star of Munster
traditional Irish
Gadodo
traditional Ewe from Ghana
Kariga Mombe
Moribayassa
Kakilambe
Soko
traditional Shona from Zimbabwe
traditional Malinke from Guinea
traditional Baga from Guinea
traditional Malinke from Guinea
________________________________
The Eighty-third Concert of Academic Year 2015-2016
Wednesday, April 27, 2016
7:30 p.m.
USA World Music Ensemble Personnel
Brandon Benson
Ryan Boehme
Molly Hicks
Tyler McArthur
Soren Odom
John Rocker
Ryan Sessions
Luke Smith
USA Steel Band Personnel
Brandon Benson
Ryan Boehme
Sydney Davis
Tiffany Fresne
Stephen Howze
Eraka Millhouse
Soren Odom
Taylor Prince
John Rocker
Ryan Sessions
Luke Smith
Emily Weaver
Alex White
Curtis Williams
Celtic Crúe
Megan Buckalew
Nicole Carrion
Bayleigh Cook
Emily Denison
Beth Holmes
Rebecca Reinhardt
Brianna Smith
Todd Stehr
Andra Bohnet, director
Megan Arns is a percussionist, ethnomusicologist, and educator with a diverse set of skills and a
driven passion for her craft. She is a member of the music faculty at the University of Missouri
in Columbia, MO as an Assistant Teaching Professor of Percussion, and also serves on
percussion faculty at Interlochen Arts Camp and Valencia International Performance Academy
during the summer. Recent past faculty positions include Mansfield University in Pennsylvania
and the National Music Conservatory in Amman, Jordan where she was also the Principal
Timpanist of the Amman Symphony Orchestra. She has also performed with the Tallahassee,
Sarasota, Missouri, Northwest Florida, Albany, Southern Tier and Macon Symphony Orchestras.
Active as a contemporary chamber percussionist, Megan's recent highlights include
collaborative performances in France, India, Jordan, Costa Rica, Ghana, and the United States at
venues such as the Kennedy Center, Millennium Park, Smithsonian Institution, and the
Percussive Arts Society International Convention. She is an advocate for the creation of new
music, co-commissioning and premiering works by notable composers such as John Luther
Adams, Michael Burritt, Alejandro Viñao, Halim El-Dahb, Steven Snowden, Adam Silverman,
and Ivan Trevino. Megan regularly performs with three contemporary chamber groups: the
[Switch~ Ensemble] in residence at the Eastman Computer Music Center, What is Noise from
Florida State University, and her saxophone/percussion duo, DRAX, at the University of
Missouri with Leo Saguiguit.
She also has extensive experience in the field of marching percussion, currently acting as a
consultant for Gateway Indoor Percussion, and serving as the Front Ensemble Instructor of the
Boston Crusaders Drum & Bugle Corps for the 2008-09 seasons. As a member, she received the
distinguished Mike Laporta Percussion Award as a performing member of the Santa Clara
Vanguard from 2005-06 and marched with the Colts Drum & Bugle Corps in 2002 and 2004.
Megan is a candidate for a D.M.A. in Percussion Performance & Literature and received a M.A.
in Ethnomusicology at the Eastman School of Music. She was also awarded performance degrees
from Florida State University and Truman State University, where she was recognized as a
Presser Scholar. Her primary teachers include Michael Burritt, John W. Parks IV, Michael
Bump, Bill Cahn, and Nyoman Suadin. An active member of the Percussive Arts Society, Megan
is the editor of Rhythm! Scene, an official online publication of PAS. She endorses Vic Firth
Sticks & Mallets, Zildjian Cymbals, and Pearl/Adams Musical Instruments.