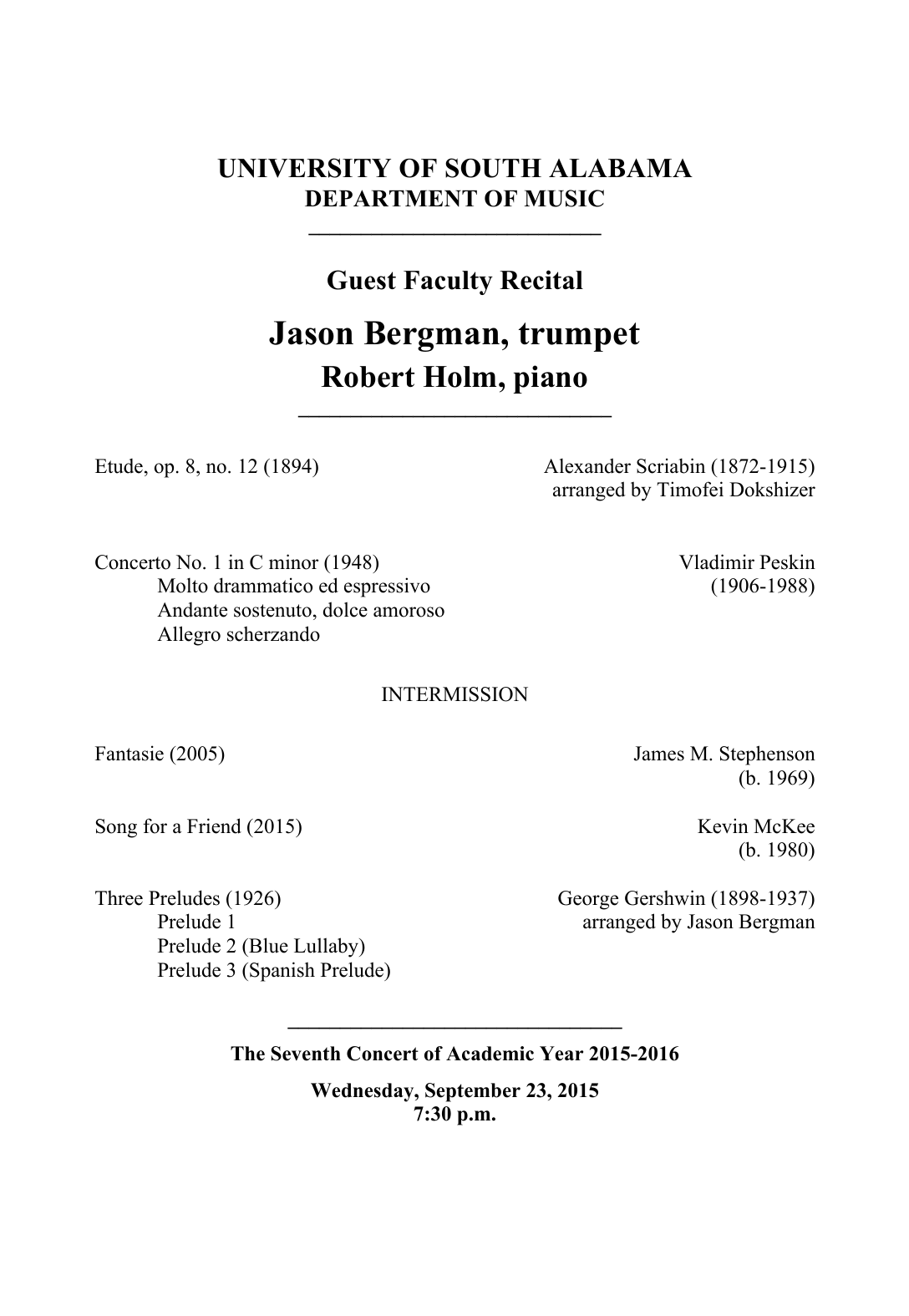 UNIVERSITY OF SOUTH ALABAMA
DEPARTMENT OF MUSIC
____________________________
Guest Faculty Recital
Jason Bergman, trumpet
Robert Holm, piano
______________________________
Etude, op. 8, no. 12 (1894)
Alexander Scriabin (1872-1915)
arranged by Timofei Dokshizer
Concerto No. 1 in C minor (1948)
Molto drammatico ed espressivo
Andante sostenuto, dolce amoroso
Allegro scherzando
Vladimir Peskin
(1906-1988)
INTERMISSION
Fantasie (2005)
James M. Stephenson
(b. 1969)
Song for a Friend (2015)
Kevin McKee
(b. 1980)
Three Preludes (1926)
Prelude 1
Prelude 2 (Blue Lullaby)
Prelude 3 (Spanish Prelude)
George Gershwin (1898-1937)
arranged by Jason Bergman
________________________________
The Seventh Concert of Academic Year 2015-2016
Wednesday, September 23, 2015
7:30 p.m.
Jason Bergman is currently Assistant Professor of Trumpet at the University of North
Texas. Previously, he was the Nina Bell Suggs Endowed Professor of Trumpet at The
University of Southern Mississippi. He is also Principal Trumpet of the Mobile Symphony
and Mobile Opera. He has previously been a member of several orchestras including the
Santiago Philharmonic in Santiago, Chile. His debut solo recording, On The Horizon, is
available on the MSR label and continues to receive rave reviews.
He has given recitals and master classes at more than thirty institutions throughout the world.
Additionally, he has been a faculty member at the Festival Música nas Montanhas in Poços
de Caldas, Brazil, and has previously taught at the Peruvian Trumpet Seminar (Lima, Peru),
the Grand Valley International Trumpet Seminar (USA), and the Festival Internacional de
Música de Santa Catarina (Brazil).
Dr. Bergman is a contributing author in the Grove Dictionary of American Music, 2nd
Edition, as well as the editor of the Orchestra Section Profile in the International Trumpet
Guild Journal. He holds degrees from Brigham Young University (BM) and the University
of Michigan (MM and DMA). Dr. Bergman is a performing Artist/Clinician for Bach
Trumpets.
You can read more about him at www.jasonbergman.com.