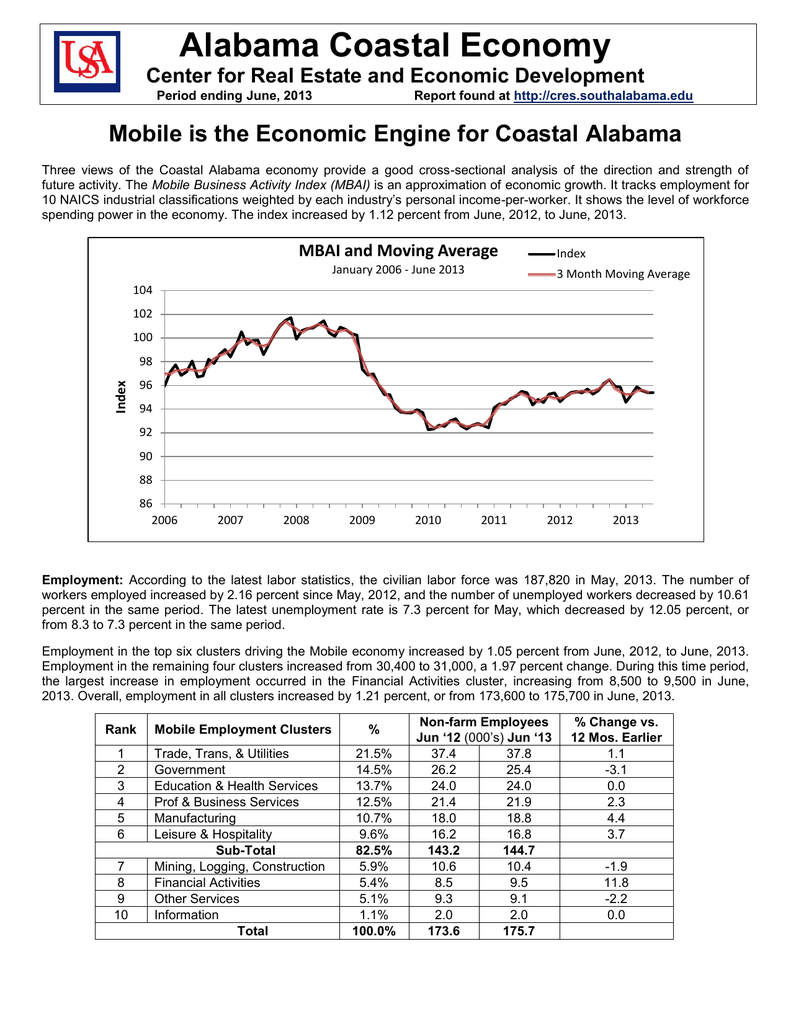 Alabama Coastal Economy
Center for Real Estate and Economic Development
Period ending June, 2013
Report found at http://cres.southalabama.edu
Mobile is the Economic Engine for Coastal Alabama
Three views of the Coastal Alabama economy provide a good cross-sectional analysis of the direction and strength of
future activity. The Mobile Business Activity Index (MBAI) is an approximation of economic growth. It tracks employment for
10 NAICS industrial classifications weighted by each industry's personal income-per-worker. It shows the level of workforce
spending power in the economy. The index increased by 1.12 percent from June, 2012, to June, 2013.
MBAI and Moving Average
Index
January 2006 - June 2013
3 Month Moving Average
104
102
100
Index
98
96
94
92
90
88
86
2006
2007
2008
2009
2010
2011
2012
2013
Employment: According to the latest labor statistics, the civilian labor force was 187,820 in May, 2013. The number of
workers employed increased by 2.16 percent since May, 2012, and the number of unemployed workers decreased by 10.61
percent in the same period. The latest unemployment rate is 7.3 percent for May, which decreased by 12.05 percent, or
from 8.3 to 7.3 percent in the same period.
Employment in the top six clusters driving the Mobile economy increased by 1.05 percent from June, 2012, to June, 2013.
Employment in the remaining four clusters increased from 30,400 to 31,000, a 1.97 percent change. During this time period,
the largest increase in employment occurred in the Financial Activities cluster, increasing from 8,500 to 9,500 in June,
2013. Overall, employment in all clusters increased by 1.21 percent, or from 173,600 to 175,700 in June, 2013.
Rank
Mobile Employment Clusters
%
1
2
3
4
5
6
Trade, Trans, & Utilities
Government
Education & Health Services
Prof & Business Services
Manufacturing
Leisure & Hospitality
Sub-Total
Mining, Logging, Construction
Financial Activities
Other Services
Information
Total
21.5%
14.5%
13.7%
12.5%
10.7%
9.6%
82.5%
5.9%
5.4%
5.1%
1.1%
100.0%
7
8
9
10
Non-farm Employees
Jun '12 (000's) Jun '13
37.4
37.8
26.2
25.4
24.0
24.0
21.4
21.9
18.0
18.8
16.2
16.8
143.2
144.7
10.6
10.4
8.5
9.5
9.3
9.1
2.0
2.0
173.6
175.7
% Change vs.
12 Mos. Earlier
1.1
-3.1
0.0
2.3
4.4
3.7
-1.9
11.8
-2.2
0.0
Residential Investment: The residential market serves as an important indicator of consumer attitudes, expectations
about the future economy, and job stability. Since June, 2012, the Mobile housing market has increasing sales, increasing
median sales price, and decreasing month's-to-sell inventory. The highest volume of sales remains under $200,000.
Total Sales
Month's-to-sell Inventory
Average Sales Price
Median Sales Price
Sales Under $200,000
June, 2013
Direction
349
8.68 months
$127,933
$114,000
288
increase
decrease
decrease
increase
increase
The Future: The immediate future for the Coastal economy lies in two areas. The first is continued economic development
successes. The Center estimates that the new Navy contract awarded to AUSTAL and the new Stainless Steel plant will
add approximately 8,600 jobs to the local economy. Both will cause the economy to expand which will drive the MBAI
upward.
The second will be new legislation from Congress to encourage the purchase of housing. The real estate market led the
economy into the recent recession, and it should lead us out due to the significant amount of interaction of real estate
activity with other areas of the economy. For example, Congress should enact another tax credit. Continuation of the
mortgage interest deduction is important. A proposed 20 percent down payment should be reduced to 10 percent.
The local residential market will not return to a market dominated by demand and supply until the number of foreclosures
has been significantly reduced. Most likely, the new paradigm fueled by foreclosures will last through 2011.
For additional information, contact: Dr. Don Epley, Director, Center for Real Estate and Economic Development,
University of South Alabama, Office: 251.460.6735, E-mail: [email protected]
Data gathered by: Michelle Pinochet, MBA student - Senior Research Analyst
University of South Alabama takes reasonable measures to ensure the quality of the data and other information produced. However, USA
makes no warranty, express or implied, nor assumes any legal liability or responsibility for the accuracy, correctness, or completeness of any
information, nor represents that its use would not infringe on privately owned rights. Reference to any specific commercial product, process, or
service does not constitute an endorsement, recommendation, or favoring by USA.