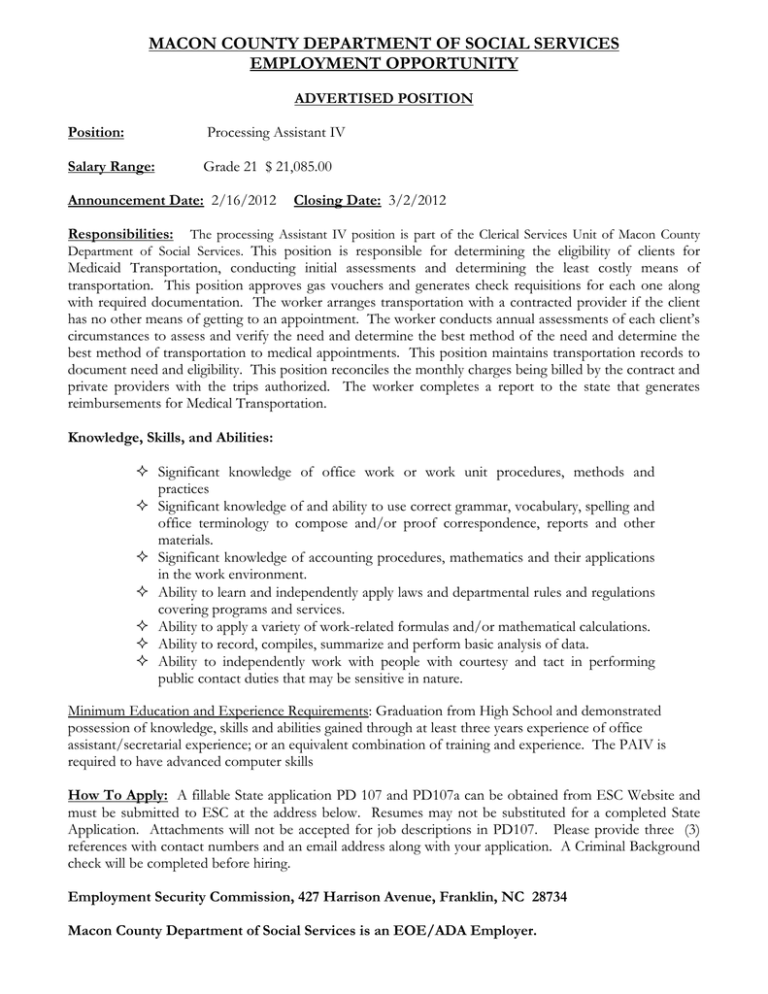 MACON COUNTY DEPARTMENT OF SOCIAL SERVICES
EMPLOYMENT OPPORTUNITY
ADVERTISED POSITION
Position:
Processing Assistant IV
Salary Range:
Grade 21 $ 21,085.00
Announcement Date: 2/16/2012
Closing Date: 3/2/2012
Responsibilities:
The processing Assistant IV position is part of the Clerical Services Unit of Macon County
Department of Social Services. This position is responsible for determining the eligibility of clients for
Medicaid Transportation, conducting initial assessments and determining the least costly means of
transportation. This position approves gas vouchers and generates check requisitions for each one along
with required documentation. The worker arranges transportation with a contracted provider if the client
has no other means of getting to an appointment. The worker conducts annual assessments of each client's
circumstances to assess and verify the need and determine the best method of the need and determine the
best method of transportation to medical appointments. This position maintains transportation records to
document need and eligibility. This position reconciles the monthly charges being billed by the contract and
private providers with the trips authorized. The worker completes a report to the state that generates
reimbursements for Medical Transportation.
Knowledge, Skills, and Abilities:
 Significant knowledge of office work or work unit procedures, methods and
practices
 Significant knowledge of and ability to use correct grammar, vocabulary, spelling and
office terminology to compose and/or proof correspondence, reports and other
materials.
 Significant knowledge of accounting procedures, mathematics and their applications
in the work environment.
 Ability to learn and independently apply laws and departmental rules and regulations
covering programs and services.
 Ability to apply a variety of work-related formulas and/or mathematical calculations.
 Ability to record, compiles, summarize and perform basic analysis of data.
 Ability to independently work with people with courtesy and tact in performing
public contact duties that may be sensitive in nature.
Minimum Education and Experience Requirements: Graduation from High School and demonstrated
possession of knowledge, skills and abilities gained through at least three years experience of office
assistant/secretarial experience; or an equivalent combination of training and experience. The PAIV is
required to have advanced computer skills
How To Apply: A fillable State application PD 107 and PD107a can be obtained from ESC Website and
must be submitted to ESC at the address below. Resumes may not be substituted for a completed State
Application. Attachments will not be accepted for job descriptions in PD107. Please provide three (3)
references with contact numbers and an email address along with your application. A Criminal Background
check will be completed before hiring.
Employment Security Commission, 427 Harrison Avenue, Franklin, NC 28734
Macon County Department of Social Services is an EOE/ADA Employer.