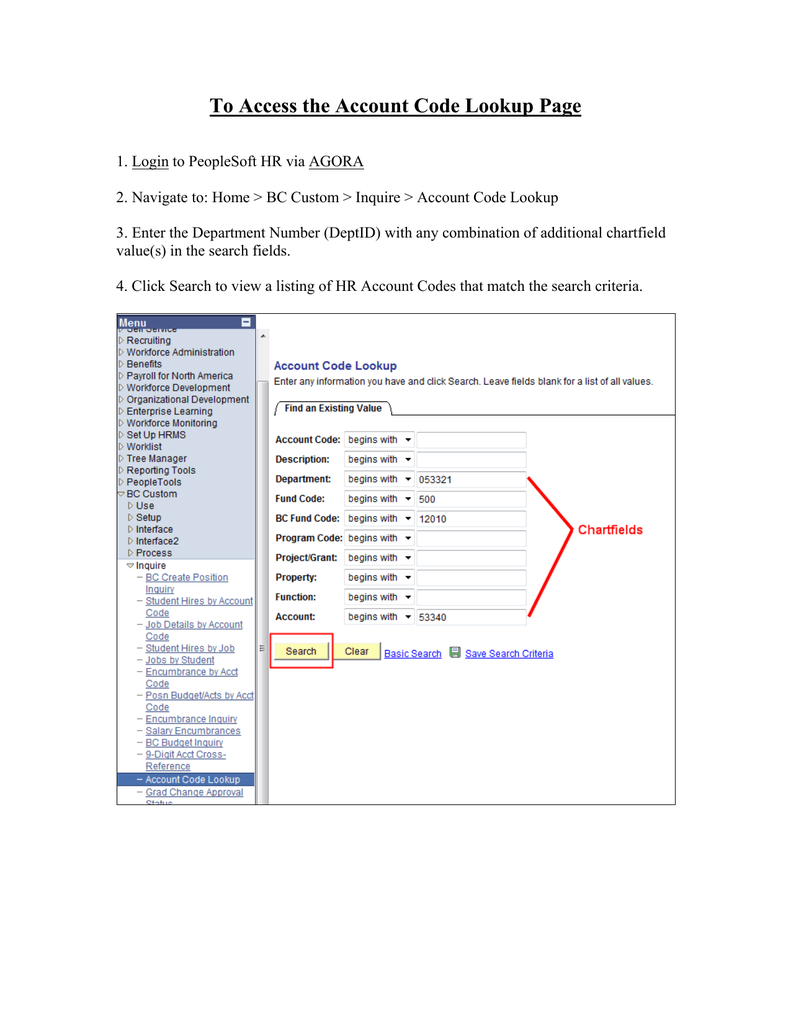 To Access the Account Code Lookup Page
1. Login to PeopleSoft HR via AGORA
2. Navigate to: Home > BC Custom > Inquire > Account Code Lookup
3. Enter the Department Number (DeptID) with any combination of additional chartfield
value(s) in the search fields.
4. Click Search to view a listing of HR Account Codes that match the search criteria.
5. Click on any hyperlink in the row for the HR Account Code you wish to select in the
Search Results area.
6. The Account Code Detail page will open.
Troubleshooting
1. Enter partial information pertaining to the start of the Account Code or Department
Number to view a broader range of search results. If the Account Code is not listed or
the message continues to appear then no existing HR Account Code meets your search
criteria.
2. If none of the 45-character salary chartstrings associated with the HR Account Codes
listed as the Search Results is the one which you are looking for, this means that no HR
Account Code exists for this salary chartstring.
3. Contact the Budget Office at 2-3383 to request that the HR Account Code be created.
You will have to provide the complete 45-character salary chartstring with which the new
HR Account Code will be associated. Since the creation of HR Account Codes involves
an overnight process, the new code will be available the day after the Budget Office
fulfills your request.