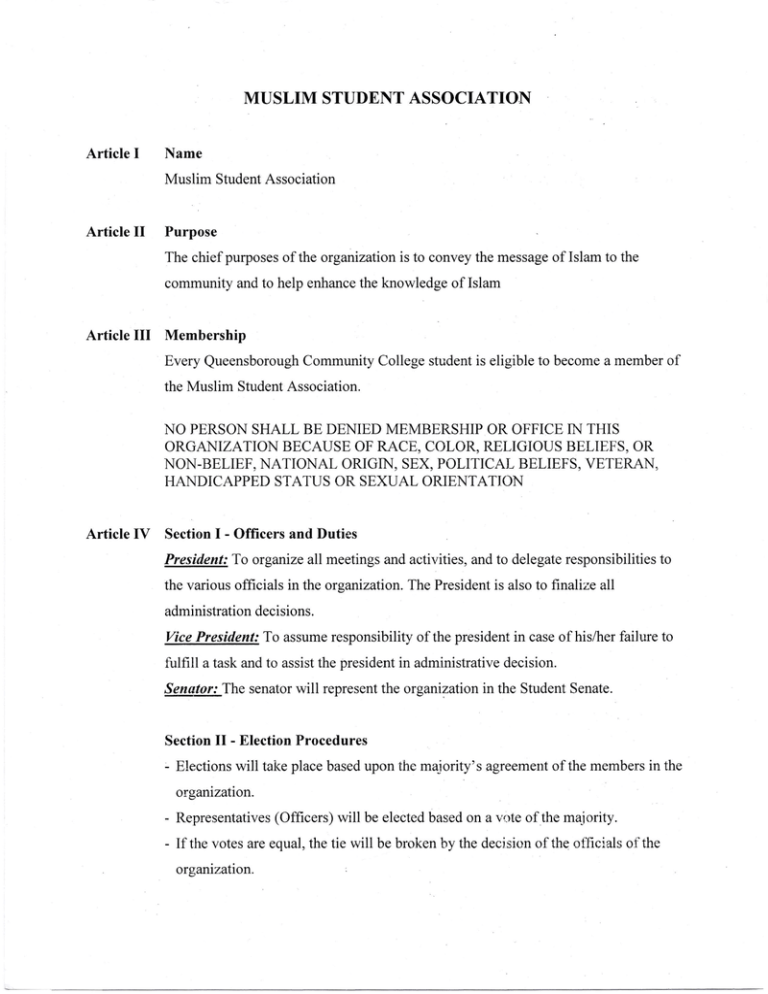 MUSLIM STUDENT ASSOCIATION
Article I
Name
Muslim Student Association
Article II
Purpose
The chief purposes of the organization is to convey the message of Islam to the
community and to help enhance the knowledge of Islam
Article III Membership
Every Queensborough Community College student is eligible to become a member of
the Muslim Student Association.
NO PERSON SHALL BE DENIED MEMBERSHIP OR OFFICE IN THIS
ORGANIZA TION BECAUSE OF RACE, COLOR, RELIGIOUS BELIEFS, OR
NON-BELIEF, NATIONAL ORIGIN, SEX, POLITICAL BELIEFS, VETERAN,
HANDICAPPED STATUS OR SEXUAL ORIENTATION
Article IV
Section I - Officers and Duties
President: To organize all meetings and activities, and to delegate responsibilities to
the various officials in the organization. The President is also to finalize all
administration decisions.
Vice President: To assume responsibility of the president in case of his/her failure to
fulfill a task and to assist the president in administrative decision.
Senator: The senator will represent the organization in the Student Senate.
Section II - Election Procedures
;. Elections will take place based upon the majority's agreement of the members in the
organization.
- Representatives (Officers) will be elected based on a vote of the majority.
- If the votes are equal, the tie will be broken by the decision of the officials of the
organization.