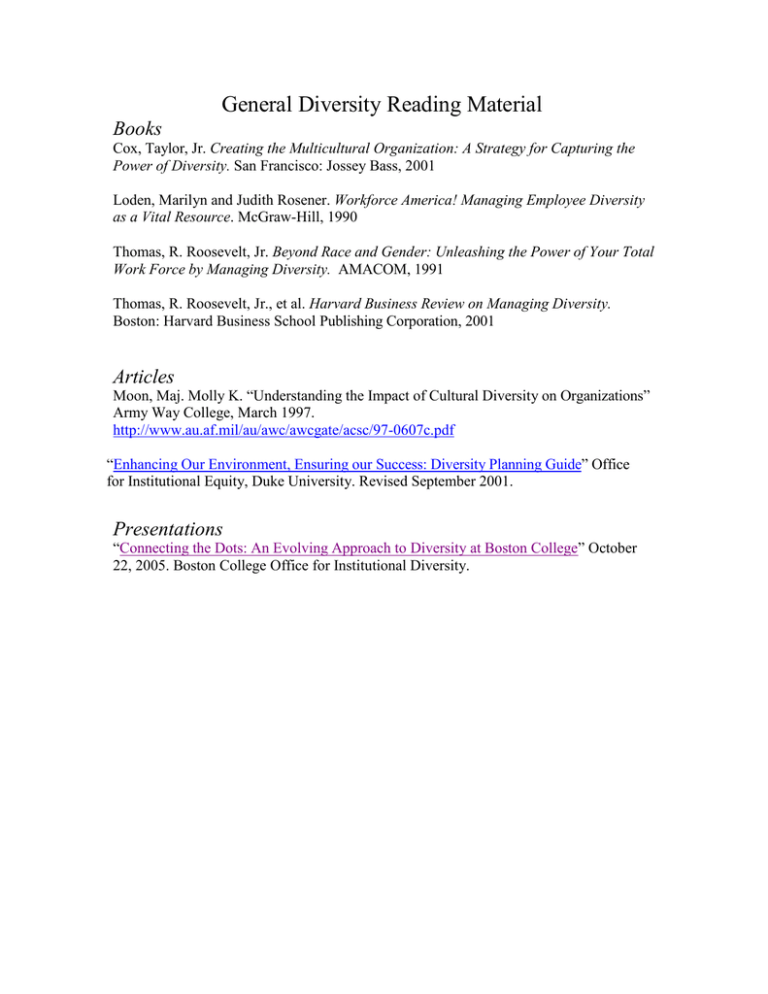 General Diversity Reading Material
Books
Cox, Taylor, Jr. Creating the Multicultural Organization: A Strategy for Capturing the
Power of Diversity. San Francisco: Jossey Bass, 2001
Loden, Marilyn and Judith Rosener. Workforce America! Managing Employee Diversity
as a Vital Resource. McGraw-Hill, 1990
Thomas, R. Roosevelt, Jr. Beyond Race and Gender: Unleashing the Power of Your Total
Work Force by Managing Diversity. AMACOM, 1991
Thomas, R. Roosevelt, Jr., et al. Harvard Business Review on Managing Diversity.
Boston: Harvard Business School Publishing Corporation, 2001
Articles
Moon, Maj. Molly K. "Understanding the Impact of Cultural Diversity on Organizations"
Army Way College, March 1997.
http://www.au.af.mil/au/awc/awcgate/acsc/97-0607c.pdf
"Enhancing Our Environment, Ensuring our Success: Diversity Planning Guide" Office
for Institutional Equity, Duke University. Revised September 2001.
Presentations
"Connecting the Dots: An Evolving Approach to Diversity at Boston College" October
22, 2005. Boston College Office for Institutional Diversity.