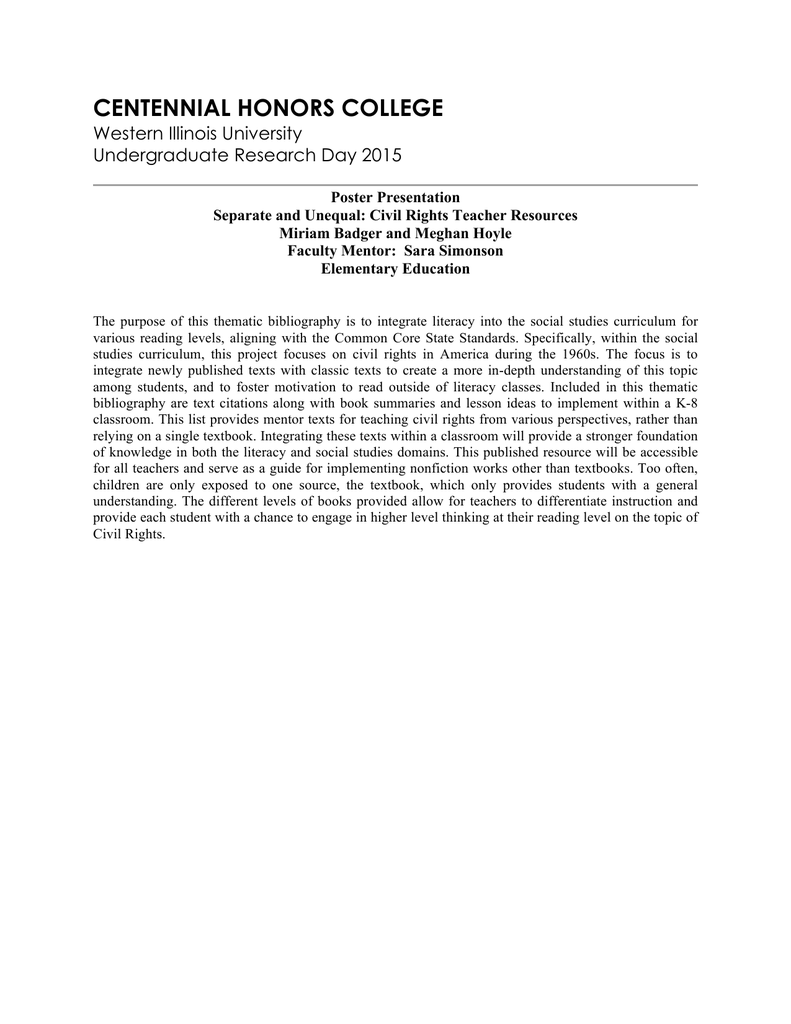 CENTENNIAL HONORS COLLEGE
Western Illinois University
Undergraduate Research Day 2015
Poster Presentation
Separate and Unequal: Civil Rights Teacher Resources
Miriam Badger and Meghan Hoyle
Faculty Mentor: Sara Simonson
Elementary Education
The purpose of this thematic bibliography is to integrate literacy into the social studies curriculum for
various reading levels, aligning with the Common Core State Standards. Specifically, within the social
studies curriculum, this project focuses on civil rights in America during the 1960s. The focus is to
integrate newly published texts with classic texts to create a more in-depth understanding of this topic
among students, and to foster motivation to read outside of literacy classes. Included in this thematic
bibliography are text citations along with book summaries and lesson ideas to implement within a K-8
classroom. This list provides mentor texts for teaching civil rights from various perspectives, rather than
relying on a single textbook. Integrating these texts within a classroom will provide a stronger foundation
of knowledge in both the literacy and social studies domains. This published resource will be accessible
for all teachers and serve as a guide for implementing nonfiction works other than textbooks. Too often,
children are only exposed to one source, the textbook, which only provides students with a general
understanding. The different levels of books provided allow for teachers to differentiate instruction and
provide each student with a chance to engage in higher level thinking at their reading level on the topic of
Civil Rights.