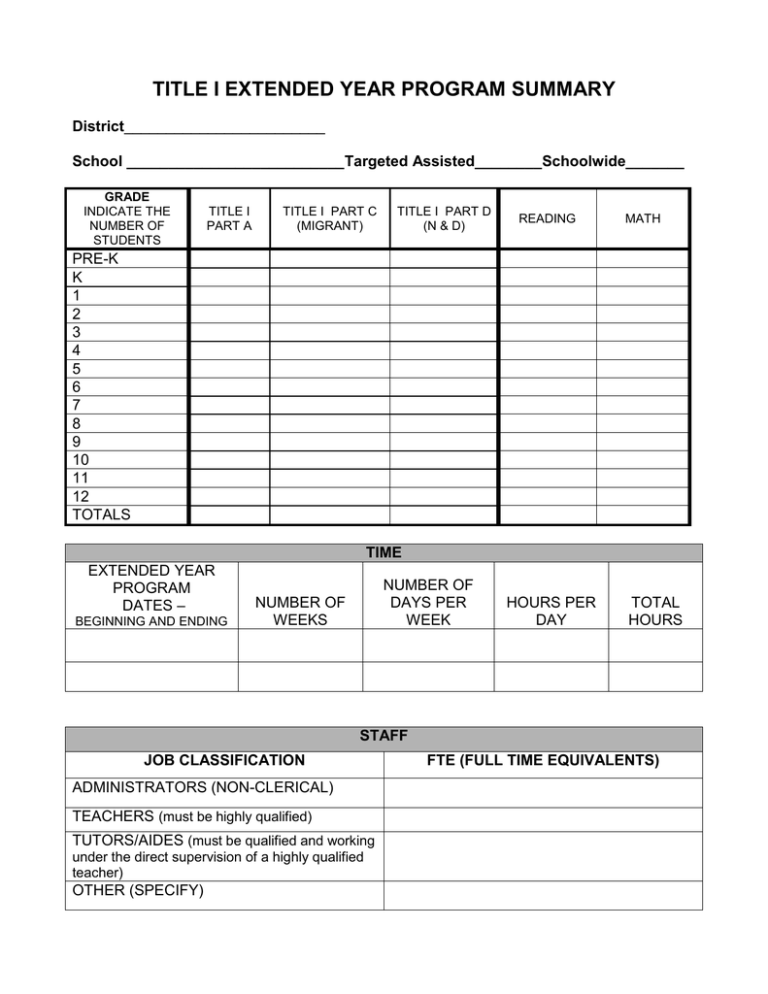 TITLE I EXTENDED YEAR PROGRAM SUMMARY
District________________________
School __________________________Targeted Assisted________Schoolwide_______
GRADE
INDICATE THE
NUMBER OF
STUDENTS
TITLE I
PART A
TITLE I PART C
(MIGRANT)
TITLE I PART D
(N & D)
READING
MATH
PRE-K
K
1
2
3
4
5
6
7
8
9
10
11
12
TOTALS
TIME
EXTENDED YEAR
PROGRAM
DATES –
BEGINNING AND ENDING
NUMBER OF
DAYS PER
WEEK
NUMBER OF
WEEKS
HOURS PER
DAY
TOTAL
HOURS
STAFF
JOB CLASSIFICATION
ADMINISTRATORS (NON-CLERICAL)
TEACHERS (must be highly qualified)
TUTORS/AIDES (must be qualified and working
under the direct supervision of a highly qualified
teacher)
OTHER (SPECIFY)
FTE (FULL TIME EQUIVALENTS)
PROGRAM GOALS (Provide a Listing)
PROGRAM COMPONENTS
TESTING
DESCRIBE THE PRE/POST TEST USED.
Records of individual student achievement gains should be maintained by the school
as documentation of the success of the extended day program.
PROFESSIONAL DEVELOPMENT
List the professional development provided to staff members related to the extended
year program.
PARENT INVOLVEMENT
Describe any parent involvement activities associated with the extended year program.