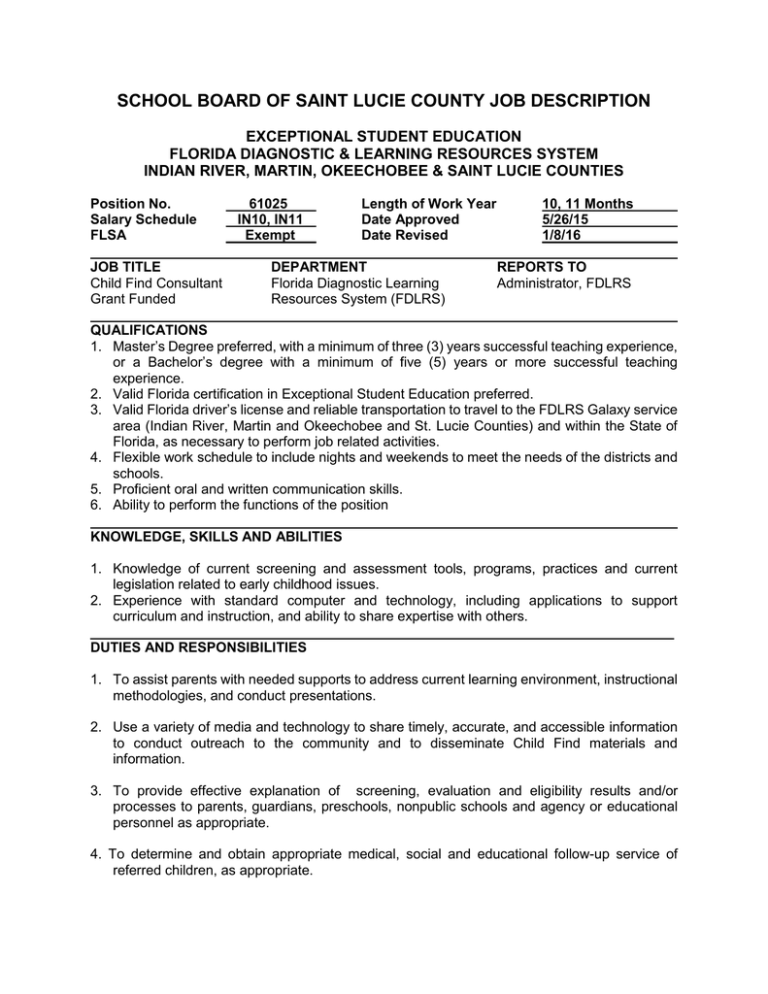 SCHOOL BOARD OF SAINT LUCIE COUNTY JOB DESCRIPTION
EXCEPTIONAL STUDENT EDUCATION
FLORIDA DIAGNOSTIC & LEARNING RESOURCES SYSTEM
INDIAN RIVER, MARTIN, OKEECHOBEE & SAINT LUCIE COUNTIES
Position No.
Salary Schedule
FLSA
JOB TITLE
Child Find Consultant
Grant Funded
61025
IN10, IN11
Exempt
Length of Work Year
Date Approved
Date Revised
DEPARTMENT
Florida Diagnostic Learning
Resources System (FDLRS)
10, 11 Months
5/26/15
1/8/16
REPORTS TO
Administrator, FDLRS
QUALIFICATIONS
1. Master's Degree preferred, with a minimum of three (3) years successful teaching experience,
or a Bachelor's degree with a minimum of five (5) years or more successful teaching
experience.
2. Valid Florida certification in Exceptional Student Education preferred.
3. Valid Florida driver's license and reliable transportation to travel to the FDLRS Galaxy service
area (Indian River, Martin and Okeechobee and St. Lucie Counties) and within the State of
Florida, as necessary to perform job related activities.
4. Flexible work schedule to include nights and weekends to meet the needs of the districts and
schools.
5. Proficient oral and written communication skills.
6. Ability to perform the functions of the position
KNOWLEDGE, SKILLS AND ABILITIES
1. Knowledge of current screening and assessment tools, programs, practices and current
legislation related to early childhood issues.
2. Experience with standard computer and technology, including applications to support
curriculum and instruction, and ability to share expertise with others.
____________________________________________________________________________
DUTIES AND RESPONSIBILITIES
1. To assist parents with needed supports to address current learning environment, instructional
methodologies, and conduct presentations.
2. Use a variety of media and technology to share timely, accurate, and accessible information
to conduct outreach to the community and to disseminate Child Find materials and
information.
3. To provide effective explanation of screening, evaluation and eligibility results and/or
processes to parents, guardians, preschools, nonpublic schools and agency or educational
personnel as appropriate.
4. To determine and obtain appropriate medical, social and educational follow-up service of
referred children, as appropriate.
Page Two
Child Find Consultant
5. To assist in the coordination and training programs of the districts' personnel serving disabled
children.
6. Communicate with the parents regarding programs and services available to meet the
educational, health, behavioral and mental health needs of students.
7.
Collaborate and assist school districts and local Early Steps in the implementation of smooth
and timely transition from Part C to Part B.
8. Timely entering of data into the Children's Registry and Information System (CHRIS) and
generate reports.
9. Collaboration with Early Childhood partners including the Interagency Council in order to
provide families in need of community services with referrals to available resources and
discuss pre-school issues.
10. To maintain accurate and current data related to preschool services for preschool children.
11. Collaboration with school districts and local Early Steps in the implementation of child
outcomes measurement system.
12. Coordination of training opportunities (may include development of support materials) related
to child development and developmental appropriate practices.
13. To perform the functions of FDLRS parent services as assigned.
14. To perform assigned tasks in a timely and efficient manner with a high standard of quality.
15. To perform such other tasks and assume such other responsibilities as the Administrator of
Florida Diagnostic and Learning Resources may assign.
Physical Demand Class – Light (L): Frequent lifting and carrying of objects weighing 10 pounds
or less. Infrequent lifting and carrying of objects weighing 11-35 pounds. Frequent walking and/or
standing is required to carry out duties.